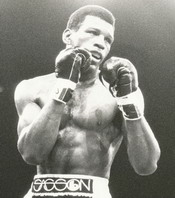 By Pavel Yakovlev, photo © www. phillyboxinghistory. com: After 15 years and 44 wins as a professional, Joe Calzaghe is the toast of the boxing world. He has reigned as the world super middleweight champion for an astounding ten straight years, holding one or several of the alphabet belts at various junctures of his long championship run. Calzaghe has garnered so much professional success that later this year he will step up in weight to fight another long-term boxing champion and modern day ring legend, Bernard Hopkins.
For Calzaghe and his fans, the Hopkins match is not merely about Joe stepping up in weight and establishing himself in the light heavyweight division. The match is really about Calzaghe's legacy in boxing history.
Lately there has been much talk in the press and on the Internet regarding Calzaghe's chances against the great and noteworthy light heavyweight champions of the past..
On Internet boxing boards, fans frequently discuss how Calzaghe would have fared against the legendary WBC light heavyweight champion of the late 1970s and early 1980s, Matthew Saad Muhammad. Interestingly, it is written often that Joe would have defeated Saad.
In this writer's opinion, however, Saad Muhammad would have been too much for Calzaghe. In all probability, Saad would have won this fight by knockout.
Calzaghe is an excellent fighter, and he likely would have given Muhammad trouble in the early rounds. But Saad's advantages in strength, power, durability, and tenacity were such that this bout probably would have been over within eight rounds. After Saad unwound and began finding the range with his heavy punches, he would have walked right through the smaller, weaker Joe.
The following is this writer's explanation of why Saad Muhammad would have knocked out Joe Calzaghe.
SAAD WAS A TOUGHER FIGHTER WHO FOUGHT TOUGHER OPPONENTS
Any comparison of Saad and Calzaghe has to consider the difference in the quality of the boxers against whom each built his professional record. Here, it is clear that Saad fought vastly superior fighters, and for this reason we must acknowledge him as having been, in some ways at least, the tougher and better seasoned ringman of the two.
Many contemporary boxing fans do not realize that Saad Muhammad ruled the light heavyweight division at a time when the weight class was at one of its most competitive points in history. Saad's prime was between the years 1976 and 1981. During this period — in addition to Saad — the dominant light heavyweights were Mike Spinks, Dwight Qawi Muhammad, Victor Galindez, Eddie Mustafa Muhammad, John Conteh, Marvin Johnson, Yaqui Lopez and James Scott (I will call these fighters "Group I" in this article).
Further, a second, lower-ranked, but still very tough group of light heavyweights also fought at this time. This group consists of Richie Kates, Mike Rossman, Jerry Martin, Jesse Burnett, Mate Parlov, Miguel Cuello, Mike Quarry, Lotte Mwale, Eddie Davis, John Davis, Jerry Celestine, Vonzell Johnson, Marvin Camel and Murray Sutherland (I will call these boxers "Group II" in this article).
Clearly, the competition during Saad's era was so deep in talent that even light heavyweights rated on the fringe of the worldwide top 10 at that time were good enough to be top contenders or world champions in today's super middleweight and light heavyweight divisions.
Truth be told, the light heavyweight division was so competitive during 1976-81 that it is questionable if Calzaghe could even have maintained a top 10 rating had he fought in that era.
Of course, Saad did better than maintain a top 10 rating during his exceptionally competitive era: for several years, he was the world's best.
Saad's record of success against his contemporaries was nothing less than breathtaking. During his career, Saad defeated the following: Marvin Johnson (KO12, 1977; KO8, 1979); Yaqui Lopez (KO11, 1978; KO14, 1980); John Conteh (W15, 1979; KO4, 1980); Richie Kates (KO6, 1978); Jerry Martin (KO11, 1980); Vonzell Johnson (KO12, 1981); Murray Sutherland (KO9, 1981); Mate Parlov (W8, 1976); and Marvin Camel (W10, 1976). A controversial decision he lost to Eddie Mustafa Muhammad (L10, 1977) was a bout most observers believe Saad clearly won.
Joe Calzaghe's list of opponents is very weak in comparison with the names on Muhammad's record.
All of Joe's opponents have been natural super middleweights, for the most part smaller and less physically strong than the boxers who were defeated by Muhammad. In addition, most of Calzaghe's opponents were inferior in talent and skill to the men whom Saad built his record against.
The following are the biggest names on Calzaghe's list of 44 career victories: Mike Kessler (W12, 2007); Jeff Lacy (W12, 2006); Chris Eubank (W12, 1997); Robin Reid (W12, 1999); Mario Veit (KO1, 2001; KO6, 2006); Byron Mitchell (KO2, 2003); Richie Woodhall (KO10, 2000); and Omar Sheika (KO5, 2000). Not in any way do any of these fighters compare favorably to the biggest names on Saad's list of major victories.
Of all of Calzaghe's best opponents, in this writer's opinion, only Kessler, Lacy, and Eubank could definitely have held their own against the fighters in Group II of the 1976-81 time period. All of the boxers on Calzaghe's list of opponents –- including Kessler, Lacy, and Eubank– would have been outclassed by the fighters in Group I of the 1976-81 era.
In conclusion, if Saad and Calzaghe are to be compared on the basis of their respective quality of opposition and the competitiveness of the eras in which they fought, Saad must be judged as the much higher caliber fighter.
SAAD'S GREATER STRENGTH WOULD HAVE BEEN INSURMOUNTABLE
An examination of how Calzaghe's physical attributes compared to Muhammad tells us much about how this fight would have played out. I am taking specifically about characteristics such as height, weight, reach, upper body strength, punching power, hand and foot speed, and natural athleticism.
Regarding height and reach, there is little to choose between these two fighters. Saad was slightly taller at 6' ½" to Joe's 5'11 ½". Saad also had a two inch advantage in reach, at 75" to Calzaghe's 73". Saad's advantage in these areas was not material.
In terms of speed of movement – upper body movement, general reflexes, hand speed and foot speed – Calzaghe is probably slightly faster than Saad was. Although Saad was fast, it is likely that Calzaghe could often have beaten him to the punch. Joe probably would have exhibited faster, slicker footwork as well. Again, however, the difference between the fighters here is so small that it probably would not have been a decisive factor in the bout.
In the areas of upper body strength, punching power, and durability, Saad would have enjoyed a vast advantage over Calzaghe. Saad's superiority in these areas was so great, in fact, would likely have spelled doom for Joe.
To put it bluntly, Saad was so much stronger than Calzaghe that he could have walked right through him.
Calzaghe is a natural 168 pounder, and even at that weight, he is not especially muscular, powerful, or strong. Saad, by contrast, carried a street weight of 185 lbs. (he actually fought as a heavyweight during his amateur days), and he trained down to the light heavyweight limit. At 175 lbs., Saad was an intimidating, forceful block of muscle. His arms, chest and shoulders were lean and powerful. He was easily stronger than most light heavyweights of his day.
According to Yaqui Lopez, Saad was so physically strong and durable that punching him was like trying to "hit a rock." Saad could absorb the best punches from heaviest punchers of his day. Calzaghe has never had devastating one-punch knockout power, so there is no way that he could have backed Saad up.
It is inconceivable that Calzaghe could have fought punch for punch with Saad. Saad could take Calzaghe's best punches, but Calzaghe would not have been able to withstand Saad's powerful blows — any one of which could end the fight. Saad's advantage in strength and power was such that he literally could have thrown Calzaghe around like a rag doll.
Because of his huge advantages in strength and power, Muhammad surely would have knocked Calzaghe out quickly if the two engaged in any kind of slugging match. For this reason Calzaghe would have been forced to box and counter Saad. This brings us to the next category in which the two fighters should be compared, which is how their relative styles matched up.
COMPARISON OF STYLES FAVORS SAAD, TOO
Calzaghe of course is a southpaw, and generally this is a technical advantage because so many orthodox fighters find lefties to be awkward and confusing. But Joe's southpaw posture would probably not be an issue in this bout because Saad had a great deal of experience fighting southpaws. Marvin Johnson, Mate Parlov and Marvin Camel were all lefties, and Saad beat them handily.
Calzaghe and the prime Saad Muhammad used similar boxing styles and ring tactics. Both fought out of an orthodox, stand-up boxing posture, making ample use of their jabs. Both would box from long range, jabbing, firing long-range combinations and moving on their feet. At opportune moments, each fighter would step inside and unleash barrages of punches with both hands. Both Calzaghe and Saad were known for opening up suddenly and turning their bouts in free-for-all brawls if such an approach was to their advantage.
Between the two, it is Calzaghe who does more outside, long-range boxing and counterpunching. Whereas Saad would box with an opponent in order to set-up his fight-ending bombs, Calzaghe boxes in order to dominate his foes over the distance with rapid, slashing right jabs, uppercuts, left crosses and counterpunches from each hand.
In terms of defensive ability and general ring elusiveness, Calzaghe definitely has an edge over Saad. Calzaghe exhibits more upper-body defensive maneuvers than did Muhammad. To avoid punches, Joe frequently bends his body down from the waist, and he rolls his shoulders well on a horizontal axis in order to duck punches. Further, Calzaghe is very effective at pulling back from punches very quickly and dancing away when necessary to protect himself. Saad was different in that he tended to absorb punches regardless of whether he was boxing or infighting.
But with respect to defensive abilities, it should be noted that Saad could afford to take anything Calzaghe threw at him. The exceptionally durable Saad could take three of Calzaghe's blows in order to land one punch in return. Even at that unfavorable exchange ratio, Saad could do more damage to Calzaghe than vice verse.
Calzaghe's jab was faster and peskier than Saad's, but it was Saad who had the stronger jab. This difference in punching strength would become more and more of a factor as rounds passed, with Saad's jab eventually gaining the upper hand.
Overall, Calzaghe probably had a slight edge in long-range, technical boxing abilities. It is conceivable that in the early rounds, at least, Calzaghe might have been able to land many troublesome slashing lead punches and quick counters against Saad, much in the same way that Murray Sutherland did against Muhammad in their 1981 fight. Joe definitely would have had his moments in this bout.
But it is also a fact that Saad could throw fast, powerful punches from any angle, both at long and short range. Saad threw left and right uppercuts as lead punches from outside (watch his one punch kayo over Lotte Mwale, for example). He could also throw quick overhand rights at unexpected moments. So, although Calzaghe's boxing would enable him to out hustle Saad from outside, it is also a given that sooner or later Saad's combination of boxing ability and his mastery of punching angles would have allowed him to catch Calzaghe with a big, unexpected punch. At that point the entire tempo of the bout would change immediately, and Saad would be in control.
With respect to the infighting abilities of Calzaghe and Saad, Saad had a huge advantage. Saad would often cover up effectively with his arms and gloves forming a defensive shield in front of his head and body. He would let his opponents open fire, and then he would counterattack with powerful hooks, crosses, and uppercuts from both hands, thrown to the head and body. The strength and intensity with which Saad threw these combinations was frequently overwhelming, and any single shot he connected with carried the potential to end the fight. In this writer's opinion, it is unimaginable that Calzaghe could have survived any kind of torrid, punch-for-punch infighting with the stronger Muhammad.
Calzaghe is known for rushing his opponents and overwhelming them with flurries of fast, widely thrown hooks from both hands. When Joe fights in this fashion, he looks almost like a windmill as he beats his opponents down. This method of attack however would have proven suicide against Muhammad, who could have quickly and easily countered Calzaghe's wide punches with lethal, short uppercuts and hooks.
The conclusion here is that although Calzaghe does have some stylistic advantages over Saad, those advantages were not considerable enough to compensate for the difference in strength and power between these two fighters. Joe might have outboxed and countered Saad successfully for a while, but sooner or later Saad's ramrod left jabs and explosive power punches would have hurt Calzaghe. From there, Saad would walk right through Joe en route to winning by a knockout.