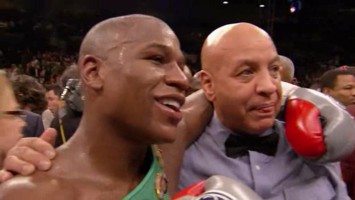 30.12.07 – by James Slater: I'm not a guy to argue with the self proclaimed "Bible of Boxing." At least not usually. But this year, when it comes to the Ring magazine's selection for fighter of the year award, I do find myself thinking they got it wrong.
As most fans will be aware, Ring chose "Pretty Boy" Floyd Mayweather as the fighter of the year for the last 12 months, and not Kelly Pavlik – a fighter many felt would get the vote. But while Mayweather is undeniably the best right now, pound-for-pound, did he achieve more ($ dollars pocketed aside) than "The Ghost" this year? I don't think so.
Sure, Mayweather beat the excellent duo that was Oscar De La Hoya and the unbeaten Ricky Hatton, but then Floyd was expected to emerge triumphant in those bouts, wasn't he? What about Pavlik, though? Kelly was no expert's overwhelming favourite going into his superb KO win over unbeaten middleweight king Jermain Taylor, nor was the man from Youngstown a no-brainer of a winner approaching his fight with the dangerous Edison Miranda.
But Pavlik did win, in so doing proving that he is not afraid of taking on an opponent that is capable of taking away his unbeaten record. Pavlik also gave the fans some tremendous action. Should he then, have been rewarded with the fighter of the year award from boxing's most respected publication? For what it's worth, I think he should have been. No-one is saying middleweight Pavlik is an all-round better fighter than Floyd Mayweather, it's just that on terms of breakthrough impact, odds-defying wins and battling through adversity, Kelly Pavlik more than distinguished himself in 2007. Getting up off the canvas, taking some serious bombs, capturing a world title AND thrilling boxing fans while doing it was surely enough for 25-year-old Kelly to have gotten what a lot of us thought he would have done a month or so back.
Yes, Mayweather looked good, perhaps better than ever, when stopping the brave Hatton, but let's not forget that Ricky is really a light-welterweight. Pavlik, on the other hand, defeated genuine, if not actually massive (Miranda) and fully-fledged middleweights. In short, Kelly picked on no-one less than his own size. And with regards to Floyd's close win over De La Hoya. Yes, Oscar is an all-time great, but a past his best future Hall of Famer, surely? Pavlik, by comparison, met fighters at their absolute peak – with both Jermain Taylor and Edison Miranda still very much in the title picture as we speak.
Let's be clear, Pavlik did everything the hard way in 2007. After getting past the big-punching Jose Luis Zertuche in January (KO8) in a fight that he was assured going in was a final eliminator for the WBC 160 pound title, the middleweight contender locked horns with the equally lethal Miranda in May and won that too (TKO7). Finally getting his well deserved title shot this past September, after having earned it, in effect, TWICE – and without complaint at that – Pavlik got off the floor to become the first man to beat the highly regarded Taylor.
There is little doubt in my mind; in terms of impact made, odds-defying wins, crowd-pleasing performances AND a take-on-all-comers attitude, Kelly "The Ghost" Pavlik was 2007's real fighter of the year. Despite what boxing's bible said.