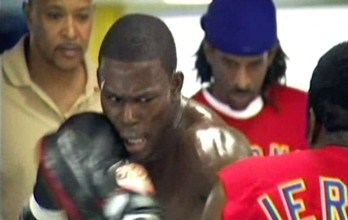 26.11.07 – By Matthew Hurley: Tickets for the Kelly Pavlik – Jermain Taylor rematch to be held on February 16th at the MGM Grand in Las Vegas went on sale yesterday. The rematch will be held at a catch weight of 166 pounds, which was stipulated in the contract for the first bout, should Taylor invoke the clause.
Taylor had intimated before taking on Pavlik in September that he had been having trouble making the 160-pound limit and would be moving up to the super middleweight division in the very near future. One thing he didn't count on was losing to Pavlik in such destructive fashion and, whether he cares to admit it or not, that Kelly himself had to drain himself to make 160 and that 166 is a much better fit for the big, powerful middleweight champion.
"If he wants to fight at 166 that's fine by me," he said after knocking Taylor out in the seventh round. "I can go home and eat pasta and not have to worry about the scales. I'll be even stronger."
In the aftermath of losing the title that he had so precariously held on to since winning a close controversial decision over Bernard Hopkins in 2005 Taylor's relationship with trainer Emanuel Steward seemed to be growing ever closer to falling apart. With the announcement that Taylor would indeed invoke the rematch clause, which meant that his former title would not be on the line, longtime assistant trainer Ozell Nelson took it upon himself to inform Steward that his services would no longer be needed. Nelson was also the axe man after Taylor's second victory over Hopkins in firing trainer Pat Burns who had been with the fighter for years.
Both Steward and Burns wished Taylor well when it became known that Nelson will now be holding the training reigns when Jermain steps back into the ring with Pavlik but both men were also leery of saying Taylor will do much better the second time around.
"I just hope Ozell learned a lot from me and Emanuel," Burns said, after being led to believe that he would be back in Taylor's corner only to be dismissed again, apparently by Nelson. "Ozell has never trained a fighter before and Jermain hasn't looked good since I left. I wish him the best."
Steward, for his part, insists that there are no hard feelings between him and his former fighter and hints that their relationship just didn't jell. He does however have concerns over the weight issue.
"Pavlik had to kill himself to make 160," he said recently. "This allows him to be even stronger this time around."
In the end Taylor has either put on a brave face in embracing Nelson's decision and truly believes that he will be stronger at 166 pounds or, and this is just speculation, he may have invoked the rematch clause in order to roll the dice on his career and potentially cash out. The fight with Pavlik will do big business in Vegas, and certainly would have garnered more money for both fighters were they fighting for the middleweight title, but with pay per view and the memory of how exciting the first fight was Taylor knows he will be cashing a big check. Should he lose for a second time, particularly by knockout he can walk away with millions in the bank and settle back down in Arkansas and lead a very comfortable life.
Still, Taylor remains a fighter at heart and it's admirable of him to want to get right back in the ring with a beast of a fighter who took everything Mr. "Bad Intentions" could dish out and come back to beat him to the canvas. The only worry is that the beast in question will be even bigger and stronger the second time around.