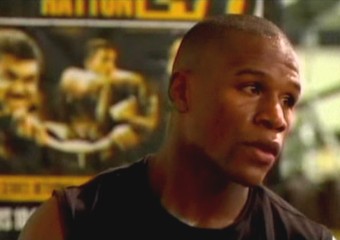 24.11.07 – William Pinkard II: I just got tired of reading ignorant post after ignorant post regarding how Mayweather would have stacked up favorably to all time great pound per pound fighters such as Ali, Robinson or Leonard.
It is shocking that ignorance like this in other countries may get a person hung, but since we live in America with freedom of speech the boxing community that tunes into East Side Boxing has to read some get on here and debate in favor of Mayweather (which I do many times defending his greatness in this era), but in their debate and comparing Mayweather to the greats they must not have done their research.
They leave out many many facts, or simply do not know.. Many of their assumptions appear to be in this manner: complete positive run down on Mayweather, and one sided details of what he has done, such as win titles in 5 divisions, and attempt to compare this to Armstrong or Robinson when in their era there were no Jr divisions. (Jr middleweight etc.) So in making this comparison they show their ignorance to the sport.
I will attempt to make a brief comparison of Mayweather to Robinson, Leonard, and Ali. I will also show why Mayweather while truly a great great fighter and deserves more respect than to not be considered a great fighter, possibly (in my opinion) the best pound per pound today, how he does not measure up? I have done this before in this manner when comparing Leonard to Duran. So I will repeat this approach so that we can quantify this as much as possible, then add subjective reasoning.
So how can we compare these four fighters and attempt to factually say one fighter is better pound per pound than the other. The only fair way to do this is to have a scorecard with 11 top categories with a 10 point scoring system. In each category I will give each fighter a score. . At the end I will total up the scores and that will be a quantified approach to this. I will also give a brief Summary at the end that will summarize these fighters. Then make a final decision on just how Mayweather stacks up!
Lets get Ready to Rumble.
1. Quality of Opposition:
Mayweather 8
Leonard 10
Robinson 10
Ali 10
Mayweather is fighting very good opposition but in comparing it to Robinson, Ali and Leonard. Hmmm beating Corrales, Judah (who has lost to almost everyone quality he has faced including Baldomir and Spinks the first time hmmm) Baldomir, and Dlh who clearly was far removed from his prime as evidenced by his losing 5 of his last 12 fights.
2. Quality of Opposition beaten:
Mayweather 8
Leonard 10
Robinson 10
Ali 10
Leonard: Duran twice, Hearns, Hagler, Benitez, all legends.
Ali : Liston twice, Foreman, Frazier (2 out of 3), Norton (2 out of 3), Shavers,
Robinson: To many to name, but some are Maxin, Lamotta, Basillio, Armstrong
May weather : Corrales, Judah (who has lost to almost everyone quality he has faced including Baldomir and Spinks the first time hmmm) Baldomir, and Dlh, Gatti, Castillo.
3. Number of victories Longevity:
Mayweather 8
Leonard 7
Robinson 10
Ali 10
Robinson clearly and easily wins this comparison. Ali dominated two decades and it would have been longer had he not been robbed by the US government. Leonard due to his detached retina and often time-retired career gets the lowest score here. Mayweather is doing just fine by modern day comparisons but since the debate is Mayweather vs. fighters like Robinson and Ali – hmmm – he comes up short.
4. Ability to adapt to another style:
Mayweather 9
Leonard 10
Robinson 10
Ali 10
This was almost a 10 across the board, and could give Mayweather a 10, but he has not faced a truly dominant fighter and had to adapt to win. Many will say it is not his fault, however remember Leonard dominated fighters too, until he faced Duran. Mayweather has a foe out there that he will surely have to change his style to beat, and that would be Williams. If he can switch up and beat him, he will get a 10. I thought long and hard about this, because Mayweather is a boxing masterpiece, but the title of this section is adapt to another style and he has not had to do such, because he has not faced a true legend that will make him.
Ali Changed his style when he had nothing left to utilize certain attributes none of the boxing world knew he had, jaw, heart, will etc. Robinson the same way. He lost a lot of speed and legs and stamina, but still was never ko'd by a fighter, and won vs. the best of a great era. Used boxing skills vs. some, slugged vs. others.
Leonard as mentioned faced Duran two different ways, boxing and toe-to-toe. Hearns, he started out boxing, and then became a slugger, Hagler he reverted back to boxing when he a shell of his old self, Benitez out counter punched the counter puncher.
One thing needs to be pointed out, changing styles is not always a great attribute, but when you face top fighters or freak of natures like Hearns at Welterweight, your ability to switch to the style to beat a great fighter is a tremendous quality to have.
5. Championships:
Mayweather 10
Leonard 10
Robinson 10
Ali 10
All won belts in several weight classes except for Ali, but what do you expect him to do, create a weight class.
6. Boxing ability:
Mayweather 10
Leonard 10
Robinson 10
Ali 10
All great great boxers. I cannot not knock anyone here. I have heard the point that Ali and other heavyweights should not get ranked high here. That is Garbage. If you study boxing you will realize that as you increase in weight you tend to have to do less. If you see the fights with Barrera etc you will see that those fighters throw more punches, do more ducking countering than you will see middleweight fighters do, and so on up to heavyweights.
That very same point can be used as to why a Leonard or a Mayweather can move up and beat bigger fighters because they are used to doing more 'BOXING" than the bigger stronger fighter, and many times it comes down to who imposes their style on the fight. So Ali gets a 10 here because you have to rate him on the boxing skills needed for the weight class he fought in.
7. Punching power:
Mayweather 7
Leonard 9
Robinson 10
Ali 8
Robinson would get a 15 if I could…Nuff said. Leonard had very good punching power, not like Robinson but he stopped middleweights in Chavarini, and then stopped Lalond. If we were comparing him to Hearns or Duran etc.he would rate lower. Ali had good power, not Robinson power, not Tyson but remember he would stop fighters due to power speed (which results in power many times) in rounds he would call. Not a dynamite puncher but good power. Mayweather outside of Corrales, hmmm lets say his power leaves a lot to be desired. He did brutalize Gatti, but who didn't, as Mayweather himself called him a club fighter. Has not scratched a top fighter other than Corrales.
8. Defense:
Mayweather 10+
Leonard 9
Robinson 8
Ali 9
Mayweather clearly is the best of the pack here. He would get a 15 if I could. Leonard when he focused on defense was great, limiting Duran (2nd fight), Hagler, Benitez to landing virtually nothing. Robinson based on what I saw he had good defense but his offense was sooooooo tremendous along with his jaw and the fact that he fought. hmmm I have to give him the lower score here, but that is actually a strong strong quality of his.
9. Speed:
Mayweather 10
Leonard 10
Robinson 10
Ali 10
All were super fast for their respective division.nuff said.
10. Chin:
Mayweather 9
Leonard 9
Robinson 10
Ali 10
We could very easily give them all 10's as Leonard never was dropped until he came back from retirement. Mayweather has only been wobbled once and he responded fantastic. However we cannot rank Leonard and Mayweather up there with Ali or Robinson, it would be insane. Yes they both were dropped, but look at the style of fights they fought, meaning they did more fighting than Mayweather dreamed of ever doing, and for the most part more than ray did. Robinson never ko'd by a fighter (he was stopped due to heat) in all of his fights. Wow.
11. Heart:
Mayweather 8
Leonard 10
Robinson 10
Ali 10
Mayweather simply has not shown us this, YET. He may very well have the heart of a Leonard, but remember Leonard and Ali were knocked on this very attribute as well until they had to show it.
Totals:
Mayweather 97
Leonard 104
Robinson 108
Ali 107
There you have it. This will probably spark a lot of debate. However I removed all bias and scored them on WHAT WE HAVE SEEN THEM DO, not what they are capable of. Ali I ranked him on what is relevant to a Heavy weight, as he is in much different weight class than the others.
Mayweather could possibly move up and pass Leonard based on how he performs vs. Hatton, Cotto, and Williams (if he fights them). I say that simply because Mayweather while not having a Duran, Hagler or Hearns on his resume, can only fight the best in his era. In these fighters he will have moved up and challenged them, and they are at their peak, and are damn good fighters. Thus we will have to give him credit once he does this. If he fights them his quality of opposition moves up dramatically, and if he beats them he will get points there as well. As for heart that is on the table for him to gain points as well along with chin. That being said, I do not think he will stay around for as long as Robinson, so it is not a knock against him there, only in comparison he would come up short.
In summary we have to give Mayweather his props he is the best of THIS ERA. But when comparing him to Leonard, Ali and Robinson, thus far he comes up short.