24.11.07 – By Craig Mastendri: WBO and Lineal Light Heavy Weight Champion Zsolt Erdei, stretched his record to 28-0 with 17 KO's at the Freiberger Arena, Dresden, Sachsen, Germany, with a victory over the durable and game, but limited challenger in Tito Menodza. Who's record fell to 36-8 with 28 KO's. The most note worthy aspect of this fight is the fact that Judge Glenn Hirch somehow saw a way to score the fight 117-111 in favor of Mendoza. That scorecard must have employed some "New and Improved" methods of calculative scoring..
The fight was much more accurately scored by Judges Manfred Kuechler 116-112, and Andre Van Grootenbruel 117-11, both in favor of the winner, Zsolt Erdei! Erdei employed a very slick, effective, countering style. Mendoza's repetitive pawing jab, wide hook flurry, and circling attack, failed to control Erdei's will, tempo, and assertiveness. Zsolt made the pace into a cat and mouse distance attack, for the majority of Twelve Rounds. He mastered the range while slipping and countering Mendoza's jab with accurate, inside, and well timed, power shots.
Mendoza won one, possibly two rounds, no more! In Round Four Tito landed his best straight right hand punch of the evening! That set off the only round. Tito was able to apply effective pressure behind his jab. His combinations started landing and scoring. Erdei's face sported a swollen purple eye at the end of the fight. That eye was started with one shot in Round Four, and Mendoza seized the moment, driving Erdei back with volume punching clear aggressiveness.
Round five started favorably for Mendoza, by the end of that round? Erdei, had slowed the tempo, and disallowed Mendoza's continued aggression. Perhaps some might have given Mendoza that round but Erdei managed to reset the timing trap. Many rounds appeared to be almost carbon copies of the previous with Mendoza posing with his right hand, instead of delivering it cleanly and accurately.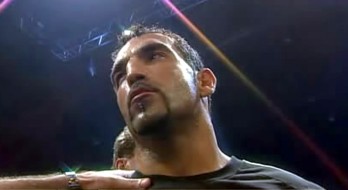 The pattern of Erdei out boxing, having better timing, and controlling Mendoza's movements played out over and over throughout. In the end Erdei was awarded the proper decision. Despite one judge having a completely different view from what the majority in attendance, and those watching around the world saw.
The Main event of the Evening featured Firat Arslan, who is now 28-3 with 18 KO's, as he imposed his will and controlled a Twelve Round decision against Virgil Hill, who dropped to 50-7 with 23 KO's. Arslan, forced his will on his opponent with his guard resembling earmuffs while driving forward. He employed a very squared up walk forward style.
A pattern was set early on in the fight, with Arslan landing the harder, more effective, inside shots, as they leaned on each other with their guard up. Virgil Hill tried unsuccessfully to steal rounds with jab and straight right hand flurries after Arslan would land cleanly. Hill gave a spirited performance, despite falling short on the cards, round after round. There was rarely enough volume of shots landed to maintain or carry the round in his favor. Arslan, punctuated the victory with some stunning solid shots that dazed Hill in the last few rounds. Those shots evidenced the difference in effectiveness. Hill tied to talk to his opponent and shrug off the effects of those shots, to no avail.
The Judges scored the fight 118-110 for Judge Stanley Christodoulou, Judge Erkki Meronen had it 116-113, and Nelson Vazquez scored it 117-111, all for the Winner and WBA Cruiserweight Champion Firat Arslan! Arslan punctuated the victory with some stunning solid shot. Hill tried to talk and shake off the effects of those punches. To no avail as it was only more evidence to the difference in effectiveness.
Firat Arslan has defined himself as WBA Titlelist, that matters in the Cruiserweight Championship Picture. David Haye WBC, Steve Cunningham IBF, and Enzo Maccaranelli WBO, are the other Belt holders. Names like Jean Marc Mormeck, Oneil Bell, and Darnell Wilson out there? There are a number of exciting options appearing in the Cruiserweight Division.