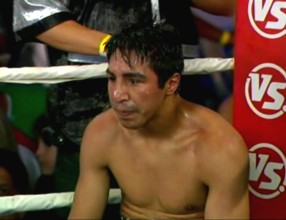 31.08.07 – By Scott Frake: Lightweight Miguel Angel Huerto (25-8-1, 17 KOs) won a much tougher than expected 12-round unanimous decision against 35-year old ring veteran Efren Hinojosa (29-4-1, 17 KOs) to capture the vacant NABF lightweight title on Thursday night at the Grand Plaza, in Houston, Texas. Hinojosa was knocked down twice in round two, although referee Laurence Cole ruled the 2nd knockdown a slip even though a short left hook preceded the slip.
The final judges' scores were 120-106, 119-107 and 118-118-109, giving Huerta the decision. Ranked # 13 in the WBC, Huerta was coming off a disappointing controversial 12-round split decision loss to Almazbek Raiymkulov on June 14, 2007, a bout in which many felt that Huerta had been given a raw deal.
This time around, there was no controversy, as Huerta, 29, controlled the pace of the fight from the opening bell, and constantly punished the much slower Hinojosa with his powerful left hook. However, despite taking a sustained beating, Hinojosa stuck around long enough to badly bruise Huerta's right eye, and perhaps even worse, expose a weakness that Huerta has against fighters that box and move.
This was very much a crossroads fight for both fighters, particularly Hinojosa whose prime was perhaps five years ago in 2001 when he for a short time held onto the USBA lightweight title and had a notable win over former lightweight champion Ivan Robinson.
In the first round, Huerta quickly opened up with powerful left hooks and appearing both much faster stronger than Hinojosa who seemed to be pushing his punches. During the round, Huerta essentially focused exclusively on his left hook and set the pattern for the fight. Though it was immediately clear that Huerta had little else other than his left hook, that's all he would need against Hinojosa.
In the 2nd round, Huerta connected with three consecutive left hooks which badly hurt Hinojosa and knocked him down. He got up and was soon knocked down again by a short left hook. However, the referee ruled it a slip and waived off the 2nd knockdown. At the end of the round, Hinojosa landed a right hand a second after the bell had rung, catching Huerta unaware and knocking him back against the ropes. No points were deducted and Huerta returned to his corner without any problems..
Huerta continued his dominance in the 3rd round, landing numerous left hooks to the head and completely outclassing Hinojosa. Again, like in the 2nd round, as the bell sounded to end the 3rd, Hinojosa clocked Huerta and sent him reeling backwards.
In the 5th round, Hinojosa was cut above the right eye by one of Huerta's left hooks. The cut would continue to bleed all fight long but not factor in the final decision, mainly because Hinojosa was simply outgunned by Huerta. During the round, Huerta constantly switched from orthodox to southpaw fighting stance, a move to keep Hinojosa constantly guessing. It probably hardly mattered in the large scheme of things, but seemed important to Huerta.
In rounds six through nine, Huerta continued to land a large amount of left hooks, however, during these rounds Hinojosa was finding it considerably easy to land his punches = mostly right hands – the face of Huerta. In fact, the ease with which Hinojosa was landing was worrisome and seemed to take much of the accomplishment (at least to me) that Huerta was getting by beating Hinojosa so handily. By the ninth round, Hinojosa's right eye began to swell and showed signs that it might close in the coming rounds. However, luckily for Huerta, it didn't.
In rounds ten though twelve, Huerta stepped it up another gear and threw even more hooks, trying even harder for a knockout. However, Hinojosa took the punches well and returned the favor with an equal amount of weak combinations. Strange as it may seem, Hinojosa's weak shots appeared to be the more damaging punches as they made a mess out of Huerta's face by the end of the fight.
Huerta, however, got the victory and with it he kept alive a potential future title match up with lightweight champion David Diaz. He matches up well with Diaz, although I wouldn't give Huerta any chance at all against the other lightweight champions, like Michael Katsidis, Juan Diaz and Julio Diaz.