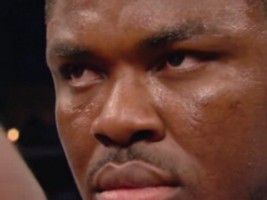 Mandatory #1 Heavyweight challenger Samuel "The Nigerian Nightmare" Peter has jumped through so many of boxing's circus hoops and waited so long to pounce on a heavyweight champion that he is already preparing diligently for the hunt of his dreams. Finally scheduled to challenge WBC King Oleg Maskaev on October 6 at Madison Square Garden, Peter began training a full eight weeks in advance of his big day.
Promoter Dino Duva says a Samuel Peter this motivated and hungry is bad news for Maskaev. "He reported to camp eight weeks before the fight. That means you will see the best Sam Peter ever. A new heavyweight champion will be crowned that night and God help Oleg Maskaev."
In his previous outing, Peter turned in a career-best performance while establishing his dominance over James Toney. Duva says he's very impressed by the devotion his young slugger is showing as he nears his destiny. "When he fought James Toney in January, Samuel looked the best he's ever looked. That was because of a five-week training camp. At the time it was his longest. Sam knows that the opportunity to challenge for the heavyweight championship is the chance of a lifetime and he's working harder than he ever has to take home the belt."
Manager Ivaylo Gotzev says his man will not only win his first title on October 6, but also light up the once-greatest division in boxing. "We're putting the heavyweights back in business with this fight. There will be a lot of buzz after this fight when people watch what the new king does to the old one."
Watching the mice play their games, waiting for his time to strike, Samuel Peter is all done playing. Already hard at work sharpening his reflexes, power and precision, on October 6, the young tiger will be coming with more bite than ever before.
Tickets priced at $400, $250, $150, $100 and $50 (over 14,000 tickets will be $150 or less!) are on sale at the Garden box office and all Ticketmaster locations or by calling Ticketmaster at 212-307-7171, 201-507-8900, 631-888-9000, or 914-454-3388. Ticketmaster purchases are subject to convenience charges
The main event will also be televised on SHOWTIME CHAMPIONSHIP BOXING beginning at 9 p.m. ET/PT (delayed on the West Coast).