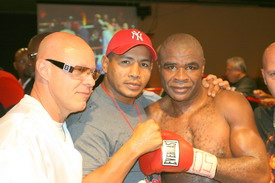 28.07.07 – By Wray Edwards, all photos by W.Edwards: One of the current bricks in the cornerstone of professional Boxing, Glen Johnson, continued his relentless march towards another world championship. Miami residents braved a tropical rainstorm to fill the venue at the Sheraton Miami Mart hotel to watch the local and national hero strut his stuff. Bad Dog Productions in association with Seminole Warriors Boxing assembled a fun group of guys for the under-card, and threw what turned out to be a well-catered party with great food, Boxing action and heaps of celebrities. In some ways it was good that there was no TV coverage which often requires so much crowd control, that it hinders mixing and freedom of movement.
Glen entered the ring to great cheers as did Fred who is also popular in the area. Johnson has a habit of starting with caution to feel out his opponent, get warmed to the task and turn up the wick until he either stops the other guy or out-points him. In this case it was the latter, as with a stunning right and a left uppercut, Johnson dropped Fred to a pretty scary period of unconsciousness. As the medical team attempted to revive Mr. Moore, Glen toured the ring to receive his cheering reward from the great Boxing fans of the Miami area. This KO was not to be the only one of the night as there were two other instant decisions last night. And then there was the motel…unbelievable!!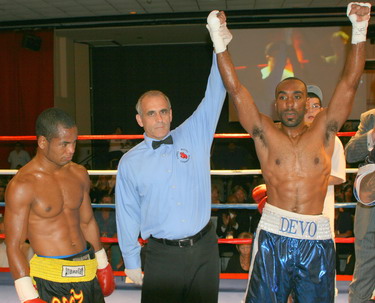 In the first fight of the evening, Super Lightweight Damian Frias stopped Derek Moon at 1:45 of the third round.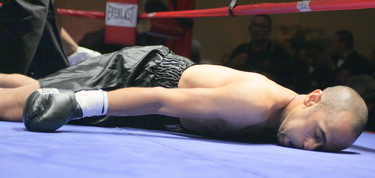 In the second fight Lightweight Alex Brennes dropped Antonio Valario as Tony stepped into a vicious hook and fell like a wounded duck.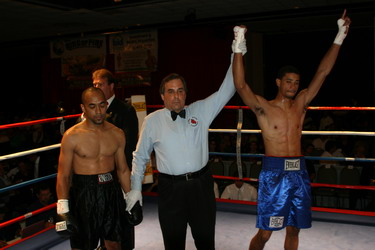 Latulas was a happy camper as he won his debut professional fight.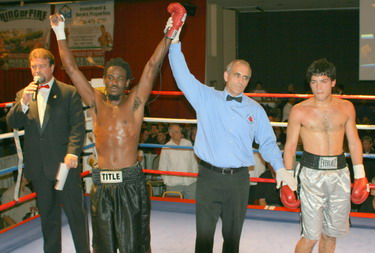 In the third contest Lightweight Berthin Rousseau overwhelmed Mathias Monastersky until the ref stopped the fight.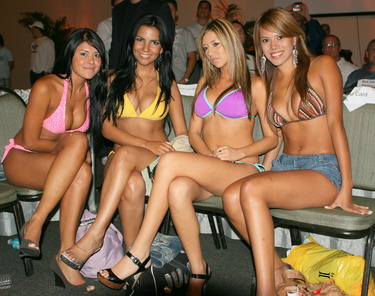 Somebody had to tell us what round it was…oh well.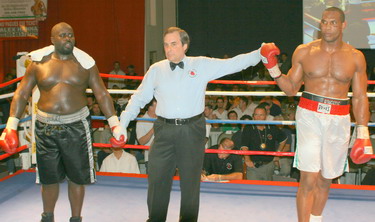 Then two new Heavyweights made their debut as trainer Norman Wilson's new guy Henry Fuentas won a UD over Christopher Boykins. Fuentas had a curious left which was more of a slap instead of a punch and he was staggered several times. Chris was a pretty good boxer, but he failed to overcome certain local dynamics…if you get my drift.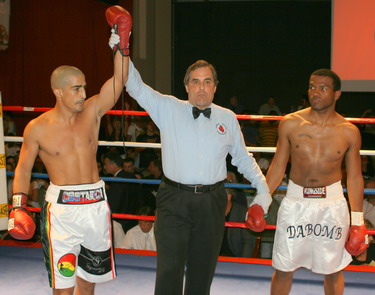 Lightweight Alex Brennes was way too much for John Vaughan as the ref stepped in at 39 seconds of the first round to prevent a slaughter.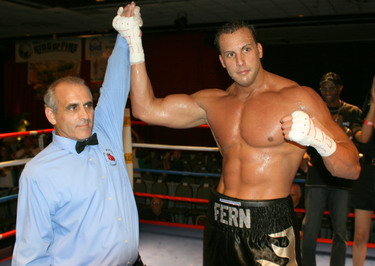 For the second fight after the Main Event, the entire crowd (almost nobody left) of avid fans watched Heavyweight Colin Fern pant his muscle-bound body to a UD over Leonard Coller.
There were heaps of Boxing celebrities in the house including: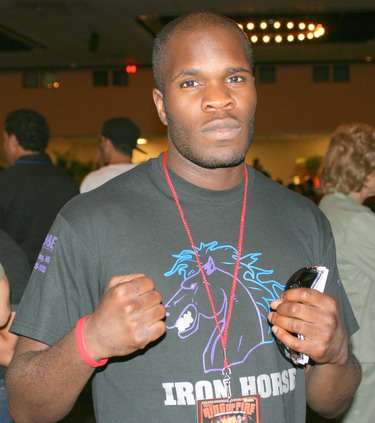 …Sechew Powell, Juan Urango, Shannon Briggs, Ricardo Mayorga, Kassim Ouma and many others. Bad Dog Promotions put on a great show with the exception of the ring lighting. It was too much overhead and should have been more oblique.
Since my usual motel was booked, I was directed to one on eighth street. Looked OK, but when I got to the room there was a whirling, colored disco light, mirrors at the headboard and on the ceiling and, believe it or not, a bidet in the head. The tile work was great and the three 24 hour porno channels were enough to gag a maggot. Can you say red light district?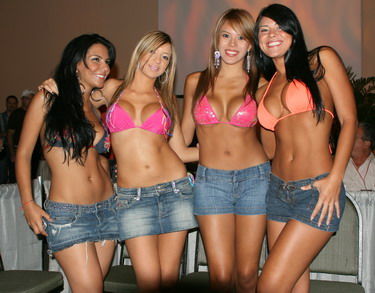 ESB would like to thank Richard Dobal's Bad Dog Pomotions for giving us access to the evening's fight card. We are eager to attend his next event "Ring of Fire 2" BTW, I think Johnson-Hopkins would be fun. See you at the fights.