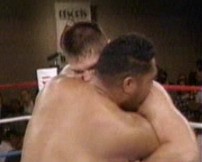 (Andrew Golota, seen here taking a bite out of the shoulder of Samson Po'uha in 1995) 28.07.07 – By Ted Sares: There are different schools of thought as to what a boxing match should look like. Some like cerebral chess matches where the combatants use their technical skills to win in the manner of Chris Byrd beating Jameel McCline by a split decision; others prefer a slug fest or even a pier six brawl ala Maddalone-Minto or Katsidis-Earl. Watching Fast Eddie Chambers systematically dismantle an opponent maybe gives you something in the middle. What can be coma-inducing for some may be high drama for others. Beauty is in the eyes of the beholder.
Come-from-behind fights like Feliciano-Rodriguez, ebb and flow classics like Corrales-Castillo, and unexpected one-punch knockouts like Gary Stark Jr.-Andres Ledesma, Barkley-Hearns and Tate-Weaver are universally appreciated.
Strategic roughhousing
There is another kind of fight that, for lack of a better name, can be categorized as roughhousing. Mustafa Hamsho was the quintessential rough houser always seeming to do some things that made every one of his fights interesting and controversial using his head and elbows in novel ways. Today, Bernard Hopkins does a good job of walking a delicate balance between dirty and not-dirty, and does it strategically as if it were a part of his fight plan. However, if he ever decided to move up in weight and fight Evander Holyfield, it would be like two rams butting heads. Holyfield beat Hasim Rahman in 2002 by head-butting him plain and simple. It caused a welt over the Rock's left eye that was the size of a grapefruit. Far too many others have felt the effects of Evander's third weapon. The earlier version of Ricky Hatton fought on the edge as well, though a bit more recklessly than strategically.
Jack Dempsey's overall menacing demeanor and nonstop aggression and propensity for dirty fighting made an unmistakable impression on a young Mike Tyson whose own penchant for excessive violence would play out later against Holyfield, Savarese, Botha, and McBride. Attempted arm breaking took on a new meaning with Iron Mike.
"The Foul Pole" and crossing the line
Although sometimes ugly, roughhousing maybe be palatable except when it crosses the line to "intentional dirty" such as when Andrew Golota dismantled Samson Po'uha, Darnell Nicholson and Riddick Bowe twice. Heck, with Golata, everything goes including bites, holding and hitting, rabbit punching, thumbing to the eye, intentional head butts, elbows and, of course, deliberate low blows. Golota may have studied vintage tapes of Tony Galento, a practitioner of the deliberate head-butt, gouge, low-blow, kidney punch and well-placed elbow. With his biting of Po'uha and deliberate and inexplicable head butt of Darnell Nicholson, the 'Foul Pole" took it to a new level. Tyson later would affirm the use of cannibalistic tactics in the ring.
Boxing is a hurt business, but 99% of the fighters rise above the need for such tactics, even when they absolutely despise each other like Ali and Frazier or Mayorga-DeLa Hoya. They were above that. As a former boxing writer once told me, "most guys, they put an opponent down and their first instinct is go to the neutral corner, but with a few, I'm certain the first thing that goes through their mind is hit the poor bastard when he is down."
Teddy "Two Gun" Reid
Teddy "Two Gun" Reid, 23-9-2, uses whatever is available to beat his opponent. While Hopkins is strategic; Reid, though known to spit out his mouthpiece on occasion or feigning a low blow to buy time, is more an "anything goes" type and you had better be ready for anything if you go up against him. As Joe Tessitore once said, "He fouls so much; you'd swear he practices it."
Reid, from Maryland via Jamaica, has been known by aficionados for years. He is both aggressive and merciless, and is a bombs-away slugger who always makes exciting fights and has scored impressive wins. Among his victims have been Germaine Sanders, Joe Hutchinson, Emanuel Augustus, Terrance Cauthen, Eamonn Magee, Juan Carlos Rubio, and Juan LaPorte. The level of his overall opposition has been very high. Ring magazine once ranked him No. 7.
Before being stopped by Kermit Cintron in 2004, he gave the young prospect all that he could handle. He backed up Cintron with hard punches and wobbled him on several occasions. Cintron had 23 prior fights, but number 24 against Reid was his first real test.
In his give-and-take draw with J.C. Candelo in 2006, he was deducted one point each in rounds 7 and 10 for roughhousing. In 2005, he punched Rodney Jones on the break for a point deduction thereby arguably snatching defeat from victory in losing a split decision. Against the aforementioned Cintron, he was penalized twice: once for punching after the bell and then for punching on a break. He was also penalized in his 2006 TKO loss to Verno Phillips in a fight in which he took far too much punishment.
"Two Gun" had three separate point deductions in a 1998 fight against welterweight Andrew "Six Heads" Lewis for the WBA North America Welterweight Title. After staggering Lewis in the first round, Reid was deducted a point in the seventh, eleventh and twelfth rounds in a display of how to lose a fight without really trying. Here, in one bizzare evening at the Convention Center in Atlantic City, you had two guns, six heads and three fouls.
In 2000, Reid beat tough Emiliano Valdez, 14-3-1, by late TKO. Valdez, 26, was put in a coma from injuries sustained in this savage bout, and passed away on March 20, 2002.This foul-filled fight started with Reid throwing his customary bombs from the get-go. He soon dazed Valdez with a long thunderous right to the head, but was in turn rocked by a low left hook that halted his onslaught. Valdez then went after Reid's lean and tall body and began to wear him down. Finally, after a violent ebb and flow battle in which both fighters were penalized for fouls and in which both were in serious trouble on numerous occasions, things turned in Reid's favor in the eighth and ended in the tenth when "Two Gun" hit and froze the rugged Dominican with a malefic left hook. Raising his hands ala Sugar Ray Leonard, he then quickly closed matters with a slashing right cross and a crunching left hook that sent Valdez crashing to the canvas unconscious and then to the hospital. This was not dirty, but it was both brutal and tragic.
Reid has been a great, albeit controversial thrill-provider, but coming off his recent 2007 fight with Richard Gutierrez in which he was brutally stopped, it appears he is at the end of his career and needs to give serious thought to retirement. After being the recipient of several wicked head shots launched by the talented Gutierrez, Reid was decked in the fourth. However, keeping to his creed of "using whatever is available to win," he claimed he was fouled on a low blow to the right hip. He grabbed his groin and rolled around the canvas, but referee Ed Claudio was having none of it and counted Two Gun out.
When they tally up the guys who fight under the creed of "anything goes," Teddy Reid's name will be near the top.
"…… Practice makes perfect…..You got to practice these things to be perfect at it. It's a fight and everything goes. I look for tough sparring, and it's hard to get it at my weight, so I have to find it 30 to 40 pounds above me. I will foul in sparring. That's what I do. I practice it." Teddy Reid. From Joe Tessitore's ""Reid's a mean one, a la Grinch," Special to ESPN.com