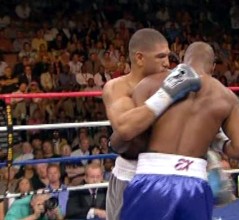 24.07.07 – By Vanessa McConnell: What good is a fight in Nevada without a showdown? The trash talking, threats, promises and defeats. Last weeks Bernard Hopkins vs. Winky Wright, what I like to call the "Old School vs. New School" at the Mandalay Bay Event Center in Las Vegas was nothing short of that. It was a little disappointing to hear that it was all for a pay hype. Bernard Hopkins put on a comical display of man eating open hand when he pushed Wright back with an open hand to the face, causing a near riot at the weigh-in on Friday. Everybody knows that it don't take much to stir up heat in this part of the desert. Now he faces the Commission later this week to face fines and possibly suspension.
That petty incident cost him 10% of his $3 million purse, but some say it was a move that could have backfired because according to internet writer Michael Woods "boxing fans friends bitch about the PPV costs" and now the "$300,000 taken from his purse to go into the Nevada Commission's kitty for (Bernard) starting the faux tussle."
Teddy Atlas ESPN2 analyst and trainer feels "HBO's gone downhill, I got to be honest with you. There have been a lot of precedents (other than the Hopkins-Wright fight). The people in charge of buying fights don't buy ones as good as they once did. They're not as knowledgeable or maybe they don't care as much anymore. They're not pressed by their superiors to come up with the goods."
Hopkins, coming out of retirement, felt no hesitation that he was going to win the fight. During the pre-conference call he said, "I'm back and my record speaks for itself. I was champion for over ten years, had 20 defenses and a win over a man they said was the best light heavyweight in the world, Antonio Tarver. Winky Wright is a good fighter, but I'm a great fighter, and I'll prove that once again on July 21st." As we all know there had to be some trash talk." He also said, "This fight is based on who can figure out the puzzle and make the other guy do what he don't want to do."
"Winky is like a turtle. He likes to go in his shell. I'm going to show y'all how to get the turtle to stick his head out of his shell. I have to trick Winky into thinking it's safe to peek out of that defense of his. This is where the skill of Bernard Hopkins comes in. I'm going to pick Winky apart. Winky don't have as many weapons in his arsenal as me. He's going to get hit more in this fight than he's been in any fight in his life." He also mentioned during the pre-fight conference call that he was naturally a 168-pounder. Since 1988 he's fought a light heavyweight and continued to float between super middleweight and middleweight where he stayed for many years.
"When I was in middleweight, I had to reserve certain things because of certain things that I had to deprive myself of for many years," Hopkins said. "Now that I don't have to do that, the blueprint is June 10, 2006. I came out blazing, came out, boxed and fought every round, and I didn't have to do this. I just found a new body. Somehow I just realized that I feel so strong. And, you know, six-foot-one, light heavyweight, I gained a couple of inches around my waist It was 28, and now it's 30, 31, sometimes it's 31. It feels so good that now that I can step back on a gas pedal and not have to worry, you know. I'm going to take him in deep water, I'm going to get him here and I'll pick my spots here. I can go full blaze."
During the pre-fight conference call, Wright said that he would "shut his (Bernard) trash talking mouth, break him down and send him back to the retirement home." He remembers "back in the day" when he was a slick boxer, that would stick and move, dance around and win fights easily, "and nobody could touch me." He said in a response during the conference call about his southpaw jab, left hand jab and more "aggressive style," "I guess I moved to that kind of fighting because the network."
"I wanted to prove to the world, to everybody, that no matter what weight, if we can get close, then we can fight," Wright said. "I'm not a light heavyweight. I'm not a super middleweight. I'm a middleweight. I'm glad that Bernard stepped up to the plate to fight me when no one else wanted to take the challenge and I respect him for that. But that will all go out the window when we step into the ring. I'm younger, faster, stronger and better than Hopkins and he knows it."
Not only was he trying to pick a fight with "the network" he threw in his bid for De La Hoya. "I see De La Hoya has created a new division for himself," Wright was reported as saying. "Is he calling it Junior Oscarweight or Super Catchweight? Personally I think it's Make Winky Wait." Who knows if he will get the chance to go face to face with the Golden Boy but his only concern should have been facing what he called "a dirty fighter, using head butts, low blows and elbows to accomplish his goal" Saturday night.
Some say that Wright made the only true prediction of the fight when he said "he uses head butts" considering Wright started bleeding in the third round from a head butt. That obviously was a turning point in the fight because that is what knocked him "off his game" and the fight went downhill for him from there, Hopkins won by a 12-round unanimous decision. It was ruled an accident but referee Robert Byrd had to warn Hopkins a few times and he never deducted any points from him. Hopkins said that the head butts were not intentional and were "the results of the awkward match up with a southpaw."
Some fighters fight close and some at a distance. The decision didn't go over well with a lot of fans who booed throughout most of the fight (begging for action), they held back no punches when they booed when the decision was announced. Hopkins said after the fight, "Wright exposed a weakness during the promotion when he said he was a safety-first fighter who didn't like to get hurt. The fight was over at that point. I just had to make it manifest itself."
Wright had to go to the hospital after the fight to get stitches for the gash over his eye. His camp stated, "he had several cuts in his scalp that were caused by butts." Wright fought a great fight and is not going to let this defeat slow him down, he has greater hopes now for a chance to get in the ring with De La Hoya and return to the 160 pound division. Tim Smith of the Daily News Sports Writer said "Wright was fighting 10 pounds above his weight class for the first time. Wright 170-pound level was a one-shot deal. He will return to middleweight. Hopkins sent him back with an old-school beating."
Mike Cassell with the Philadelphia Boxing Report calls Wright "one of the best fighters in the world and hungriest fighter to step into a boxing ring" and hoped that this fight would vindicate him because he "needs it more than Bernard Hopkins" but as we all know it didn't work out like that. The middleweight champion was defeated by a more distinguished (I wont say older) pro. "It was a chess match, both are a master craftsmen," said Hall of Fame trainer Angel Dundee while critics were saying that Hopkins was only offered the fight because nobody else would take the fight.
You can't take anything from both of them, both fighters have very impressive careers and will go down in history and possibly the Boxing Hall of Fame as best "pound-for-pound fighters" among many others. When Mark Taffet with HBO Pay-Per-View said that "each of them will need to bring their A-game into the ring" I couldn't have said it better myself. Both had a lot to prove and accomplish, but there could only be one winner. When Freddie Roach said he watched tapes of Wright and Mosley and studied how Mosley handled the fight and realized all he had to do was "feint Winky" he knew exactly how to train Hopkins for the fight.
Well, Freddie was on his "a game" because Hopkins made a nice return not matter how he got it, who booked it or paid for it. He plans to fight (Joe Calzaghe) again before the year is over but it really comes down to the Nevada Athletic Commission this week. He's not just coming out of retirement for a quick pay day, he's really serious about getting back to what he does best, boxing. If he avoids suspension and fights Calzaghe, he definitely wants to bring it home to America, he says "the best fans are here."
When it was all said and done, Ricky "Flash" Newman said it best and true to heart, "Bernard definitely won. I couldn't see giving him the unanimous decision though. Bernard is the same old Bernard, KGO Old Warrior. When they said Winky didn't win no rounds, that's a lie. Hopkins just fought a better fight at 170-pounds than 160. I think he's much better fighter at 170. He went from middleweight to light heavyweight, he's getting older but he's fighting better in his older age." As a respected trainer/manager, Flash was just glad to see him "still winning and fighting good."
More fighters are coming out of retirement and this win for Hopkins only shed a light on the others. David Tua is coming back Oct. 18th. Flash and Green Gloves Management (Rep. Greg Hughes and Gary) are proud to announce the fight for Salt Lake City and are looking forward to a knock out card. As for Golden Boy's last weekend fight card, critics can say what they want. Three fighters (including a headliner) went to the hospital, both Oscar Larios (who lost to Jorge Linares) and Czar Amonsot (who lost to Katsidis were treated at Valley Hospital for minor head injury and possible "brain bleeding." For a gallery of the fight card for the Bernard and Hopkins fight visit www.myspace.com/vmclasvegas (blog section).