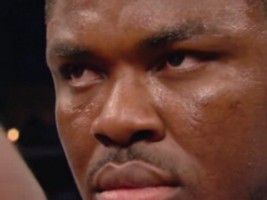 17.07.07 – By Hunter Breckenridge: This list is how I currently see the heavyweight division. Obviously, rankings such as this are subjective, and open to debate. I'm sure there are many other lists that would look different from this one. In the end, I tried to analyze the recent achievements of the top fighters in the division, and rank them accordingly. This is a continuation in a series of top ten lists that can be seen on my boxing blog, (shameless plug alert) http://hunterboxing.blogspot.com. Enjoy!
1.) Wladimir Klitschko – Four of his last five victories have been over Ring-ranked top ten opponents. His recent domination of Lamon Brewster added to this impressive streak. Wlad is clearly head and shoulders above the rest of the division.
2.) Samuel Peter – Sam has been idle since his victory over James Toney back in January. He has been left in limbo by the WBC while he waits for his shot against Maskaev. My suggestion is that he ditch the alphabet thieves and go after a much more worthwhile trophy. The winner of a rematch between Sam and Wlad Klitschko would crown a new Ring Heavyweight Champion, truly the only title that matters.
3.) Ruslan Chagaev – Ruslan has very quickly moved up into the heavyweight elite. Wins over Vladimir Virchis, John Ruiz, and Nicolay Valuev prove that he is for real. Now he's scheduled to take on another top-ten contender in Sultan Ibragimov. Ruslan is rare among recent heavyweights in that he has an actual interest in being the Man, and he has the talent to succeed in that quest.
4.) Oleg Maskaev – Oleg needs to make up his mind. Whether he fights Sam Peter, one of the Klitschko's, or just retires, I don't really care at this point. Oleg is holding up the division, and until he has a significant fight, he'll begin to slip down this list.
5.) Sultan Ibragimov – With his win over Shannon Briggs, Sultan finds himself among the major players of the heavyweight division. Even though the belts are fairly meaningless, Sultan still deserves major credit for taking on another top ten fighter in Chagaev. He did a gutsy thing in choosing not to sit on his belt and defend against 2nd-tier opponents. Clearly, he is on the way up. Now, if only Jim Lampley could get his name right.
6.) Nicolay Valuev – Despite no longer possessing the WBA trinket, Big Nic is still clearly a top ten fighter. That may be more of an indictment of the general state of the division than a celebration of his achievments. However, his size, chin, and a decent skill set make him dangerous to any fighter in the division.
7.) Calvin Brock – There is discussion of a possible elimination bout bewteen Calvin and Chris Byrd. The winner would then be slated to fight Klitschko for the IBF bauble. Obviously, there is little point in Wlad facing either man again. Having said that, the fight could still be a decent measuring stick in determining if either man can still be considered an elite fighter.
8.) Sergei Liakhovich – Sergei is sitting in the top ten more because of his talent and potential than any actual accomplishments. His brutal win over Lamon Brewster last year counts for a lot, but a loss to Shannon Briggs, and nearly a year of inactivity hurt him. He needs to fight again soon.
9.) Chris Byrd – Chris posted a rare stoppage win over no-hoper Paul Marinaccio a couple months ago. He showed he still has at least some of the skills that made him one of the top heavies for many years. However, he's 36, and the clock is ticking fast. If he plans to stay at heavyweight, there are still fights to be made. The question is, does Chris have enough left in the tank to take on the heavyweight elite?
10.) Tony Thompson – Tony snuck into my top ten thanks to his recent run of fairly impressive victories, culminating in a 5th round stoppage of Luan Krasniqi. Thompson is a late bloomer who appears to be hitting his stride at 35. He's positioning himself for a run at the top dogs, and could be a threat.
Not Quite Top Ten (in no particular order):
Vladimir Virchis – He was in my top ten, but Thompson's recent victory edged him out.
Vitali Klitschko – Needs to show he can tie his shoe without injury, much less go through training camp. Let's see what happens against McCline.
Lamon Brewster – Loss to Wlad dropped him from the top ten. Still good enough to get back in, if he still has the fire.
Oliver McCall – Always on the fringe, probably won't crack the top ten.
Evander Holyfield – Really seems improved. Still a shell of his former self. Sadly, he probably won't realize his dream of another title.
Alexander Povetkin – Alex is close, and after just 13 fights. Kid is a beast.
Jameel McCline – Just a fringe contender now.
Hasim Rahman – Not getting any better. On the way down.
Eddie Chambers – Best American prospect has looked impressive as of late.
Ray Austin – Outclassed by Klitschko, he probably won't get another chance at the division elite.
Fres Oquendo – A smaller McCline, in that he's a tentative former contender sliding into gatekeeper status.
David Tua – Frustrating. Could KO anybody, but doesn't seem that interested in getting any good fights. As of now, he's just slowly declining.
Matt Skelton – Britain's best appears stuck in the perpetual Williams-Harrison-Sprott round robin.
DaVarryl Williamson – See McCline and Oquendo.
Michael Sprott – One hit wonder.
John Ruiz – Even if he still has something left, nobody wants to see The Quiet Man prove it.
James Toney – Amazing how a focused Sam Peter can age a man overnight. Well, that, and a lifetime of physical abuse in the ring and at the dinner table.
Chris Arreola – Gotta disagree with The Ring on this one. He hasn't earned a top ten spot just yet.
http://hunterboxing.blogspot.com