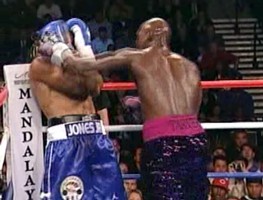 16.07.07 – By Knockout Publicity: WEST PALM BEACH, FL-The paying consumer deserves to get their money's worth. Give us warriors, men who persevere through adversity, throwback pugilists with brazen hearts equipped for battle. Richard "The Destroyer" Hall meets those criteria. In a lackluster boxing division void of entertaining stars, Hall looks to shake up the light heavyweights with his balls-out wanton and fan-friendly banging style. That is, if the opposition is up to the challenge.
Richard Hall comes to fight, a fact that stirs up apprehension in most 175 pounders. "I'm still hungry like the day I started boxing. At the same time, I'm disappointed. Nobody wants to step up to the plate and go to war. This is my dream. I love boxing."
Last month, Antonio Tarver and Chad Dawson were featured on a twin bill card televised by Showtime. Although they are both world-ranked light heavyweights, neither man felt obligated to face a known fighter. "Who the hell is Jesus Ruiz?," Hall asked of Dawson's opponent. "Chad should be ashamed for facing a 19-4 fighter in a world title bout. He is supposed to be the next big thing, but he fights club fighters."
Antonio Tarver's opponent was Elvir Muriqi, a virtual unknown who held Antonio to a majority-decision. "Antonio Tarver is a joke! He claims to be this great legend, but he cannot dominate ESPN fighters. I want Antonio Tarver so bad, it's like I'm starving."
Defeating Antonio Tarver would exorcise many demons in Hall. As teenaged amateurs, Tarver was awarded a bogus decision over the young Hall in a fight the Jamaican-born slugger clearly won. Rico Hoye is another fighter with whom Richard Hall has unfinished business with. Hall entered their 2003 bout with an undisclosed spinal injury that resulted from a motorcycle accident 2 weeks before the bout. Since it was an IBF Light Heavyweight title eliminator, Hall decided to go through with the bout anyway. Now healthy, Hall hopes to settle the score on a level playing field.
"I'd love to fight Rico Hoye tomorrow morning. I wasn't 100 percent, but I am now and I'd walk through hell to get my hands on Rico Hoye."
"People pay their money to see guys go duke for duke. It's a blood sport. If people don't have fighters that inspire them, they will go to UFC. I don't believe in the judges, they don't see what goes on in the ring. I love the knockout. If the fight goes to the decision, I feel like I'm cheating the fans. I'm still the roughest Jamaican bad boy in boxing. I see you guys with the belts, and I'm coming for all of you."