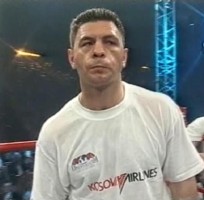 05.06.07 – The "Universum Champions Night" on July 14th at the Color Line Arena in Hamburg will feature the return of Universum heavyweight Luan "The Lion" Krasniqi. Heavyweight contenders Luan Krasniqi (30-2-1, 14 KOs) and Tony "The Tiger" Thompson (29-1, 17 KOs) are set to meet in a WBO title eliminator. The winner will earn a shot at newly crowned world heavyweight champion Sultan Ibragimov. After his last victorious bout in Stuttgart in March 2007 against Brian "The Beast" Minto, Krasniqi is back on track and ready for this chance.
"I saw Ibragimov's win over Shannon Briggs on TV Sunday night. If one could say anything about this heavyweight fight, it's that on this evening two average boxers stood in the ring. "It was not a fight for the public – little motion and barely any high quality boxing action – a below average world championship fight without a great new champion."
"My next opponent Tony Thompson is stronger than both these fighters and in addition, an awkward boxer, a workhorse, and a rare southpaw. However, I've looked quite good against such types and I'll defeat him. I have to beat Thompson and then I know that Ibragimov must face me in a world title fight," commented the 35-year-old Krasniqi.
Luan Krasniqi has shown in his last fights that he has never given up his dream to become the next German heavyweight champion after Max Schmeling. He made history when he lost in a dramatic fight in September 2005 (on the 100th Birthday of Max Schmeling) to Lamon Brewster, at that time WBO heavyweight champion.
Krasniqi was leading clearly on all three scorecards by it came to a abrupt end with a Lucky Punch by Brewster in round 9.
The boxing fans in Hamburg can expect another great night of boxing at the "Universum Champions Night" at the Color Line Arena on the 14th of July from 5.45 pm
The ZDF will broadcast from 10:00pm LIVE.
Ticket-Hotlines:
040 – 69 65 59 59,
01805 – 570 000,
www.boxing.de and at all known Ticket Shops.