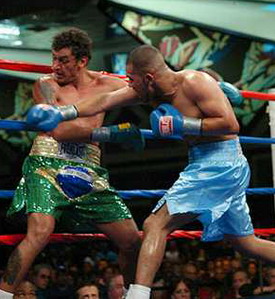 29.04.07 – By Mike Indri, Retired Boxers Foundation – Photos by Richie Maldonado: Mashantucket, Conn. – While in New York earlier this month, Juan "Baby Bull" Diaz explained his reason for sporting a trimmed beard and moustache. "I'm not a sixteen-year-old kid anymore, I'm a world champion and I'm going to prove I'm a man," reasoned the humble and extremely likable twenty-three-year-old college student, who just happens to be the World Boxing Association's lightweight champion.
Under the caring and watchful eye of seasoned head trainer/manager Willie Savannah, Diaz's boxing career had been brought along at a much more guarded and slower pace than the Houston native would have liked, and the 135pounder has endured all the skeptics who've wondered aloud about the young fighter's quality of opposition, his supposed lack of punching power and his ability to rise to the occasion against the elite fighters in the division.
The junior University of Houston pre-law major aced the test Saturday night at the Foxwoods Resort Casino with his eight round technical knockout victory over Acelino Freitas, during their WBA/WBO lightweight world title unification bout, dethroning the Brazilian legend..
From the opening bell both fighters were determined to establish control, as both champions had something to prove.
Diaz, as aforementioned, yearned to silence his critics and prove that he belonged with the best. Freitas, the current World Boxing Organization champion and a four-time world titleholder, needed to confirm that he still was among the best and also carried the stigma of his TKO loss to Diego Corrales, at this very same Foxwoods arena in 2004.
The ferocious pace which Diaz and Freitas battled at only accentuated the memorable 100th boxing event at Foxwoods and the real winners were the 3,150 in attendance, as well as the HBO television audience.
Delighting the partisan Brazilian crowd, who were in support of their "Popo", Freitas landed often and enjoyed the better of the exchanges while in the center of the ring. Diaz banged away in workman-like fashion and made his opponent work extremely hard with a feverish attack and severe pressure. Freitas managed to hold off the bullish aggression of his younger foe for the early portion of the first few rounds but as the non-stop battle continued it was Diaz who was landing the more telling blows and Freitas who was growing weary.
Back and forth through round five, Diaz then ate a Freitas uppercut that would have dropped most fighters. Proving his chin and heart, Diaz then connected with several hurtful bombs, which truly stunned Freitas; whose look of concern spells trouble for "Team Freitas".
As close a fight as could be judged at the midway point, Diaz continues to drive Freitas to the ropes and digs away at the body. While both guys are fighting hard, and providing great action, it's the punches by Diaz which have the most effect and the capacity crowd senses the passing of the torch.
As the fateful eighth round began Diaz forged forward, getting tagged by several feeble punches. Pouncing on his drained rival, Diaz pounded away, sending Freitas reeling into the ropes and landed several clean, crisp head shots. Freitas tried to hold on and gasped for air, applying the only defense he now had which was to throw punches. As the bell ended the round, Diaz's best, Freitas staggered back to his corner.
The gracious champion was met by his trainer and dear friend, Oscar Saurez, who would not allow his fighter to continue and advised referee Mike Ortega, that Freitas (38-2, 32 KO's) was unable to come out for round nine.
"It was my decision to stop the fight," Saurez stated afterwards. "You can't sit by and let a young man get punished. I will never let him (Freitas) get hurt in my life."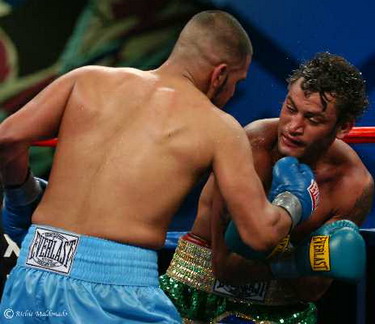 A tremendous fight and a great effort by both fighters, Diaz (32-0, 16 KO's) has proved his worthiness and now has his sights set on the division's other champions, Joel Casamayor (WBC), who was in attendance, and Julio Diaz (IBF), in hopes to truly unify the title.
"A true champion is one that has all the belts," a jubilant Diaz exclaimed. "I want to unify the division and I will fight anyone, Casamayor, Hatton, even Pacquiao. It's up to my manager."
In the co-feature bout of the evening Super Featherweight Agnaldo Nunez retained his NABF and NABA titles with a razor close twelve round majority decision over veteran Carlos Navarro. Nunez (17-1-1, 7 KO's) was a bit quicker and sharper with his punches. Swelling Navarro's left eye shut from a stinging right hand, the Brazilian fighter boxed well and jumped out to an early lead in the bout. Navarro, now fighting out of Las Vegas, never quit and made it close by finding the range for his jab and several bigger right hands, which did leave it's mark on the right side Nunez's face.
The championship rounds saw Nunez turn up the effective aggression and this enabled the thirty-one-year-old boxer to prevail in the close battle of southpaws. The hard fought victory by Nunez may have earned the technically sound fighter a shot at a world title in the near future.
On the Foxwoods "Centennial Fight" undercard:
Russian jr. welterweight Ruslan Prodovdnikov opened up the show in commanding fashion, scoring a first round technical knockout over Antoine Barrett, in a scheduled four round bout. While never going down, the Khanty-Mansiysk native hurt Barrett midway through the opening stanza, and continued an offensive assault that forced the stoppage at the 2:33 mark. Barrett remains winless, 0-3, while Prodovdnikov stays unbeaten, 3-0, (2 KO's).
In a six round battle of heavyweights Aleksey Soloviev, from Cheboksary, Russia scored a unanimous decision win over Philadelphia's Levon Warner. Warner falls to 6-4-2 (1 KO) with the unimpressive showing, while Soloviev improves his deceiving 12-0 (7 KO's) pro record.
The capacity crowd was next treated to a hard fought, closely contested middleweight battle, which was broadcast internationally, between Brazilian Isaac Rodrigues and Hollister Elliott, fighting out of Dorchester, Mass. Trading power shots and going toe-to-toe for the four rounds, Rodrigues captured a majority decision against the 45-year-old Elliott. Elliot drops to 7-19-1 (2 KO's), while the Belen do Para fighter climbs to 8-0. The crafty Elliott, much better than his record would indicate, did earn some bragging rights by becoming the first fighter to go the distance with the heavy handed Rodrigues.
In the two "walk-out" bouts, undefeated heavyweight prospect Bermaine Stiverne, now 12-0 (12 KO's), savagely ended the night for journeyman Earl Ladson at the 2:10 mark of the third round. A headshot, which Ladson never saw, sent the North Carolina fighter (12-16-1, 7 KO's) to the canvas were he remained motionless for several minutes. After receiving immediate medical attention, Ladson did regain his consciousness and left the ring on his own accord.
Middleweight Sergio Rivera (1-0) worked his way to a four round unanimous decision win against Donny Dukes (0-1). All three judges agreed on the 40-36 score. Rivera, from San Juan, Puerto Rico, and Dukes, a native of Albany, NY both were making their pro debut.