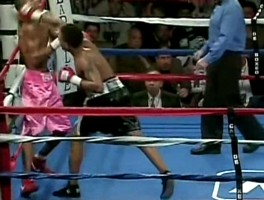 (Joel Julio, on right, lands a right hand knockout blow to the head of Thomas Davis) 31.03.07 – By Jeff Bastasini: Light middleweight Joel Julio (30-1, 28 KO's) easily defeated an overmatched Thomas Davis (11-4-2, 7 KO's), stopping him in the 7th round at the Cobo Hall, Detroit, Michigan, on Friday night. Showing why he was a highly regarded prospect, the power punching Julio, 22, was simply too much for the tall, slender, 6'2" Davis to handle, pounding him continuously with hard combinations over the course of the bout.
Davis, 34, a native of Knoxville, Tennessee, and a former U.S. Marine, attempted to trade with Julio early on in the first few rounds, perhaps thinking that he could beat Julio at his own game, but Davis soon discovered that this wasn't the best of plans, when Julio began throwing laser shots back at Davis, all but forcing him to stop punching out of fear. Really, after the first two rounds, Davis' punch output dropped to almost nothing, averaging between 3-8 punches per round.
Julio, whose boxing reputation had taken a rapid decline since his 12-round decision to Carlos Quintana in June 2006, followed by a disappointing split decision victory over Cosme Rivera in October 2006, really needed this victory over Davis to help rebuild both his confidence and his reputation. In both cases, I'm not sure whether this victory over Davis will do the trick, considering his marginal talent level. However, it was an excellent showcase for Julio's considerable power, since Davis was tough enough to withstand for seven rounds before finally succumbing.
Davis, sporting pink boxing trunks, looked good in the 1st round, snapping off fast jabs, and quick left hooks. However, this was before Julio started throwing punches. Once Julio started punching, he was like a machine, mostly always throwing combinations, and always with lots of power behind them. Julio connected with a left/right combination late in the first, which sent Davis against the ropes, where Julio lit into him with more combinations as the round ended.
In the next several round, the only time Davis would be able to mount any type of offense, was when Julio would very briefly let up on his artillery bombardment, at which time Davis would fire off several jabs, or a weak left hook, none of which had any effect on slowing Julio down. I do, however, have to give Davis some credit, though, because he was doing a lot of talking in between many of Julio's blasts, seemingly encouraging him, like a sparring partner might do. None of his talk worked, I must say, and by the 5th round, Davis wasn't saying anything anymore, so busy was he at taking shots.
If I can point to any weaknesses in armor of Julio, it would probably be that he seemed to tire a little in the 6th, much of the steam on his punches seemed to dissipate, and his punch output dropped ever so slightly, allowing Davis to get confident enough to land several jabs before the end of the round. Not much, but considering how many hard shots Davis had been hit by at this point, this was a real achievement in my book.
However, in the 7th round, Julio immediately went back to business, hitting Davis at will with mostly right hand power shots. All the while, Davis would back from one corner to another, receiving incoming fire the whole time. At last, Julio landed right hand shot that landed high on Davis' forehead, causing his head to whiplash violently in response. He then, without going down, turned and started walking away with his back turned slightly to Julio. Seeing that he was about to get creamed with another punch, Davis decided it was a good time to take a knee and save himself from anymore destruction.
However, Julio seemed to have his mind made up that he was going to punch him one last time, because after seeing him on one knee, Julio bent over and tagged him with a hard shot to the ribs, earning him a dirty look from the referee. However, no points were deducted, and the referee was content to call a halt to the bout.
Overall, it was a good victory for Julio, one that he looked very impressive, particularly with his power punching. That said, he seemed vulnerable by the 6th round, showing worrisome signs of fatigue, which could be a problem once he takes on another skilled boxer like Quintana, or someone even more dangerous, such as Cotto.