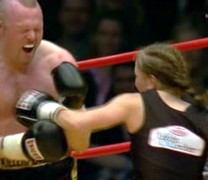 31.03.07 – By Fritz Drexel: Last night, in front of 19,500 fans in Cologne, Germany, Regina Halmich, the WIBF female flyweight champion, took on German entertainer/comedian Stefan Raab as part of a celebrity exhibition rematch of their 2001 fight, a fight in which Halmich badly batted Raab, an untrained fighter, breaking his nose in the process, in Cologne, Germany. This time, however, Raab, 40, promised things would be different. Indeed, he appeared to be in decent shape compared to the last fight with Halmich, and he even seemed to have learned how to box somewhat, though his power was clearly lacking. Before the fight started, Raab drove up to the ring in a large tank, which turned out to be the genuine article.
Raab, wearing camouflage clothing with sunglasses, quickly emerged from the tank, bounding out of the inside compartment and running up into the ring. After taking off his cap, he revealed that he had most of his hair trimmed off, making him look like he had just gotten out of military boot camp. In the meantime, Halmich entered the ring in a much less showy manner, slowly walking into the ring, looking shy and slightly embarrassed by all the attention being made over the fight.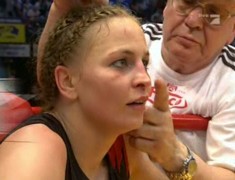 Halmich's shyness quickly worse off as the fight started, though, as she immediately set about attacking the tall, 6'1, " 200 pound Raab, hitting him with a quick combination. Halmich, only 5'3," 120 pounds, made it clear that her superior boxing skills were more than a match for Raab's size advantage, as she would speedily move out of range each time Raab would try to attack. Early in the 1st round, Halmich landed a sweeping left hook that caught Raab square in the face, knocking him backwards and causing him to wince painfully.
In rounds two through four, Halmich worked on a consistent body attack, landing powerful hooks to Raab's midsection, and causing him to gasp for breath and stagger around, appearing drained. By the end of the 4th, the fight looked as if it would be stopped due to the brutal beating that Raab was receiving. As the round was nearing the end, Halmich landed a combination to Raab's head, ending with a left hook to his midsection that caused him to bend over in pain.
However, in the final two rounds, Raab seemed to collect himself and gain a little energy as he backed up Halmich a number of occasions using his jab and long reach to keep her from scoring as often. Still, Halmich was able to land a number of vicious head shots that turned Raabs face a nasty red, making him look like a victim of road rash. Afterwards, to no surprise, Halmich was awarded the decision over Raab, who seemed to take his punishment in good spirit despite the one-sided natured of the fight.