31.03.07 – By Fritz Drexel: Unbeaten German heavyweight, Sebastian Kober (8-0, 8 KO's) destroyed Luis Oscar Ricail (20-19-2, 14 KO's), stopping him in the 5th round of a scheduled six round bout on Friday night, at the Köln Arena, in Köln, Germany. The differences in the class levels between Kober and Ricail, 31, was clearly evident in the first 30 seconds of the fight, when Kober landed a hard left-right combination to Ricail's midsection and head. In the following rounds, Kober put a beautiful slugging display of power punching, showing some excellent boxing skills along the way, such as defense and ring movement..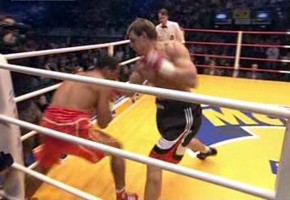 (Kober, shown here on right, landing a right uppercut to the head of Ricail in the 3rd round)
Kober, 27, is a highly regarded German heavyweight prospect, somewhat in the same mold as Luan Krasniqi, only shorter, with lesser speed, and a slightly weaker punch. Though listed as 6'3 ½," he looks closer to 6'2," and appears to be a little undersized for the heavyweight ranks. In the 2000 Olympic games, Koeber won a Bronze medal, yet he appeared to stay in the amateur ranks a little too long, perhaps. Though he has a reputation for having a soft chin while in the amateurs, he showed little signs of that against Ricail on Friday night, taking his best shots and not wavering a bit.
In the first round, Ricail, wearing no socks and looking somewhat like an MMA fighter, came out slow, moving to the outside to stay away from Kober. In the meantime, Kober calmly stalked Ricail, waiting for an opening. It didn't take long for Kober to turn ont eh action, cornering Ricail and tagging him with combinations, mostly hooks, but a few right hands mixed in. Kober's punches were thrown with a lot of power, but seemed a slow and telegraphed. The action slowed towards to end of the round, as Ricail began to move more and more to stop Kober's attacks. The crowd, however, didn't care for the lack of action, showing their displeasure by booing.
In the 2nd and thirds rounds, Kober pressed the attack, landing whipping left and right hooks to the midsection of Ricail. The action was again slow, mostly due to Ricail's constant circling movement, in which he stayed on the outside. Seldom would Ricail attempt to land any punches of his own, because on the few times that he did try, he showed poor hand speed, which enabled Kober to land straight rights to the head, as Ricail was coming in. On one occasion in the 3rd round, after missing a punch, Ricail spun completely around, turning his back to Kober. The move made it clear that he had little boxing skills, despite his previous 40 fights as a professional boxer. At the end of the round, the German crowd booed even more.
In the 4th round, Kober pressed forward, trying to take out Recail with every punch, and quiet the crowd at the same time. Kober landed some excellent hooks and uppercuts, mostly using his right hand, his main weapon.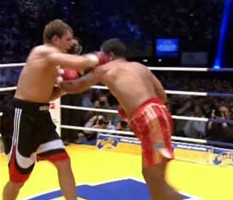 (Kober, on right, landing a right hand knockout blow to the side of Ricail's head in the 5th round) Though, Recail was able to see many of the blows coming, due to Kober badly telegraphing many of his punches, and was able to brace for the impact. Ricail landed two decent left hooks near the end of the round that caught Kober by surprise. It didn't hurt, though, but it got his attention, because Recail had landed so few punches of to that point in the fight. Looking to even the score, Kober quickly pursued Ricail, who looked like he wanted no part of him, and landed a right hook, followed up a right uppercut as the round ended.
In the 5th round, Ricail landed two weak jabs to start out the round. Kober moved in and landed two right hooks and a powerful straight right to the head. Then Ricail attempted to throw a badly telegraphed and sloppy looking left hand, allowing Kober to time him perfectly and hit with a straight right to the head as he was coming forward, the impact of the punch sending Ricail face down into the canvas. The referee quickly moved in and counted him out, seeing that he was in bad shape from the punch.