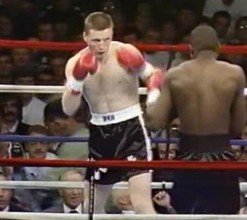 (Steve Collins, pictured on left, fighting Mike McCallum) 29.03.07 – By Michael Klimes: Christmas Presents
Christmas is beautiful, even after one discovers that their parents and all the parents over the world have been involved in the most elaborate conspiracy theory since the inception of man: Santa Claus. I can still remember in fourth year (fourth grade I believe in U.S. education system) when it was revealed to me by my callous schoolmates that Santa was a complete fraud. I felt sad and in some ways betrayed that all my classmates had discovered the truth much earlier then I had. For some reason I had just floated in a bubble of naiveté much longer then any of them, which they happily burst. I have many fond memories of Christmas like I am sure the older fight fans of boxing do. Sometimes reflection can leave us slightly sad.
Last December I had the privilege of receiving a stack of old boxing magazines from the 1990s. I flicked through them astounded and it seemed the boundary between the past and the present merged into one surreal stream of consciousness.
For a person of my age (I am only twenty) to have the honour of visiting the perceptions of fighters from a different era and perspective is extraordinary because it is very easy to get caught up in fashionable interpretations of boxers in the given moment you are analysing them. My whole experience was a very poignant journey and lamented many things.
The Golden Boys
The fighter who immediately stands out from all the pages (even then and still does now) is a tremendous young boxer-puncher in his mid-twenties by the name of Oscar de la Hoya. I see de la Hoya, face screwed up, teeth biting into his gum shield following through a corkscrew right hand that shakes the tough opponent of his twenty third fight and victory: Miguel Angel Gonzalez. Unsurprisingly, de la Hoya is already being lined up for greatness and his following bout will come against the fading genius Pernell Whitaker. Obviously the speculation surrounding Whitaker is the question that always hangs itself over a defensive boxing marvel of such finesse and calibre: will his legs last the distance or become prey to his years and then his body shudder from de la Hoya's signature left hook? At thirty two, it is looking likely yet the odds are not completely stacked against him, Whitaker is that good.
Two pages later I meet a young Vasili Jirov making his professional debut against Vincent Brown and also encounter the irrelevant Floyd Mayweather defeating a 'crushed outclassed Jerry Cooper' in his third contest. It is sobering to think how far de la Hoya and Mayweather have come since 1997. De la Hoya is now the elder statesman of the game, on his way out just like Whitaker was before him, steaming toward the mid-thirties and having to confront his own mortality. Equally, like any boxer of his stature he believes he has one last opportunity to achieve what he never has done, a career defining boxing victory against his generation's or maybe the next generation' s top dog. Few in the 1997, we can surmise would tell you de la Hoya would have no definitive win against a top draw opponent in a decade's passing yet history has shown his shortcomings against Trinidad, Mosley and Hopkins.
Similarly, Mayweather is now in de la Hoya's position, the pound for pound king of the sport looking to cement his legacy. Obviously, Mayweather at thirty is older compared to when de la Hoya squared off against Whitaker. This is one of the only tangible differences between de la Hoya and Mayweather in this context, de la Hoya was younger in his biggest boxing fights and Mayweather just a tad older. However, the anticipation for the Whitaker vs. de la Hoya bout circulated the judgement that it would be 'intriguing.' Exactly the same has been predicted for the bout between de la Hoya and Mayweather this May with many forecasting that de la Hoya will be the aggressor and Mayweather the runner. History in this case seems to be repeating itself.
The Controversial Showmen
I also meet one of my most favourite fighters of all time, the peerlessly talented yet peerlessly frustrating Naseem Hamed posing through issues from 1995-1997 after knocking out everyone with style put in front of him. His unique switch hitching, one liners and speed are steering him on a course to make his debut against the dangerous Kevin Kelley in Madison Square Garden on H.B.O. I am reminded of how good Hamed was and how great he could have become if he just remained a little saner. It still irritates me to think of this and probably will continue to do so for the rest of my life. An issue of Boxing News which covers one of his escapades which I was never aware of involves him scuffling with Chris Eubank at Heathrow Airport. The Editor of Boxing News, Claude Abrams writes, 'Eyewitnesses claimed the incident was sparked by when Eubank, and not Naz, was approached by autograph seekers. Hamed who does not deny throwing a punch and says he bloodied Chris' lip, insists it was not him who made the first move.'1 Abrams in this editorial column is not precisely sure why the furore erupted and it sounds like the horribly stereotypical situation of two boxers getting into trouble during the after hours. Abrams correctly observes, 'Hamed and Eubank are role models, and sadly at times, poor ones.'2 The clash was probably one of egos more than anything else as both Hamed and Eubank always had a taste for the limelight and headline grabbing. They were also more similar then either would like to admit, both possessing unorthodox boxing styles, were 'flamboyant individuals' and were very divisive stars who got tickets sold.
Also in 1997 Chris Eubank demonstrates why, despite his flaws he is one of the most admired British boxers of the post-war period. He puts on one of his scintillating final performances, albeit a losing one of determination and toughness against the precocious twenty five year old Welshman Joe Calzaghe. Eubank shows he can still be competitive against the most challenging boxing foes although he is thirty one and a veteran of fifty fights. Unfortunately Calzaghe will take a painfully long time to reach such heights again.
The most recognisable face from boxing outside of Muhammad Ali is Mike Tyson and he perches on the front page of Boxing 98 with the caption underneath his guard, 'Can Tyson Regain His Former Glory?' It is a striking to think that back then many were pondering Tyson's future and he only retired in 2005! Jim Brady concludes a long feature in one of the November editions of Boxing Monthly with, 'Maybe Tyson has lived an incredible rag-to-riches saga but don't bet on this tale having a happy ending.'3 This has become the standard prediction in Tyson's wholly unpredictable life and KO Magazine has the ironic, in many ways darkly ironic title 'Mike Tyson, As Only Mike Tyson Knows Him.'4 Has anyone ever really known or been able to penetrate Tyson's complex psyche? I don't think Tyson knows himself sometimes or that he cares anymore, which is what makes his story so tragic yet compelling.
Appetite for Destruction
It is necessary in this piece to recount Lennox Lewis's two finest moments against Razor Ruddock and Andrew Golota where he showcased glimmers of brilliance that took away people's questionings of him and produced a hushed and awed silence at his crunching power. Ruddock was pulverised in two rounds and Golota in 95 seconds. If only Lewis had produced more of these emphatic performances and did not have the lapses in concentration against McCall and Rahman his standing would be higher today. In both of his most praiseworthy boxing encounters he had the cold detachment in his eyes like the fight against Mike Tyson.
Classic Shoot Ups
Boxing Monthly has an article featuring some cracking pictures of Evander Holyfield's and Riddick Bowe's twelve round ebb and flow contest. Each of them have contorted features from absorbing some powerful straight rights and the tenth round is described by Graham Houston as 'one of the great rounds in boxing history, surely, with Holyfield getting bombed by big punches, looking on his way out after uppercuts slammed his head back on muscular shoulders, only to will himself back into the fight and hammer away at the bigger man, landing right uppercuts and left hooks and actually finishing the round stronger.'5 Now both men sail on their quests for further heavyweight glory, insensitive to the fact that both of them are finished. Apparently Bowe may already be brain damaged.
The Ageless Warriors
Two of the most exceptional men from these old tales are Roberto Duran and George Foreman soldering forward. Foreman it appears fulfilled his former tormentor, Muhammad Ali's prophecy on aging, 'Age is whatever you think it is. You are as old as you think you are' by knocking out Michael Moorer to regain the world boxing championship at forty five years of age in 1994. Moorer lies on the canvas, staring into its blue colour with a concussive fog misting his eyes from Big George's god-like power. Foreman's achievement – so inspiring and surprising that it is too good to be a Hollywood script or some type of fantasy. Moorer adeptly out boxed Foreman superbly for most of the bout but Foreman persevered and unleashed his devastating power late on.
The Final Words
It is hard to choose which boxer should have the concluding elegy on the passing of time but the Marciano like 'Celtic Warrior' Steve Collins deserves the spotlight. The hard working Irishman summed up the difficulties of it and the toughness of retiring from boxing when he did it himself. He remarks admirably, even poetically, 'Boxers hang around for too long. They retire because they get beat up two or three times in a row and have no financial security. I have financial security, peace of mind and fulfilled my ambitions…the money was good but not the reasons for fighting.'6 Collins's last sentence reveals a tremendous heart and it would be wonderful if so many boxers could have the same clarity in their thinking. Collins knew and was courageous enough to acknowledge it will all end for him one day like it will for us all.