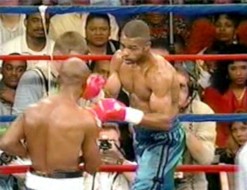 28.02.07 – By Jim Amato: The "Super Middleweight" division with a 168 pound weight limit was conceived by the International Boxing Federation in 1984. On March 28th of that year rugged Murray Sutherland pounded out a fifteen round decision over Ernie Singletary in Atlantic City to become the first champion of this bastard weight classification. The World Boxing Association began to recognize the weight class in 1987. The World Boxing Council followed suit in 1988.
Somewhere along the line, the lightly regarded World Boxing Organization also gave this division its blessing. In all fairness, the creation of the 168 pound class has some merit. The jump from middleweight (160 lbs) to light heavyweight (175 lbs) is a serious challenge. A few have accomplished the feat but other great middleweights like Carlos Monzon and Marvin Hagler avoided the issue.
Little by little, the division began to take hold. Currently, the top regarded super middleweight is Joe Calzaghe, although he now has a serious challenger in Mikkel Kessler. Since 1984, though, the division has been graced by some great, great boxers. Sugar Ray Leonard, Tommy Hearns and James Toney all held the piece of the title at one point or another. Iran Barkley, Nigel Benn and Michael Nunn, among others were recognized titleholders.
Who was the best 168 pound boxer since the inception of the weight class in 1984. Many will favor Joe Calzaghe because of his numerous title defenses. It would be hard not to say Leonard or Hearns as their classic battle at 168 lbs. ended in a controversial draw. Really neither boxer spent a lot of time in this weight class to make a major impact. Well, for my money, I feel the most formidable super middleweight titleholder was Roy Jones Jr. In the two years he held the crown he made six successful defenses, all by knockout.
Roy won the title by defeating unbeaten James Toney. This much anticipated Super Bout took place on November 18, 1994. Toney had won the title in 1993 with an impressive stoppage of Iran Barkley. Entering the Las Vegas ring to face Jones, Toney sported a 44-0-2 record. The fight wasn't even close. Jones scored a flash knockdown over Toney in the third round. Roy then proceeded to walk off with the title by scores of 119-108, 118-109 and 117-111.
In March of 1995, Roy Jones Jr. blitzed the capable Antoine Byrd in a single round. Then in June, he dominated the popular Vinny Pazienza. The bout was halted in six rounds. Following that, Roy took out veteran contender Tony Thornton in three rounds. In 1996, Roy belted out the game and hard punching Merqui Sosa in two. Rough and tough Eric Lucas was next and his grit and determination took him into the twelfth and final round when the bout was finally stopped. In 2001, Lucas would win the WBC version of the title. In his sixth and final defense, he took out unbeaten Bryant Brannon in the second. One month later, Roy would beat Mike McCallum for light heavyweight honors.
Taking the Toney fight and all six of his defenses into account, the combined record of Roy's opposition was an astounding 208-21-7. That should clearly show how dominant Roy was at this weight. Could Roy have beaten Leonard, Hearns or even Calzaghe at this weight? Good question but it is plain that nobody other then maybe Calzaghe dominated like Roy did at 168 pounds.