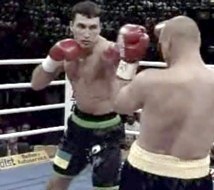 27.02.07 – By Geoffrey Ciani: Once upon a time, if you walked down the street and asked a random person who the heavyweight boxing champion of the world was, chances are, he'd have known the answer. Whether it was the ferocious beast which was Mike Tyson, the flashy showmanship of Muhammad Ali, or a national icon like Jack Dempsey, people have historically expressed interest in heavyweight boxing. Today, we are far removed from those times and it doesn't appear that a remedy is forthcoming.
It is often said that the state of professional boxing is dependent upon the state of the heavyweight division. Indeed, the heavyweight champion himself has often defined the state of the sport, from Dempsey to Louis to Tyson. Unfortunately, boxing no longer has a dominant heavyweight champion to act as an ambassador to the casual fan. Even worse, it lacks a universally recognized champion altogether. Today if you ask a random person who the heavyweight champ is, chances are, that person would have no idea.
Part of the problem is that we have several heavyweight champions today—three, to be exact. Or is it four? Well, I suppose that depends. Are we counting the WBO belt? Should we include all of the alphabet organizations? Or should we just stick with the big three? These are matters that not only confuse the casual fan but they also help further remove his interest from the sport. It is often said that there is an ever-widening gap between the rich and the poor. On a similar note, there is an ever-widening gap between the casual fan and heavyweight boxing.
It's been almost seven years since we last had an undisputed heavyweight champion. That reign came to an official end when Lennox Lewis entered the ring to defend his championship against the universally recognized number one contender, Michael Grant. One would think facing the universally recognized number one challenger was a good thing, but I guess things aren't always what they seem, especially in professional boxing.
When Lennox Lewis decided to take on Michael Grant he was subsequently stripped of the WBA for not facing their number one contender, the unheralded Johnny Ruiz. At this time, Ruiz had done nothing to warrant his #1 ranking. In fact, back then, he was best known for having been destroyed in a mere 19 seconds by David Tua. Even worse, not only was Lewis unjustly stripped but the WBA also had the audacity to sanction a bout for the vacant title between Ruiz and Evander Holyfield—Holyfield being the man Lewis had just beaten to become undisputed heavyweight champion of the world.
Inexplicable!
In the seven years since Lewis was stripped of the WBA, we are further removed from having an undisputed heavyweight champion than ever. This is bad for the heavyweight division and bad for boxing as a whole. The more time passes, the worse things seem to get. Is there a cure on the horizon? Is there some way to rejuvenate the average man's interest in this once prestigious division?
So what's going on in today's heavyweight title scene?
For starters, former WBC champion Vitali Klitschko is coming out of retirement to take on reigning champion, Oleg Maskaev. Klitschko is using his "champion emeritus" status to get first crack at Oleg, despite having not fought himself in over two years. While this might be a decent fight, it leaves Samuel Peter on the outside looking in. Peter was just victorious in two elimination bouts to become the WBC's number one contender. Inexplicably, he fought the same opponent in both eliminators, but despite this fact, he's still being made to wait in line. Things like this don't help garner the interest of the casual fan.
In other news, Vitali's younger brother Wladimir, the reigning IBF champion of the world, is slated to defend his title against the IBF's number one contender, Ray Austin. In thirty-one professional fights, Austin already has four draws and three losses. Furthermore, he is a virtual unknown with all of his losses coming against fellow journeymen. This one isn't going to do much to tweak the interest of the casual fan, either. For that matter, I'm not sure this one is generating much interest amongst die-hard fans.
Then we have reigning WBO champion, Shannon Briggs. He was slated to defend his title against Sultan Ibragimov early next month. Unfortunately, Briggs was forced to back-out of the fight due to pneumonia. Even if this fight proceeded as planned, it wasn't about to stop the presses. Again, much like the Klitschko-Austin bout, this one is nothing to write home about. That this fight has been cancelled probably doesn't matter much to the casual fan—he was probably unaware this fight was happening in the first place.
Finally, we have reigning WBA champion, Nicolay Valuev. Standing over seven feet tall, many casual fans fancy Valuev as a side-show farce. For those even aware of his existence, few seem willing to give him any credit. Fairly or not, a big reason for this is that Valuev fights are rarely even televised in the United States. How can one expect to get the attention of the casual fan when there are heavyweight title fights that aren't being televised? It's a disgusting state of affairs. Valuev is slated to defend his title against Ruslan Chagaev in mid-April, but don't be surprised if it's not televised.
As a big fan of the heavyweight division, I can't help but wonder how things got so bad. Just ten years ago, there was an abundance of talent in the division, top contenders were fighting one another, and champions were looking to unify. The division was interesting. There were intriguing match-ups. Die-hard fans and casual fans alike would get excited about potential match-ups. Not only that, casual fans even had some idea about who the division's major players were. This was just ten years ago! Today, no such enthusiasm surrounds the division.
Will we ever have another undisputed heavyweight champion of the world?
Unfortunately, it doesn't appear we'll be having one anytime soon and this is a situation which demands a remedy! I wish I knew what that remedy was. It's nice to dream of a boxing world where the sanctioning bodies go the way of the Dodo, paving the way for mega bouts and an undisputed champion where top challengers face one another on a frequent basis proving their worth and earning their status…but that is but a dream.
Boxing is lucky to have an attraction like Oscar De La Hoya whose freakish appeal to mass audiences has almost single-handily kept the sport afloat during these gloomy days on the heavyweight scene. No doubt that De La Hoya—boxing's undisputed number one attraction—has helped fill this heavyweight void, but he cannot box forever. Ergo, it's only a matter of time before the state of the heavyweight division once again defines the state of the sport. When that happens, let us hope a remedy has been found, for boxing desperately needs the casual fan.
To contact Ciani:
geoff@eatthemushroom.com
To read more by Ciani, please visit The Mushroom Mag:
http://www.eatthemushroom.com/mag