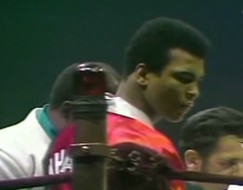 27.02.07 – Bob Webb: Was there ever a man like him? Was there ever a fighter who proclaimed himself The Greatest as he did? And was there ever a boxing fighter who, having made that remarkable claim, has come so close to making it a reality as the incomparable Muhammad Ali?
Let's take a look. Before doing so, I have to face up to the fact that this section on Ali is far longer than Part 1 on Joe Louis. To pre-empt charges of favouritism, I have to conclude that Ali's life and boxing career was far more varied than Joe's and deserves the necessary space to place each iota in context.
Muhammad Ali's record
The numbers game: 56 wins, 37 by KO; Lost 5, stopped once..
Add to that the fact that he was never counted out or finished a fight off his feet. His most severe losses came right at the tail end of his career when the rest of the world knew he was already finished following what was his first retirement and second career break (the first being his title suspension from 1967 to 1970).
He was also the very first (and only legitimate and undisputed) three-time Heavyweight Champion of the World.
Longevity
All in all, Ali's professional career stretched from 1960 to 1980, three years longer than the Brown Bomber. His title reigns total can be calculated in a number of ways. He beat Sonny Liston in February 1964 and his last defence before his government-dictated exile was against Zora Folley in March of 1967, just 2 years 11 months later. However, although he was unable to defend the title during his subsequent 3 years 7 month lay-off, he only renounced it in February of 1970. It can even be argued that he only lost his title for the first time in March of 1971 against Joe Frazier at Madison Square Garden. Ali always contended that a Champion can only lose his title in the ring and he has a point.
What is certain is that he only regained the title in October 1974 and then held it until his loss to "Neon" Leon Spinks in February 1978, regaining it again in September of that year before retiring immediately afterwards. He never regained it.
At best estimate, his title reigns, therefore, add up to 10 years and 5 months; at worst, 6 years and 3 months. As ever, central to any assessment of Ali are his exile years – considered accurately to have been his physical prime. Many fighters have failed to recoup their talents, skills and conditioning after such a ring absence – Mike Tyson for one – but Ali smashed so many negative expectations throughout his career one can only marvel at the man's reserves with which, like any great General, he filled the gaps.
Class of Opponent
In total, Ali fought and beat the following former or future World Champions: Charles "Sonny" Liston (twice); Floyd Patterson (also twice); "Smokin'" Joe Frazier (won 2, lost 1); George Foreman; Ernie Terrell (holder of the WBA title); Leon Spinks (one 1, lost 1); and Jimmy Ellis (former WBA holder). He also faced Larry Holmes in his penultimate fight, being stopped on his feet.
A mixed bag of results but against a much higher level of Champion opponents than Joe Louis, including Liston, Frazier, Foreman and Holmes, all amongst anyone's top 10 or so of all time. And his big wins were against three of them.
Personally, I would rank Ali's loss to Larry Holmes alongside Joe's loss to Rocky Marciano, although it could be said that Joe's performance was somewhat better than Ali's even though Ali went into the 10th round against Larry whilst Joe went to sleep in the 8th. Factor in Muhammad's Parkinson's syndrome to this argument, but, whatever, it was a fight too far.
Muhammad had two nemeses: Ken Norton and Joe Frazier, the former, it has been argued, had Ali's number and there is a case for that. Ken Norton was an awkward fighter with a reasonably big punch and, like Frazier, was not intimidated nor 'psyched out' by Ali. He clearly won their first fight in March 1973, breaking Ali's jaw in the process but Ali scraped two controversial points wins over Kenny in their subsequent matches. Whether you agree with those decisions or not, it's apparent that Norton pushed Ali all the way. Personally I don't believe that the Ali of the 60s would have let him go beyond 4 rounds, but that's speculation.
Joe Frazier was something else entirely: having scythed through the rest of the division and claiming the unified title from Jimmy Ellis in 4 rounds in 1970, Joe was most anxious to defeat Muhammad Ali to gain legitimacy for his Championship and he got the chance in 1971 at the MSG in Ali's third comeback fight. The Fight of The Century was one of the hardest contested in history and, after flooring Ali for a count of three with a huge favourite left hook in the last round, Joe got the unanimous decision over 15 rounds. But he spent weeks in hospital afterwards whilst Ali nursed a badly swollen jaw. Two more fights between the two of them occurred. In the return, Ali neutralised Frazier's attacks with some sneaky holding and smothering and never let Joe out of the blocks, as well as handing him a pretty fair boxing lesson. By that time Joe had lost the title in devastating and shocking fashion to the little heralded George Foreman in Kingston, Jamaica, being bounced off the canvas 6 times in two rounds in their 1972 meeting.
Following the Rumble in the Jungle, Ali, the newly re-crowned World Champion, again put his title and life on the line against Smokin' Joe in their rubber match, the "Thrilla in Manilla". In perhaps the most brutal and demanding Heavyweight Title fight in history, Ali turned Joe's face to a swollen, eyeless mask and Joe, in turn, probably put the final nails into the coffin of Ali's career and later condition. Although Ali did fight on, he was never the same in the ring again and, according to Joe, years later, referring to Ali's Parkinson's, he said, he had made Ali what he is today. Make of that statement what you will.
There are so many of what would now be called mega-fights in Muhammad's career, it's mind-boggling. Between the Frazier fights there was the clash with George Foreman in Zaire, another famed event. Expected to be half killed by Foreman, Ali had proclaimed he would dance, dance, and dance. Bollocks, as we say here. He didn't stand a chance dancing against the incredible hulk of George Foreman and Ali knew it after one round of boxing. Foreman was highly skilled at cutting off the ring and was using it to deadly intent against Ali. During that first minute break, Ali made a quick decision and retreated to the ropes to allow George to whale away at him as he covered up. To keep Foreman on the boil, he repeatedly taunted the steaming Champion and peppered him with straight right hand leads. Amazingly, for round after round he stood up to the hurricane and when it had blown itself out knocked George out in the 8th. Was there ever such an upset delivered with such cunning and courage?
Other notable opponents included Archie Moore, Henry Cooper, George Chuvalo, Zora Folley and Cleveland Williams in the 60s; and Oscar Bonavena, light heavyweight king, Bob Foster; Earnie Shavers; Jerry Quarry (twice); Joe Bugner; Chuck Wepner; and Jimmy Young through the 70s. Plough in the rest of the rabble and you have a who's who of Heavyweight boxing from 1960 to 1980.
Chin
Muhammad Ali had one of the best Chins in Heavyweight history. I would only rank Rocky Marciano and Mike Tyson above him and rate him above or roughly alongside Frazier, Dempsey, and Johnson. In so doing, I have considered the level of puncher that he faced, especially Foreman, Frazier, Liston, Earnie Shavers and Ron Lyle, as well as less prosaic punchers in Quarry, Holmes, Norton, Patterson and Cooper.
In all, Ali went down only three times in his whole career, all against left-hookers, Sonny Banks, Henry Cooper and Joe Frazier. And three times he got up. In fact, his total counts in seconds possibly don't come to 10. As trainer, Angelo Dundee described the Banks knockdown, Ali's eyes were closed on the way down and they opened when he hit the canvas. Not only did he not get decked often, he had astonishing powers of recuperation, as much down to mental strength, believe it or not, as physical powers. Without them and, maybe, Dundee's shenanigans against Cooper, would he have even got to the title?
Punch
It need hardly be said that Ali was no Liston or Foreman in the punching department. But don't be misled. Prior to his points win over Doug Jones in his 18th fight, Ali had racked up a run of 9 straight stoppages and been taken the distance thrice. As his early career had progressed, the then Cassius Clay had even started predicting the round he would stop his victims. He wasn't often wrong, occasionally keeping his hapless opponent standing for a further round or two as necessary to fulfil his prophecies.
But he didn't have KO power. He had speed and timing and hit respectably hard enough to have said goodnight to 37 opponents one way or another, whether it was through a cuts stoppage or a clean KO or by the referee's intervention. He could open a cut with a twisting downward right cross across the eyes. Upon impact his wrist would rotate. Not nice, but that's the fight game. He could knock out his man with either hand but the finisher was more usually a straight right thrown over the opponent's left lead, for which see the second Liston fight (no, it was a punch and it landed) and the Zora Folley fight.
As with Cleveland Williams (an initial 16 punch barrage) and Brian London (around 14 punches in three seconds), he demonstrated his incredible hand-speed and accuracy. If you've never seen his 1960s fights and have a penchant for poetry in motion, check them out.
One punch Ali almost never threw was a hook to the body or indeed anything to the body. He was a head-hunter, with one of the longest and fastest jab in history and a perfect right cross. Not a complete arsenal it must be admitted but he used what he had. Opponents said of his jab that it messed their minds up. Float Like a Butterfly, Sting Like A Bee was most apposite.
KOs
Not a KO artist like Joe Louis but with a respectable 37 from 61 fights, most notably of Liston, Foreman, Frazier (fight 3), Williams, Folley, Foster, Jones, Miteff, Banks, Moore and Bonavena. That's not counting his stoppages by cuts of Quarry, Cooper (twice); Logan, Daniels and Patterson (fight 2).
Physical advantages
At 6 ft 3, Muhammad Ali was a tall Heavyweight by the standards of his time. Weighing, in his prime, around the 15 stone mark and with an 80 inch reach, he actually towered over the hulking Liston. Together with the calves of a tennis player and the hand-speed of a rattlesnake were the reflexes of a Mongoose.
Mental Strength
Mentally Ali makes Mike Tyson resemble a bed-wetting neurotic. Non-fans of his often wonder what all the fuss was about with Ali. Maybe one just had to be around at the time, but I don't go along with that. Ali's career defies belief and, at the time, logic. Firstly, his skills were brand new to the division and he did everything 'wrong'. Secondly, he was considered to be a lightweight in terms of fortitude and punching power. Thirdly, he went in against the awesome and feared Liston and repeated the feat 10 years later against the new ogre on the block, Big George Foreman, doing so with an uncanny knowledge of his opponents' own psychological weaknesses. And fourthly he chose, as a black man, to take on the US government, join the feared and hated Nation of Islam and proclaim not only that he had no quarrel with "them Viet Cong" but claim that no Viet Cong ever called him "nigger".
There is no doubt that Muhammad Ali had Audley Harrison levels of self-belief but he also thrived on his enemies' antipathy. I say 'antipathy', but I mean hostility and out-right hatred. That was not only turned against them but actually overcome to the extent that Muhammad Ali is the biggest name in boxing bar none, 27 years after his last fight, and is also the most recognisable man on the planet and the most loved, I would venture. Not only that but he was able to rouse his people to such an extent that he fed off their affection and support to an unprecedented degree. Put that with his Parkinson's syndrome and his refusal to lie down in the face of all the adversity, his mental strength is beyond doubt.
Does all this make him The Greatest? Check out Part 3 for my conclusions.
If you wish to contact the author of this piece, email: raw999@tiscali.co.uk