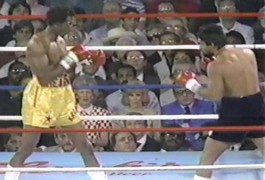 25.02.07 – By John Howard: With the Academy Awards of Motion Pictures being televised tonight, it had me thinking about a fantasy Oscar night for various exceptional lifetime achievements in the sport of boxing. This is the kind of stuff one thinks of when they have a lot of time on their hands. This isn't an award for boxers appearing in movies, but an award for the one thing in the history of the sport that they far exceeded in. Of course, this wouldn't be hosted by Ellen DeGeneres, but none other than the late Howard Cosell. Hey, it's my fantasy. Some might say Howard was obnoxious, arrogant, and a bit overwhelming at times but, in my opinion, I feel he brought a certain quality to the sport that has never been equaled. Having said that, the fantasy Oscars for the following boxing awards are as follows…
Oscar for the boxing record that will probably last the longest: Joe "The Brown Bomber" Louis' reign as heavyweight champion.
Joe had the longest reign of a heavyweight boxer in the history of the sport. Joe was the champion for 11 years, 10 months! Joe's reign started in 1937 with a KO of James Braddock and lasted until his retirement in 1949. During that time, he made a record 25 title defenses. For whatever it's worth, I rank him second on my all-time list of heavyweights.
Oscar for the boxer with the most ring savvy: Muhammad Ali.
The defeat over the invincible and heavily favored (8-1) Sonny Liston, and Ali's ability to employ the "Rope a Dope" strategy in his win over George Foreman in "The Rumble in the Jungle" give Ali the Oscar in this category.
Oscar for the best-left jab: Larry Holmes.
If I were able to clone a boxer and take the best part of each of them to build my own prototype fighter, I'd take the left jab of Larry Holmes. Unlike a flickering range finder, or a jab to keep an opponent off balance, Larry's piston-like jab was all that and an effective punch, too. There were many fighters Larry could have beat with one hand tied behind his back.
Oscar for the best right hand in a fight: Thomas "The Hit Man" Hearns.
At the podium to present this award to Hearns, I would like to see Roberto Duran. After all, Duran lasted the distance against Marvin Hagler and Iran Barkley and yet was demolished by the right hand of Hearns. Duran talked a lot of trash and was disrespecting at times, but I never heard him even mention the thought of a rematch with Hearns. To this day, I think that right hand from Hearns is erased from Duran's memory. If you didn't get a chance to see the fight live, check it out on YouTube. T-I-M-B-E-R!
Oscar for the most un-athletic to hold a title: There's no doubt about this Oscar award. It goes to Rocky Marciano.
Here's a quote from Rocky's trainer, Charlie Goldman, that described Rocky perfectly and I feel gives Marciano the award hands down. "I gotta guy who's short, stoop-shouldered, and balding with two left feet. They all look better than he does as far as the moves are concerned, but they don't look so good on the canvas. God, how he can punch."
Oscar for the boxer most hated: Jack Johnson – no contest.
In 1908, the year Johnson won the heavyweight title from Tommy Burns, eighty-nine black Americans were lynched in the United States. How Jack Johnson kept from having a noose being tied around his neck is amazing. Not living in the south probably saved him. Successful, cavorting with and married to white women, all the while driving expensive automobiles and having an arrogant attitude had him hated by many in white America. Hated so much, in fact, that charges were trumped up by the government in order to take him down. I personally remember how people felt in the 60's when the brash talking Cassius Clay/Muhammad Ali was raising eyebrows. Try and imagine Jack Johnson doing this over 50 years earlier!
Oscar for the most durable/toughest opponent: A tie between Bruce "The Mouse" Strauss and Joe Grim.
Sporting a ring record of 77-53, the middleweight Strauss has been knocked out on every continent with the exception of Antarctica. Officially he lost 28 fights by KO, but it's been estimated that combined with using his alias of Ruben Bardot, he might have actually lost more than 150 fights by knockout… Joe Grim (his real name was Saverio Giannone) fought in at least 75 contests around the years of 1902-1913 and never recorded a single victory. He was known as the "Iron Man" to his mostly Italian-American followers. After being thoroughly beaten, but not knocked out, he liked to announce, "I am Joe Grim! I fear no man on earth!"
Oscar for the saddest award in boxing:
Obviously, the saddest award goes out to the many that lost their lives, or health, in the ring. With the limits of this article, I'm unable to mention them all and mentioning a few would be unfair and disrespectful to the others. God Bless them all.
The Honorary Oscar of the night, or perhaps I should say Dishonorably Oscar Award, goes to "Iron" Mike Tyson.
It's inscribed with the quote "How great is the power of man's thought and feeling to either build or destroy himself."