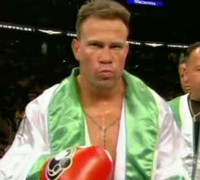 24.02.07 – By James Slater: As soon as the next boxing comeback opponent was chosen by legendary four-time heavyweight king Evander Holyfield, the match up garnered much talk among fight fans. Comments were written thick and fast regarding New Yorker Vinny Maddalone and his chances of victory in the March fight to be held in Corpus Christi. And, due I feel to Vinny's popularity and crowd pleasing nature, more than a few knowledgeable fans seem to give the thirty-three year old club fighter a shot at causing the upset. At the very least, Vinny has a puncher's chance, the general theme from his supporters seems to be. But can we really expect such a raw, novice-like fighter, no matter how brave and like-able he is, to have a chance at ending Evander's career?
I have to admit, I would love to see Vinny do it. I have nothing against "The Real Deal," as Evander USED to be. But he's seen his boxing dreams realized, he's made his money, he's earned his glory. Vinny, on the other hand, has yet to do either.. He deserves the chance he's getting in March to do so. And as highly as the odds seem to be stacked up against him, on the 17th we can be sure Vinny will give it absolutely everything he has – and then some. Never short on guts and character, Maddalone will leave nothing in the locker room. Win or lose he never does. But does he bring enough to be able to handle himself against Holyfield?
Even at age forty-four, Evander still has way more boxing skill than the somewhat crude Vinny. In fact, the veteran legend has forgotten more about the sweet science than the eleven years younger man will ever know. Sure, he didn't look too great last time out, against Fres Oquendo. But in his fight before that, his two round KO over Jeremy Bates, Evander's shots were thrown quickly and with authoritative power. And yes, Bates is a few levels below Oquendo, so the quick win has to be put in perspective. But Bates is a fighter who Vinny is on a par with. And that's the point. Evander is seemingly going back down a couple of notches from his last outing by signing to fight Maddalone. There is a good chance, therefore, that the two round stoppage scored over Bates will be duplicated against Vinny.
Of course, if Vinny gets through with the type of clean shot Bates did in the very early going of his fight with "Commander Vander" there could be problems for Holyfield – who is, let's face it, forty-four going on fifty-four. A huge punch that lands early on, before Evander's still quick hands start to make a mess of his inimitably hittable face, seems to be Vinny's only chance of victory then. Because, be sure, the longer the fight goes the worse it will be for Maddalone. He shipped a lot of punishment in the later rounds of his last fight, with the huge Julius long and he was stopped in the tenth of his first fight with Brian Minto. Basically, the longer a fight goes Vinny, who tends to tire at or about the halfway mark, gets clumsier and clumsier. This is not to rule out a quick win for Holyfield though, for Evander may well strike quickly himself. But I feel the first few rounds will be the ones that provide Vinny with his best chance at a life changing win.
The bottom line, however, is the overall class Holyfield still possesses – despite his age. I expect Vinny to come out firing leather from all angles, trying his best to land a fight ending haymaker. But after a few rounds, perhaps three or four, Vinny will be so badly busted up from Evander's sufficiently warmed up and on target shots that there will be no other option than to think about halting the action.
Evander by fifth or sixth round TKO.