23.02.07 – By Mike Indri – Photo by Richie Maldonado – Retired Boxers Foundation – NEW YORK – The Roseland Ballroom was filled to capacity last night as the latest chapter of promoter Cedric Kusher's Gotham Boxing, titled "David and the Rising Stars", featured former heavyweight contender David Tua on his comeback trail back into title contention. The mere notion of the heavy fisted Tua, not too long ago consider by many as the most feared man in all of boxing, led the sardine-packed crowd to anticipate a fight that zealous boxing aficionados dream about: savage power shots, crippling knockdowns and, of course, the brutal fight-ending knockout..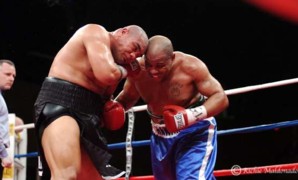 Unfortunately, none of that was to be had during the ten rounds Tua sluggishly plodded through en rout to his highly charitable unanimous decision win, against Philadelphia's Robert Hawkins.
Tua's power punches were virtually nonexistent until the final round, and the knockout-machine fighter that KO'd the likes of Ruiz, Moorer, Rahman & Masksev, was getting slapped around the ring by the lighter punching Hawkins; a loser in four of his last five outings (against tough opposition), coming into this bout.
While Hawkins wisely respected the heralded New Zealand native's power and boxed cautiously, Tua never became the aggressor until late in the match and hardly mounted any offensive attack until his blast from the past tenth round, when several big left hand shots had the Philly fighter on the ropes in dire straights. The tough chinned Hawkins (now 21-7, 7 KO's) resorted to holding on and did manage to survive the barrage, without tasting the canvas.
The stubborn, tough luck 36-year-old Hawkins has only been stopped once, in his fourth pro fight, by current World Boxing Council title holder Oleg Maskaev – over eleven years ago.
While judges Melvina Lathan & John McKay saw it 96-94, the 99-91 scorecard handed in by judge Luis Rivera was totally absurd and warrants re-training, or at least being forced to watch the fight with BOTH eyes open.
To his credit, Tua did do enough to win the last two rounds as Hawkins appeared to fatigue. Now fighting out of California, Tua, 34, stated afterwards that a few more fights may be needed in order to regain his timing and compete with the higher echelon in the division.
With the close-call victory the Tua Man padded his record (47-3-1, 40 KO's) and proved he is still a viable commodity in today's market of heavyweights.
While the Gotham Boxing "Rising Stars" undercard was filled with several mismatches and blowouts, the action starved crowd appreciated the success of the local prospects.
Highly touted middleweight Joe Greene crushed Pat Coleman with a brutal body attack which crumpled the Rockford, IL. native to the canvas, where he decided not to get up. The end came at 2:08 of the first round. Greene stays perfect at 14-0 (11 KO's), while Coleman drops to 29-13 (20 KO's).
Extremely talented and popular NYC fighter Peter "Kid Chocolate" Quillin also smoked his opponent, Steve Walker, with a devastating left hook in round one. It took Quillen only 38 seconds of the scheduled six round middleweight bout to send Walker, now 20-15 (14 KO's), back to Hannibal, MO.
Bronx jr. welterweight Jorge Teron cruised to an eight round unanimous decision victory over a game, yet overmatched, Sebastian Hamel. The Canadian born Hamel, now 6-7 (1 KO), proved his toughness but was no match for the still unbeaten former golden gloves champion, who climbed to 15-0-1 (9 KO's).
Female featherweight Cindy Serrano displayed her vast array of skills over six rounds against Oklahoma City's Jessica Mohs, who fell to 6-15-2 (1 KO). All three judges scored the carnage 60-54 for the Brooklyn girl with the big following, who improved to 12-0-1 (7 KO's).
Also picking up decision victories on the eleven bout card…..Rosedale, NY light heavyweight Ronson Frank, who is still perfect at 7-0 (4 KO's) with his six round win over Mike Word, 3-5-3 (3 KO's), from Milwaukee.
Dominican jr. featherweight Juan Dominguez made his pro debut a successful one with his four round triumph over still winless Francisco Palacios, 0-1-2, from the Bronx.
West Islip, NY heavyweight Darrel Madison improved to 2-1 (1 KO) with his four round victory over Mike Jones from Port Huron, MI., now 3-7 (1 KO).
Jr. featherweight Carlos Ivan Velasquez jumped into the pro ranks in a good way – with a four round win over Miami's Manuel Angulo, 1-1 (1 KO). Carlos's twin brother, Juan Carlos Velasquez did even better in his first paid fight, knocking out Ohio's Stephan Arnold in round one! The winless Arnold has suffered all three of his defeats by way of knockout
The night's walk-out bout featured two young, undefeated heavyweights. West Virginia native Bill Shahan stayed perfect, 3-0 (3 KO's), at the expense of Jon "The Fighting Marine" Schneider, now 3-1 (2 KO's).
Shahan unloaded some serious heavy artillery upon Schneider, who was knocked to the deck three times before the fight was stopped at the 1:05 mark of the first round. Schneider, fighting at the low end of the heavyweight limit, 201 lbs, fought at a 34 pound weight disadvantage.
While Cedric Kushner knows the ins and out of the boxing business, as evidenced by the jam packed Roseland Ballroom, the New York fight fans would be better served with more evenly matched bouts. Also benefiting would be the highly regarded prospects (Greene, Quillan, Teron), as each fight along these skilled, aspiring-to-be champions future should be a learning experience.