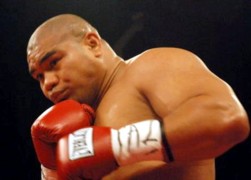 24.02.07 – By Geoffrey Ciani at Ringside — click here to view photo gallery —
Last night David Tua continued along his boxing comeback trail when he squared off against durable journeyman Robert Hawkins at the Roseland Ballroom in New York City. For Tua, this was the fifth fight of his comeback which began in March 2005, a full two years after his draw with Hasim Rahman. More importantly, this was his third bout in the past eight months, which suggests that Tua is serious about working his way back into title contention.
It was a competitive duel which saw both fighters brawling it out for most of the bout. Hawkins was a tough opponent whose scrappy style and admirable determination helped make for an entertaining fight. His durability made him the perfect opponent for Tua at this stage in his comeback because it enabled him to get in some much-needed rounds to work on the areas where he most needs improvement—especially if he wants to make a serious run at another boxing championship bid.
Hawkins has only been knocked out once in his career, and that was almost twelve years ago when he faced Oleg Maskaev. More recently, he lasted the distance against hard-punching Nigerian Samuel Peter in his first fight after losing to Wladimir Klitschko.
Tua started off slowly, as is typical of him in recent years, but he fought a smart fight. Early on, Hawkins had some success holding Tua at bay with his jab. Tua often has trouble fending off the jab as was the case when he faced Maurice Wheeler three months earlier. This time, however, it was clear that Tua was committed to attacking the body and this helped neutralize his opponent's jab. He began working Hawkins's body early, carefully choosing his shots in a way that helped him conserve energy while not allowing his opponent to take control of the bout. Working the body has always been a key to success for Tua, and last night, he did so extremely well.
The middle rounds saw the two combatants standing toe-to-toe as they traded powerful blows. Indeed, Hawkins appeared to have a lot more pop in his punches than his seven career knockouts would indicate; likewise, he had a hell of a chin to go with it, and this enabled Hawkins to get the best of Tua in many of their heated exchanges. Tua was more than happy to mix it up. Oftentimes, Tua was even throwing punches in bunches, which surprised me, because he hasn't been known for throwing good combinations since his younger years. Even more impressive was the fact that Tua was mixing his punches up, and never neglected the body for too long. Ultimately, I believe Tua's prolonged commitment to the body attack helped secure victory.
Through eight rounds, the bout was a toss-up that could have gone either way. Hawkins was starting to have success with his lead right as the bout progressed. In the ninth, however, Tua hurt Hawkins with a vicious hook to the rib cage. It was the type of punch that instantly causes one's facial expression to change, and you could see Hawkins grimace in pain after the lethal blow. Tua remained cool and proceeded to stick to his game plan. In the final round, Tua hurt Hawkins again, and this time, it appeared he might not make it to the final bell. Tua pounced on Hawkins and unleashed a series of thunderous shots that echoed through the arena. To his credit, Hawkins survived the onslaught, but he took a beating in the process.
In the end, Tua was awarded a unanimous decision. Judges scorecards read 99-91, 96-4, and 96-94. I also scored the bout 96-94 in Tua's favor, and I believe that Tua pulled it off in the final two rounds. All of the body work he had done throughout the contest paid off in the end. It was a solid win for the Tuaman.
At this point, I believe Tua is ready to take a step up in competition. It's difficult to tell how he'd fare against the division's top contenders based on last night's performance, but Tua seems to be doing all of the things he needs to do in order to be successful. He needs to remain active and continue staying in shape. Tua came in at 241 pounds and appeared to be in great shape, as evidenced by his respectable punch volume throughout the contest. If he maintains this course, he should land a big fight sometime in the near future.
To contact Ciani:
geoff@eatthemushroom.com
To read more articles by Ciani, please visit The Mushroom Mag.
http://www.eatthemushroom.com/mag