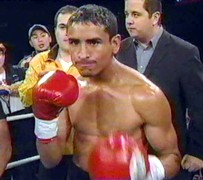 22.02.07 – By Anthony Coleman: On March 3rd, Israel Vasquez will defend his WBC 122-pound title against the former 118-pound boxing titlist Rafael Marquez. OK, let me be blunt, let me be honest; this fight has inspired extreme excitement and proudness in me. I'm excited because we have two of the best offensive fighters in the sport today (and two of the best P4P in any weight class) laying it all on the line to prove who is the better fighter. Basically it's the best match-up since Corrales-Castillo and I find it hard to envision this fight not being something special.
However, as I've already mentioned this fight also inspires great proudness within me, and that proudness maybe hard for people to grasp. This feeling isn't rooted in the fact that this boxing fight has finally been signed and didn't fall through the cracks (though I'm a happy it didn't). No, what makes me proud is that this fight is truly for the boxing fan. Please, don't misunderstand what I'm trying to say: there is a fundamental difference between casual fans and real boxing fans. Casual fans truly don't follow the sport of boxing and knows nothing of its history outside of Muhammad Ali, Mike Tyson, Ray Leonard, and Oscar De La Hoya.
They are the same type of people who don't watch a fight, until a big media event masquerading as a competitive bout (like Hopkins-De La Hoya or Lennox Lewis's drubbing of Mike Tyson) takes place. They are the celebrities who attend those aforementioned media galas though can't understand the differences between a jab and a hook.
On the other hand boxing fans seemingly makes boxing apart of their identity. They know about the great forgotten fighters like Henry Armstrong and Sam Langford. They know of the Roberto Duran as arguably the greatest Lightweight, instead of Roberto Duran quitting to Sugar Ray Leonard. They know about the great fights, instead of just "Thrilla in Manila". They are the ones researching on boxing websites about their favorite fighters because they are not featured on "Sports Center". They watch Showtime and HBO boxing religiously to see a great fight. They go on web-forums just to discuss boxing with fellow adherents to this sport. Yet, its not done out of a smug-elitist-attention-grabbing manner, it's truly done because these people love the sport and this fight is for them.
To the general public, both Israel Vasquez and Rafael Marquez are anonymous names. Hell, I'm willing to bet if you go to any U.S city, whether it is New York City or Racine, WI I'm willing to bet that if you asked 100 people to identify these two men by picture you'd get a bunch of blank stares and condescending smiles for 98 of them. However, this fight is taking place because boxing fans, whether they are American, British or Mexican, have followed both careers, seen their sensational fights on Showtime or HBO and seen glowing praises from internet scribes on websites like Maxboxing and Eastside. These are the people who prayed and demanded for this fight to happen, and because of them (and of course the title that is on the line) why it will happen in a week.
We often lament over the fact that boxing is no longer a mainstream sport, and is only followed by a limited fan-base. Indeed, I've long sought to turn my friends on to boxing, because I know that more fans equals more money for the competitors and better stability for the sport. Also it truly sucks only having few people to discuss boxing with. However, fights like this one reminds me about why it is so special to be so dedicated to a craft that one loves so much, whether as a spectator or participant. It those aspects that makes all forms of art and entertainment special whether it be sports or cartoons, video games, film, pro-wrestling, or comic books. To see someone who enjoys the subtleties and nuances of boxing, well it puts a smile on my face.
So next week, while you are in your living room with a group of friends, experiencing goose bumps running through your body as Vasquez and Marquez hit the ring; I want you to have a cigar if you smoke, drink a beer, water or whatever the hell your beverage of choice maybe and be satisfied. Not only because you are going to witness a hell of a fight, but because you are almost certainly a true boxing fan and people like you are the main reason why Vasquez, Morales, Barrera, Marquez, Wright and so many others ply their craft in the sweet science.