29.12.06 – By Troy Ondrizek and B.J. Flores: As children we have an inherent need to impress our family and friends to garner attention. We will suck spaghetti through our nose and pull it out of our mouths, we will make farting sounds with our armpits that sound very similar to Jingle Bells; some will just act out and punch everything that moved. While all of us grow up, some of us don't grow out of the need to be in the spotlight, and while our methods to obtain attention may change, the burning desire to be noticed never really goes away. Fighters generally fall into this category; I mean some fight for the honor and glory, while others battle for monetary means. It doesn't matter the reason one fights, what matters is that if a fighter truly wants to obtain glory or money, he needs fans to notice him. For if no-one notices how good a fighter is, the fighters won't achieve any of their goals regardless of what they are..
The previous paragraph can be applied directly to entire cruiserweight division. I know some of you are wondering why on earth I keep talking about the cruiserweights, well some scribes write solely on the Klitschko's, Audley Harrison, or maybe Floyd Mayweather Jr. I am a little more diversified than that, but the cruiserweights are dear to my heart. No matter how many words myself or others type, the cruiserweights just can't get noticed. O'Neill Bell is responsible for much of the obscurity; as the true champion of the division Bell has yet to fight since he unified the titles a year ago next week. There are other factors as well with American fans being obsessed with the heavyweights and Oscar De La Hoya. I actually don't think there is anything wrong with that, but I just wish that the fans in the states were like the fans in Europe and followed the cruisers. The European fans follow the cruiserweights so closely because many of their amateur stars at heavyweight went on to fight at cruiserweight. And with attention garnered at the amateur level, it makes following their pro careers much more enjoyable and quite frankly, a bit easier (that was a hint to those in USA amateur boxing to get your act together and start properly developing fighters).
Tired of basking in obscurity and having the knowledgeable European fans wondering who he is, B.J. Flores and I sat down and devised a way to shed light on the better fighters of the division by giving a little "insider" opinion and I will tell how Flores (America's best hope at cruiserweight) would fare against these men in the ring at the current moment. So Flores and I reviewed nine fighters including him and hopefully this little effort gives some insight about the division to the masses and maybe HBO or Showtime can realize that these monsters are skilled technicians who like the heavyweights can end a fight with one shot, but unlike the big boys the cruiserweights can deliver action all the time.
Johnathon Banks: 13-0 10KOs Ring #9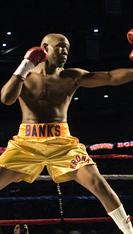 Flores: Johnathon is a tall guy about 6'3". He was a good amateur, never the number one guy, but in the top three consistently. Banks has matured a lot as a fighter under Emanuel Steward. My favorite thing about Banks is his heart; his fight with Eliseo Castillo in which he got up after being dropped twice in the first round and then went on to KO Castillo speaks volumes about Banks' heart. Banks also has a big right hand and is a very game opponent. I think Johnathon Banks is someone to look for in the near future.
Ondrizek: I like Johnathon Banks. I mean there were holes in his game that even the most novice fan could see, but the heart and resiliency he showed on national TV will make him a star. Banks needs to learn to move about a bit more, for it is true that when flat-footed you can deliver more power behind your shots, but your opponents blows have greater effect under the same circumstance. I see B.J. out-boxing the rather inexperienced Banks. Remember that Castillo had his success early against Banks because he moved and set up his shots with his feet, and then he lowered the boom on Banks. Flores can box exceptionally well and after over 100 or so amateur fights he knows how to move about a bit. As for Banks' power, Flores has been floored once, but that was by a "country-strong" heavyweight. I give Flores the nod in a solid give and take battle that Flores could end with his crisp punching, or if Flores would be stunned he could cruise to a decision. So I say Flores mid-round TKO.
Matt Godfrey: 14-0 8KOs Unrated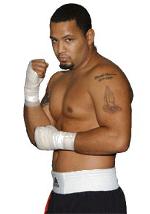 Flores: Godfrey is a better pro than he was as an amateur, and Godfrey was a pretty good amateur. One thing about Matt is that he is very patient and employs a very good defense. Godfrey has dominated lesser opposition with his superior technique. Godfrey's shortcomings are his lack of power and when he faces the top fighters I wonder how he is going to neutralize the bigger punchers in the division and go on to keep them off of him. Thing is Godfrey was a decent hitter in the amateurs at light heavyweight, but when he moved up to heavyweight, he didn't carry the power with him. However, Godfrey will get by with the fact that he is rangy and has really good footwork.
Ondrizek: Godfrey scored a nice KO over Shaun George and has been riding the popularity of that fight. I will say that Godfrey earned a nice win over the very difficult Danny Batchelder. I just don't see Godfrey being an elite fighter in this division, maybe he could develop some power and a bit more exciting style and then Godfrey would peak my interest. I just feel that Matt Godfrey will be the Rob Calloway of the cruiserweight division, just a bit better. I know I'm going to catch some flack for that, but Godfrey is a bit overrated. As for a bout between Flores and Godfrey, well I will say that Godfrey poses a problem for Flores style-wise. Flores has the most success as a counter-puncher, but Godfrey isn't real keen at initiating the action, so Flores would have to seek combat. Flores would find penetrating Godfrey's defense an infuriating task and a KO would be hard to achieve, but on activity alone Flores would pull out a boring decision that would do the division no justice. Flores UD12.
Jean Marc Mormeck: 32-3 22KOs Ring #3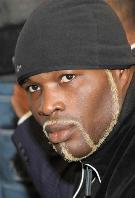 Flores: First thing that comes to mind is inactivity. Inactivity has cost Mormeck dearly. Mormeck's victory over Braithwaite was followed by inactivity and he lost to Bell, and then after his fight with Bell, Mormeck has fought only once. I will say that Mormeck is a very tough physical fighter who is still very dangerous. Mormeck's career best win was over Wayne Braithwaite and he looked very impressive in that fight, and we all thought that Mormeck was going to be the man for a very long time, but since then Braithwaite has floundered and that has tarnished Mormeck's victory a bit. No matter if Jean Marc Mormeck is overrated or not he is a very strong experienced fighter who can be out-boxed but is experienced enough to give everybody problems and is still an elite fighter.
Ondrizek: Well I for one touted the greatness of the Frenchman to everyone that would listen. I obviously was wrong, but I still like Mormeck. However, as B.J. touched on, inactivity will destroy a career and erase so much promise. There is no doubt that Mormeck is still a tough guy to face, but let's be honest, how much of a mental defeat was Mormeck's loss to Bell? I mean Mormeck hit Bell with everything including his mother and small mammals as well, and Bell stood and fought back. Mormeck obviously finally fell due to exhaustion and Bell punching him in the head. Mormeck is still a physical presence to behold when standing across from you in the ring. Mormeck can still vie for being the man for reasons such as he is fighting Bell in March for the World Title, I see a smarter Mormeck come in and punish Bell and keep moving and conserving his energy cruising to a decision victory; that is if Mormeck isn't defeated mentally. As for a Flores Mormeck bout, the constant pressure brought by Mormeck would play into Flores' strengths early, but as time and Mormeck wore on, Flores would wear down, and by the time Flores would try to change things up it would be too late and Mormeck would surprise the kid with a unanimous decision victory. Mormeck UD12
Vadim Tokarev 22-0-1 15KOs Ring #5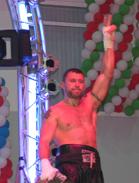 Flores: Wow he has some good solid wins first off. Tokarev is a physical, strong fighter who reminds me very much of Mormeck. Tokarev is definitely someone to watch-out for but is a bit old at 34. Tokarev did box very well against Felix Cora Jr. who is a good boxer in his own right. I give Tokarev a real good chance to become a champion. Tokarev is a smart fighter who is becoming a decent boxer as well as a murderous puncher and an all-around tough guy. Even though Felix Cora Jr. is a very good boxer, Cora Jr. is a bit chinny and Tokarev will take advantage of fighters like that. So to beat Tokarev it's going to have to be a tall strong fast fighter like Krzysztof Wlodarcyzk, David Haye, or myself to beat him. I would never and I mean never underestimate Tokarev, but I feel that my style goes well with his.
Ondrizek: I have the utmost respect for Vadim Tokarev as a fighter. Tokarev is another one of those European fighters who gets no respect because people generally have never heard of them, but when they come to the states to fight some "hot prospect" the fans and the other fighter are stunned to find out how legit fighters like Tokarev are; just ask Felix Cora Jr. Tokarev has drawn with teak-tough Firat Arslan, went the distance and virtually shutout slugger Darnell "Ding-a-ling man" Wilson, and KO'd Felix Cora Jr. and Shane Swartz in his last two fights. While Tokarev is a bit old, there is some mileage left on those tires and if any fighter gets complacent against him, they assuredly will be run over. I like Tokarev and his chances at a world title, a rematch of Tokarev and new WBA #1 Firat Arslan would be a good fight, but Steve Cunningham or Emmanuel Nwodo would be big fights that I see Tokarev winning, and if he faces Nwodo, that fight spells fireworks. Now for Flores-Tokarev, hmm…Once again Tokarev is tough and strong, and unlike Mormeck is a decent boxer, I see Flores taking Tokarev more seriously though and staying smart on the outside and not afraid to trade, but the difference would be Tokarev's bodywork. Tokarev is a vicious body-puncher along the lines of Miguel Cotto. Thing is that is where you don't want to punch Flores, when Tokarev would throw that right to the body, Flores will counter with a thudding left-hook to Tokarev's temple. This fight would be close and fun, but until Flores gets more than two rounds in at this weight and against better competition than Chris Thomas, I will have to say Tokarev at this moment in a decision, but that is only a temporary thought. Tokarev SD12.
Enzo Maccarinelli: 25-1 19KO's WBO titlist, Ring #6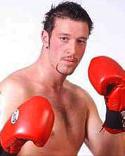 Flores: Enzo is a big, tall, strong guy who comes at you in a straight-forward manner. Maccarinelli has benefited greatly from Joe Calzaghe's fame. I don't feel that Enzo has earned his title, and a victory over Mark Hobson for his WBO crown proves that. Maccarinelli has been protected greatly by Frank Warren and people want to see Enzo fight because he is Welsh and has gotten good support from Welsh fans and Calzaghe. Enzo is easily the most unproven titlist and I have David Haye knocking him out. Maccarinelli is right there in front of you fighting and he gives you nothing but power, so Haye and his speed and power would stop Maccarinelli.
Ondrizek: Enzo Maccarinelli is a solid European-level fighter, nothing less, nothing more. Good management (if you want to call it that) by Frank Warren delivered Enzo the WBO title when longtime titlist Johnny Nelson retired when his old age convinced him to do so (secretly I've been praying for old age or a David Haye right cross to catch up with Nelson for years). Okay back to Maccarinelli (see even Johnny Nelson deserves more of a mention than Enzo), there I go again, Maccarinelli has fought nothing but cannon-fodder put in front of him by Warren and looks to do the same until a mega payday comes or until Enzo finally gets some skills. The big payday has arrived and Warren and Maccarinelli have balked at the sizeable purse offers made to them by rival promoter Frank Maloney and David Haye. I don't know the schematics of it all, but Maccarinelli not only will never make that kind of money, but he doesn't deserve to either. Enough hating already, Enzo deserves the respect any man should get for walking inside those ropes and competing, and Enzo isn't the worse fighter out there. The best way to describe him is Maccarinelli is the cruiserweight equivalent of Samuel Peter, rabbit punches and all. Now for the big Maccarinelli versus Flores forecast, Flores counters the hell out of the lumbering Welshman to a mid round KO. Flores KO6
O'Neill Bell: 26-1-1 24KO's Ring World Champion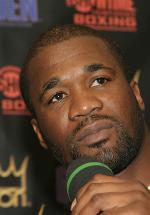 Flores: Extremely tough, strong, and in great shape. There is no doubt that Bell can be out-boxed, but he can't be out-slugged. Bell is also the man in the division, for as flawed as he is as a fighter he has earned the distinction of being the man to beat. Bell defied the odds and he KO'd Mormeck last January. Things that come to mind regarding Bell is the man has heart, and self confidence. I do feel that his inactivity will hurt him. I wish Bell would fight more to give more notoriety to the division. Champions need to fight often and Bell needs to be an effective champion and to help him and the division by fighting regularly.
Ondrizek: O'Neill Bell is champion and that's that. What can you say besides, FIGHT ALREADY! Bell pulled out of a fight with Steve Cunningham because Bell had his wisdom teeth removed and we haven't seen him since. Now Bell is scheduled to fight Mormeck in March and that would mean roughly a 14 month layoff for Bell. Listen inactivity hurt Mormeck and killed Lamon Brewster so what does Bell think will happen to him and his career. I know Bell was going to fight in that ridiculous Superfighter tournament to make the money, but that was a waste of his career. If Bell really wants to make money a victory over Mormeck is a must and then travel over to Europe where fight fans love the cruiserweights and big paydays would be down the road with the likes of Tokarev, Haye, and Marco Huck. I will admit that I was one of the people that said Bell couldn't defeat Mormeck and I thought it would be a nice unification victory for Mormeck. I thought the same thing as the fight went on, and there was no reason for me to think otherwise. Mormeck was punishing Bell, and I was thinking fair-play to Bell for being a game opponent, but when is he going to fall down? To my surprise it was Mormeck who toppled and I was shocked and pleasantly surprised by Bell and his miraculous performance.
The division deserved a title fight that exciting for a fight of that magnitude, but we have been left wanting ever since that day and I'm tired of feeling like a woman wondering when my man would come back. Bell is very vulnerable and Dale Brown and Sebastian Rothmann proved that to us. The thing is Rothmann was stopped late and Brown was robbed, but Bell always gets into a situation to garner a win. So with Flores and Bell, Flores has the skills, but you wonder if he would get drawn into a brawl with Bell. Flores can take some shots and can deliver some of his own, so the question is if Flores could keep Bell off of him for twelve rounds, and I say yes. I know you can bust my chops if you want, but Flores could take Bell now, just don't get drawn into a brawl. Flores MD12
Krzysztof Wlodarcyzk 37-1 27KO's IBF titlist Ring #1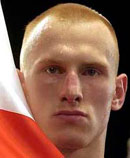 Flores: Wlodarcyzk is a tough guy who always comes in shape. Wlodarcyzk tries to be a physical fighter, but is too small to be one. I will say that Wlodarcyzk is used to winning and that is a great mindset to be in as a fighter. I personally like how I match up with Krzysztof. Wlodarcyzk walks in and doesn't move his head at all; he throws punches but is stationary. Consistency is a valuable asset for a fighter, and Wlodarcyzk is a very consistent fighter, but I'll be consistently hitting him for 12 rounds. Wlodarcyzk is a blue-collar fighter who always brings his game inside the ring. To beat Wlodarcyzk you must come in great shape and have a solid game-plan, and more importantly you must stay focused against him; even if you have the best game plan, you cannot let his pressure fighting derail you from your game-plan. I tip my hat to Wlodarcyzk for being a champion, but he didn't beat a champion to become a champion.
Ondrizek: I have never been overly impressed by Wlodarcyzk, but I tell you I wouldn't want to be in the ring with him for twelve rounds. Wlodarcyzk is a tough customer who brings the fight all the time and is fun to watch. I won't say that Krzysztof is a world-class fighter, but an upper-echelon fighter he most assuredly is. I will have to agree with B.J. that Wlodarcyzk is a little small for the weight class, but he could add on some muscle to help compliment his style and really turn into a force. The only reason I'm not sold on Wlodarcyzk as the cream of the division is his lack of a stick and move fighting ability, he is there to be hit, not cleanly, but still hit and he doesn't do the little things that really polish off a fighter. However, Wlodarcyzk is only 25 and has room to grow in a boxing sense and physically, so I do see a bright future for him and maybe just maybe if he develops a little more in the aspects of the sweet science, then Wlodarcyzk really truly could be a very good fighter down the road. Now for the Flores versus Wlodarcyzk outcome, well I know B.J. really wants this fight because Wlodarcyzk is a tough man to fight, but the styles don't mesh well for the Polish Dragon. I see a game Wlodarcyzk walking into Flores combo after combo and Flores winning by a wide margin. I don't think that Flores is that far ahead of Wlodarcyzk in terms of development, but Flores' style doesn't match-up well for Wlodarcyzk. Flores UD12
David Haye: 18-1 17KO's Ring #4
Flores: This is the fight that I am most looking forward to. Haye reminds me very much of myself; he is very athletic, he could've done any number of sports and found success just like I did. Haye also has really good power, head movement, and speed. Haye has fought and defeated good opposition and takes chances that make him a premier fighter to watch. When I win a belt, I really want to unify the titles against Haye. I would have no problems traveling to Europe to face Haye, a place where fans love the cruiserweights and where this fight would be a huge draw. I just hope that David Haye stays in this division long enough for a fight between us to happen.
Ondrizek: Haye is the cream of the cruiserweight crop in terms of popularity, looks, skill, and charisma. Haye has everything needed to be a blockbuster type of fighter. Hayes's career hasn't gone exactly to plan, but I think it has gone perfectly. An early setback to Carl Thompson had many experts saying he was overrated and blah, blah, blah; listen fighters lose, it happens so one loss doesn't discredit a career, I wish people would understand that these days. A loss can be so much better for a fighter than a win sometimes, especially for a young cocky fighter. I hold Haye and his willingness to fight the best in the division in the highest regard and the fact that Haye has the goods to back up his hype means if he stays in the division, than Haye could be the fighter that transcends division lines and helps make the cruiserweights marketable. Now for a fight between Flores and Haye, well these two can bang and both have speed and skill and I guarantee the fight wouldn't go the distance with the fans on the edge of their seats until the conclusion. I say it goes to the scorecards after Haye is cut and after ten rounds the fight would be a technical draw.
B.J. Flores: 17-0-1 12KO's Unrated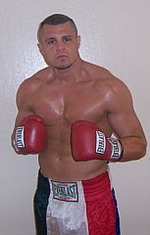 Flores: I'm athletic, strong, and fast-handed. I am one of the strongest cruiserweights in the game. I had a great amateur career with 120+ fights; I was a two-time national amateur champion at heavyweight. I have good boxing skills and am a smart fighter who can adapt to any fighting style. I can fight everybody and every style I mean I can take on everyone from Chris Byrd to Ruslan Chagaev. I know I have one of the fastest pairs of hands in the division. I am very competitive and my athletic ability will show through. I was all-state in track and football and my power is undeniable. I know I talk a big game but I am very confident in my abilities and I am a student of the game; I love boxing. I feel that I can be the unified champ someday and bring some much deserved notoriety to the cruiserweight division.
Ondrizek: I obviously hold B.J. and his skills in the highest regard. A constant fan that reads about and follows every fighter in the sport, Flores calls me on a regular basis to just talk boxing. Always in the gym, Flores is developing into a very strong fighter. As a former heavyweight turned cruiserweight Flores can bang and can take a shot. Flores has flashed his boxing ability against the heavyweights, but claims he has devastating power on the cruiserweight level, I will say that in his two bouts so far at cruiserweight, Flores has yet to hear the bell for the second round. Now Flores should've disposed of these lesser fighters in this fashion and should do the same to Chris Thomas in January. Now Flores has the pedigree to become a viable contender, but experience is a must for Flores to really learn to deal with the elite fighters. I feel it is only a matter of time before Flores has an alphabet strap, but who cares about those? Flores can become the man in the division, it's just going to be a matter of how much he wants it and if he faces the top opposition.
The cruiserweights have been begging for attention for over 25 years, but they've done it in the annoying fashion similar to Paris Hilton. Now that there is an abundance of talent in the higher ranks of the division it is time to at least give them some television dates and see if they earn our love and respect. Having a fighter who is a student of the game and actually being such a huge fan of the sport helps give accurate insight about the fighters we normally know nothing about. I liked this collaboration with Flores, it is always a learning experience to hear what a fighter thinks about different styles, and it cracks me up when I hear them advertise themselves, but hey they must, for they are vying for our attention and ultimately our dollar. After this lengthy piece I am done lobbying for the cruiserweights for a little while, I'll let them speak and act out for their own good. I would like to thank B.J. for taking the time out and Steph you have my condolences.
Click here to access BJ Flores MySpace Site