31.12.06 – Interview by Michael Marley, BoxingConfidential.com— NEW YORK– The raspy voice on the other end of the phone was unmistakable. If there are three telephone voices I instantly recognize after all these decades covering boxing, they are Muhammad Ali, Don King and this slightly gravelly speaker, Robert Arum. It was the Top Dog of Top Rank. He started on top when George Chuvalo fought Ali in Toronto in 1966, and the Harvard-trained and former Justice Department lawyer, was attending his very first fight card. But he wasn't a spectator, he was the promoter..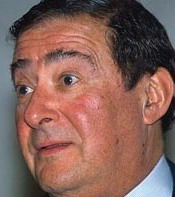 I began by congratulating the plane-weary Bobster, who sounded like he was shaking off the 15 hours each way flight to the Philippines where he locked down his role (pending court action against Golden Boy) as Manny Pacquiao's exclusive promoter. I said the landing of Pacman had to rank right up there with promoting Ali, with taking Marvelous Marvin Hagler to superstar status and to his many other achievements.
Arum told me to hold the applause.
"It was a great trip, really," Arum said. "But I will be better able to answer that question two years from now depending on the kind of job that I do for Manny. I know what I I want to do, I want to make him a crossover star. He is learning more English. I want him to be able to go on big shows like Jay Leno ("Tonight Show") and do a lot of other things.
"When I'm done, if I do my job right, Manny will be as big as Oscar or even bigger than Oscar. I want to develop him as a top tier attraction, a real superstar in our sport. Oscar is the best example of the status that I want Manny to reach. And Oscar and those guys can say what they want. But it's Top Rank that made Oscar a superstar and they all know it."
Arum said he had "a game plan" which he will put into high-gear immediately after New Year's Day which will lift Pacman's profile and popularity to greater heights not just in the U.S. but internationally.
"But the focus is on the U.S.," Arum said. "He's got to become a crossover star so that people who don't follow boxing know who he is. That is my goal and that is what the game plan will be directed to doing."
Arum also dropped some other pearls of pugilistic wisdom. Taking them by topic, here they are:
RICHARD SCHAEFER'S NEW YEARS DAY DEADLINE IMPOSED ON PACMAN TO ACCEPT THE MARCH 17 BOUT WITH BARRERA: "Look, Schaefer and no one else is imposing any deadline on Manny Pacquiao. The attraction in that fight is Manny. It's not Barrera and they know it, they know what the PPV numbers are. What's Barrera going to do if he does not fight Manny? He will never fight Marquez, you can be sure of that. I did three fights between Barrera and Morales so I know the numbers. And if Barrera does not fight Manny, he'll wind up in a mandatory against Humbeto Soto who is promoted by me and who will knock Barrera out.
"Steve Wynn wants me to bring Manny to his place in Macau and he would happy if the opponent is any credible, Top 10 guy. Steve wants to have Manny fight in Macau in April or in September. He can't fight Donald Duck but he can fight any Top 10 guy.
"Look, I'm a business guy. In his last fight, Barrera did 150,000 pay-per-view buys. He does not have the same strong Mexican following that Morales has had. Barrera is Barrera and he does not do 350,000 or 400,000 PPV buys like Manny and Erik did November 18. With Barrera, if you do 250,000 to 300,000 PPV buys, it is a big deal. So they have to decide if they want to fight Manny because, under the WBC rules, if Barrera does not fight Manny, then he must fight Soto and, as I said, Soto knocks him out."
TRAINER FREDDIE ROACH: "Freddie Roach had a million reasons to push Golden Boy, to push Oscar, on Manny. Ask yourself why Freddie was so adamant about Manny going with Golden Boy. Was he offered a deal to become Oscar's trainer? Yes, absolutely, he was for one million dollars. That's why Freddie was instrumental in what Golden Boy did, which was kidnap Manny when he got off the plane from Manila, after 15 hours, and take him to the steakhouse. They had him sign and initial a contract when they knew he was prohibited from doing so. Manny's lawyer, Jing Gacal, was there and he told Manny not to do it, not to sign it."
AGENT MICHAEL KONCZ: "Does he work for me, for Top Rank? No, no, and no. I have never given Michael Koncz even a cup of coffee. He is Manny's adviser and he works for Manny. He recommended Top Rank as Manny's promoter. The only connection I have to him is that he is a manager of Manny's brother, Bobby Pacquaio, who fights for us."
OUSTED MANAGER SHELLY FINKEL: "The Finkel thing is the most bizarre thing I have experienced in boxing and I have experienced a lot of bizarre things. Manny, Shelly and I all signed a piece of paper which guaranteed him his managerial share from the Morales fight. It was signed on August 12. So Shelly was assured of getting paid and he got paid. It was a mutual release by the parties. So he was out as of August 12. Shelly asked me not to embarrass him. He said, "Bob, please do not embarrass me. Put me on the dais at the press conferences.' I said, "I am not here to humiliate you, Shelly.' He sat on the dais.
"For Shelly to make comments now, this is just ludicrous. It's one thing if he wants to make comments and say, 'As Manny's former manager…' I understand he says the paper was not submitted to the (Nevada) commission. That is also ludicrous. You do not have to give that to the commission."
THE LEGAL DISPUTE WITH GBP: "I have hired O'Melveny & Meyers and their Daniel Petrocelli. We've got counterclaims and the actions are being consolidated in federal court in Los Angeles. They sued us in state court first. As part of the bout contract for Manny's fight with Erik, we had a clause which prohibited him from signing a promotional deal. So they can talk all they want but what they did was clear. What they did in signing Manny was contravention of a prior contract (making Arum's clause first in time). And you cannot do that in California and Nevada. Manny also renounced their contract and gave back their money.
"As far as them not knowing about our bout contract and the prohibition, that is bullshit. They can't say because it is something we have, a provision that we have in our contracts for those kinds of bouts. We had that kind of provision in Oscar's own contracts for years so they had to know that.
"Ultimately, we will win this. There will be money damages. We'd like to go for summary judgement, get it over with, but they are dragging it out."
You think most wealthy, 75-year-old men would spend 30-plus hours on airplanes between Chanukah and New Year's Day in an effort to sign a prizefighter? Arum is a driven man even at his advanced age.
Maybe that's why he and Donald King have been the Hertz and Avis of boxing for the past 35 or so years.
(As Pacmania rolls on, Michael Marley may enroll in Tagalog 101 classes, especially if they serve frosty SMB's in class.)