01.12.06 – By KIRK LANG: Willie Pep, one of the greatest boxers of all time, died on Thanksgiving after a long battle with Alzheimer's Disease. Hartford residents took pride in the boxing virtuoso that represented their city but all Connecticut residents should be proud of the former two-time featherweight champion..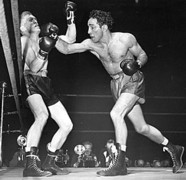 Pep was born in the Nutmeg state and lived here all of his life. He's Connecticut through and through. Pep reigned as champion in the 1940s and was so masterful in his line of work that, at one point boasted a record of 135-1-1. He could turn a boxing match into performance art. When boxing experts talked about the greatest fighters in history, Pep's name is right there with Muhammad Ali, Joe Louis, Sugar Ray Robinson and Henry Armstrong (who once held titles in three weight divisions simultaneously.
While Pep was rated the fifth greatest boxer of the 20th century by a five-member panel for the Associated Press, the "Will O' the Wisp" is often considered the finest defensive fighter of all time.
I first met Pep in 1994 when I went with my stepfather to the International Boxing Hall of Fame weekend in upstate New York and as a boxing fan that prefers stylists over sluggers, boxers over brawlers, finally seeing and talking with the ultimate craftsman in the art of self defense was the ultimate thrill. Year in and year out, Pep was a fixture at the Hall of Fame's four-day event. From the mid- to late-90s, I came to know the greatest featherweight in history. Pep didn't make it to the Hall in 2000 and would never again be seen at any subsequent Hall of Fame weekends. A few months after the summer of 2000, someone at a boxing match at Mohegan Sun Casino told me that Pep had been placed in a nursing home. I knew then that future trips to the Hall of Fame with my stepfather wouldn't be quite the same.
I was fortunate to have had some personal time with Pep away from adoring crowds, autograph and picture seekers. Now that Pep is gone, I treasure those moments. We first linked up in our home state at the Casa Loma Restaurant in Hartford in 1997. I brought a tape recorder but I wasn't really looking for a story. I just wanted to spend some time with the legend, who was also one of the nicest fighters of the dozens that showed up at the Hall of Fame each year.
At Pep's funeral Tuesday at Corpus Christi Roman Catholic Church in Wethersfield, Deacon Seth English, who visited Pep once a week for six years at the Haven Health Care Center in Rocky Hill, said of Pep: "He was a very generous man. He was fun. He was funny. He was a giver."
English added: "Willie was a giver. Willie was a gentleman. Willie was a gentle man. Willie was a champion."
Pep was in fact a generous and fun guy. During my visits with him, I was given photocopies of articles written about him and photos that he would autograph. I didn't have to ask. He even gave me a poster-size print of him in a fighting pose. What I treasure most however, is an out-of-print book he gave me called "Pep Remembers Friday's Heroes." It was co-written by Robert Sacchi and Pep himself. A year or so before Pep gave me the book, I typed Pep's name into a computer at the Bridgeport Library and found out it existed, but the library – which is one of the best in the state – didn't have it.
Pep was always in good sprits and loved to make people laugh. He had a slew of jokes he would reel off at public events or even when talking with someone one-on-one. If you asked him how he's doing, the six times married Pep would say: "Great. I've got a new wife and a new refrigerator and they're both working." When asked what his greatest fight was, Pep would respond: "My first wife."
When he was introduced at speaking engagements, Pep, during the applause, would announce: "Please. Don't clap. Throw money." Pep, who was born Guglielmo Papaleo in Middletown, CT, also once said: "Spaghetti and meatballs killed more Italians than all the wars."
When I initially met Pep and asked him to pose for a photo with me, he first asked: "Are you a gangster?"
Pep was the first world boxing champion I ever met. I last visited him at the nursing home, on January 1. On November 28, I was a pallbearer for his funeral. It was truly an honor. His wife Barbara asked me Saturday morning if I wanted to do it. My answer was a mere formality. She must have known I would accept. You couldn't have paid me to turn her down.
My greatest memories with my stepfather (outside of family events) are our annual visits to the Hall of Fame, which probably brought us closer together. Pep is a significant part of those memories.
When I first met Pep I was a teenage boxing fan. Who would have thought then that I would be setting him at his final resting-place 12 years later? Willie Pep was to boxing what Michael Jordan, Bill Russell or Wilt Chamberlain is to basketball. Yes, he was a legend, but it was his affable nature, and guys like him – boxers who are much more humble and down-to-earth than other sports stars – who inspired me to become a boxing writer.
I once asked Pep what he wanted people to remember about him. His answer?
"That I was a pretty good fighter and that I'm the only guy that won a round without throwing a punch. I did it against Jackie Graves. I told a sportswriter before the fight I wasn't going to throw a punch. I spun him. I slipped punches. I blocked punches but I didn't throw a punch. He fell down. He went through the ropes, but he never hit me. I never hit him. So at the end of the round, the judges gave me the round, in his hometown. I was very proud of that."
Questions/Comments:
kirklang@yahoo.com