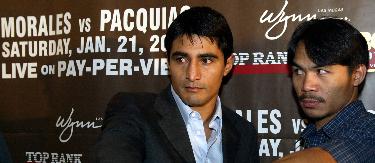 31.10.06 – By Sean Ocampo: Erik Morales seems to be ready to fight Manny Pacquiao with full force this coming November 18 at the Thomas and Mack Center in Las Vegas. With all the hard work in training and all the process he needed to go through just be 100% ready for Pacquiao seems to be over looked by boxing fans as if he's just another stepping stone in Pacquiao's quest to boxing greatness.
Morales spent his last few months going through a process that is very scientific in nature. He went to "Velocity" to make the weight with no problem at all and be able to have the legs to go full 12 rounds against the fire breathing Pacquiao. He is slowly getting into shape and has been all business when it comes to his training. He is currently isolated and training rigorously in high altitude at the Otomi Mountains.
He is perhaps going into the fight against Pacquiao and major underdog for the first time in his career. Fans and some experts are obviously going for the Filipino knock Morales out for the second straight time because of Morales' performances in his last two fights. However, they just might not be in for big surprise coming from the Mexican warrior.
According to reports, Morales has been very dedicated in training like never before and he seems to be irked by words coming from the Pacquiao camp that made him emotionally charged. He is still undergoing serious training regimens that are both classical and scientific that will make Morales physically stronger and better.
There also have been speculations that Morales may choose wear to Cleto Reyes gloves, a thin padded brand of gloves, rather than his usual Japanese made Winning gloves to add power in his fists. As we all know, the two previous fights of Pacquiao and Morales have been surrounded with issues about the gloves. However, this is no longer an issue in this fight.
Manny Pacquiao must be 100% ready against Morales. This fight is still a decider even if Morales got TKO'd by Pacquiao in the last fight. The rubbermatch should not have happened if Morales didn't own a victory over Pacquiao. This fight will decide who the better fighter is, regardless of the kind of victory both fighters own against each other.
With this kind of training regimen Morales is going through, I must say that he should not be over looked and underestimated. I'm expecting the best Erik "El Terrible" Morales this coming November 18. The guy may be an underdog going into the fight but in my eyes the fight is pretty much equal.
The technical knockout loss Morales suffered in the hands of the Filipino is no longer the case here. This fight just boils down on who wants the fight more. Whether it be Pacquiao or Morales?
Great fighters always have one more great performance left their bags. This is Morales' last chance for a career reviving victory.
Pacquiao-Morales III this is the "Grand Finale". Another great trilogy in boxing and another great fight about to happen!