31.08.06 – Photo: TOM CASINO / SHOWTIME – (Left-to-right) Sam Peter, Eric Aiken, promoter Dan Goossen, Robert Guerrero and James Toney pose after Wednesday's press conference in Los Angeles. James Toney (69-4-3, 1 ND, 43 KOs) faces Sam Peter (26-1, 22 KOs) in a WBC heavyweight elimination bout and IBF featherweight champion Eric Aiken (16-4, 12 KOs) defends against and Robert Guerrero (18-1-1, 11 KOs) Saturday at STAPLES Center on SHOWTIME (10 p.m. ET/PT, delayed on the west coast). Tickets, priced at $300, $150, $75 and $50, are available at TicketMaster locations and at STAPLES Center's Box Office..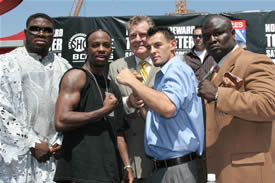 JAMES "LIGHTS OUT'' TONEY – "I am the true heavyweight champion. The four other guys are nothing. There are only a couple of days left. I can't wait. All this talking, telephone calls, press conferences, it is time for them to cease.
"It is almost time to fight. I am going to be right there Saturday night. I am a real fighter, not like the other guys he's been facing. Peter says he is ready to fight. For Peter's sake, I hope he is.''
SAMUEL "THE NIGERIAN NIGHTMARE'' PETER I am ready to fight 12 rounds, 15 rounds, whatever it takes. I will be very surprised if I don't knock him out. Fans are going to see a lot of things from me, but mostly they are going to see me beat Toney.
"All his talk doesn't bother me. We will lock horns Saturday. When the bell rings, the fight will start. I am not a dirty fighter, but if I see something to hit, I am going to hit it. I will hit Toney everywhere.''
ERIC "MIGHTY MOUSE'' AIKEN "People may not believe in me now, but they will after this fight. Winning a world title made me better. My focus is so much better than before. I have never had eight-nine weeks to prepare.
"This is a great opportunity for me to showcase my talents and abilities. It didn't matter who I fought or where. But I am happy my first defense is in the states. I'd fight Godzilla if he could make 126.''
ROBERT "THE GHOST'' GUERRERO "I am not anxious but I am excited that my first shot at a world title is almost here. I know I am ready. I have done everything that I had to prepare for this. My team has done a great job getting me ready.
"Every fight is hard. I have nothing but respect for Aiken. He is a strong, powerful guy, but I am ready for anything and everything he has to offer. There will be a new IBF champion come Saturday.''