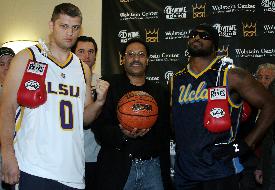 31.03.06 – Photo by Tom Casino / SHOWTIME(c) – WBO Heavyweight Champion Lamon Brewster (232 pounds) and challenger Sergei Liakhovich (238.5 pounds) weighed-in for Saturday's world title fight LIVE on SHOWTIME (11 p.m. ET/PT) and made their predictions on the NCAA Final Four. The SHOWTIME telecast will be presented at a special time to accommodate fans tuning into the NCAA's Men's Final Four on CBS. The Showtime Championship Boxing telecast will be part of a SHOWTIME Free Preview Weekend (March 31-April 3) when the network will open its signal to 45 million TV households nationwide.
Donning the U.C.L.A. jersey, Brewster picked the Bruins to defeat the L.S.U. Tigers and go all the way. However, he stopped short of picking U.C.L.A.'s opponent in the finals.
"I have to go with my boys to represent Los Angeles, said Brewster, a city of Angels resident. "They are going to use stifling defense to get past L.S.U.'s inside game. But, I cannot call the George Mason – Florida game. That one is too tough to predict."
Sporting an L.S.U. jersey, Liakhovich predicts that Louisiana's finest and George Mason will win this weekend and play in Monday night's final.
"Like each of the L.S.U. players, I am a tiger," Liakhovich said. "When I step into the ring, nothing gets in the way of my prey. Brewster will find that out on Saturday night."
RELENTLESS" LAMON BREWSTER (33-2, 29 KOs)
"My form of fighting is formless. It is like water. By being formless, I have my mind open to a lot of things. It allows me to not be surprised in the ring."
"How I fight depends on how I feel when the bell rings."
"Right now, there are a lot of smoke screens from different heavyweight fighters about what they can do. James Toney has the talent, but not the conditioning. Hasim Rahman has the conditioning and heart, but not the skills of a Toney. Chris Byrd is a proven heavyweight."
"I did not fight to my potential against Kali Meehan. He is my friend. I did not go all out and it almost cost me my title. I definitely held back. That is why I made a statement against Andrew Golota."
"My faith in God led me to Buddy McGirt. He made me realize that I have a left hand that would make my right hand jealous."
"When (former trainer) Bill Slayton died, I was like a puppy without its mother. Other trainers put a cap on what I could do. McGirt helps bring out the best in me."
"I want the WBC (World Boxing Council) heavyweight title no matter who is holding it. If Wladimir Klitschko gets past Byrd, and that is a distinct possibility, I want to fight him for personal reasons."
"I am not playing checkers. I am playing chess. I am going to put other fighters on that clock. I am (legendary chess players) Bobby Fischer, baby."
"It is shameful that we live in a day and time that people do not know who the heavyweight champion is."
"You can take any dog and put him in the ring against a pit bull. The pit bull is always going to win. You cannot go toe-to-toe with a pit bull. That is what Andrew Golota tried to do."
"I do not have a degree. I come from the school of hard knocks. I cannot work a nine-to-five job. I have to fight to provide for my family."
Buddy McGirt (Brewster's trainer)
"Once Brewster realizes how good he really is, the heavyweight division is in serious trouble. He still has a way to go."
"When Brewster gets his rhythm, I can just sit back and enjoy this fight."
SERGEI "THE WHITE WOLF" LIAKHOVICH (22-1, 14 KOs)
"I have many weapons. I have a real good right hand. What I use depends on the situation."
"We looked at three of Brewster's fights. He fights the same way all of the time."
"I like how Toney fights, but I do not think he gave his best for the Rahman fight."
"Mike Tyson and I train at the same gym in Arizona. I saw him, but never spoke to him."
Kenny Weldon (Liakhovich's trainer)
"We will do whatever is necessary to beat Brewster's hook. If we beat his hook, we beat Brewster."
"Brewster pulls his head first, than throws the hook. He is going to hit you with the hook 90 percent of the time."