29.11.05 – Carl Froch – who defends his Commonwealth super middleweight title against Ruben Groenewald this Friday – has always been an ambassador for Nottingham. Last week he demonstrated that he is also a positive role model for the children of area when he conducted a Physical Education lesson at Bigwood Comprehensive School..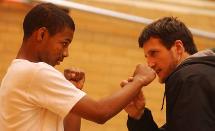 The 28-year-old started with a Q & A, during which he advocated the benefits of the sport he took up at the age of nine when he joined the Phoenix Amateur Boxing Club. "Boxing changed my whole outlook on life," explained Froch, who as an amateur won various schools titles, was twice senior ABA champion and made history by becoming the first English fighter to win a world senior championships medal.
"It taught me discipline and respect. Before I started boxing I didn't really listen to my teachers, but I learnt to take notice of what they were saying to me. I realised they were there for a reason and were trying to help me. I started to knuckle down in every area of my life.
"It helped me later on as well when I started to win the big titles as an amateur and began looking to the future. I decided to go back into education and get some qualifications in sports science. Without boxing I could have gone a different route. I think I could have been a bit of a toe rag. "
Froch's message was re-enforced by Councillor John Collins, the leader of Nottingham City Council, who kindly came along to lend his valuable support.
"Sport is an extremely healthy outlet in so many ways," the Councillor began. "In addition to physical well being it promotes dedication, social skills and respect. Carl is a fine example of the positive effect it can have on someone's life.
"It is great to have him here to explain what boxing has done for him. People can talk to you about the benefits of this and that, but it really hits home when you hear from someone who has actually done it, particularly a role model like Carl.
"Nottingham is very lucky to have Carl and I am very grateful that despite his success, he never forgets his roots and is always willing to spend some time putting something back into the Community."
The students were then shown a video detailing Froch's 16-0 (12 KO's) professional career so far, which has seen him win English, British and Commonwealth super middleweight titles.
This was followed by a 30-minute session on the basics of boxing, conducted by the man himself. He began with a brief warm-up and an impressive display of skipping, before teaching the class on a group and individual basis about stance, defence and punching – in particular the jab, the hook and the trademark 'Cobra' right uppercut. He finished with a lighting fast display of shadow boxing.
Local media then conducted a series of interviews with Froch, Councillor John Collins, Head of PE Terry Pitman and several of the pupils, who were also asked to put their thoughts about the lesson on paper. Extracts can be found below.
Billy, Year 10 pupil aged 14 – "I thought it was a great PE lesson when Carl Froch came and did some training with us and I really hope he will come again. Also I would like to say thanks."
Mark, Year 11 pupil aged 16 – "I thought Carl Froch was great. He taught us his favourite punch – the `right uppercut.` Not that I was any good but any way we watched a film about him and found out that out of 80 (amateur) fights he only lost 8. I don't want to step into the ring with him, ha ha!!!
Lisa, Year 11 pupil aged 16 – "He is a down to earth person and made me see someone from Nottingham who has become successful in what he loves, gives me hope for the future and to see how he still gives back to the City. He does not forget his roots. An amazing role model to me."
Marcus, Year 11 pupil aged 16 – "I enjoyed Carl Froch teaching us at Bigwood School. He made me think about taking up boxing myself. He taught me how to jab and was fun. He also made us skip and showed us the best way to do it and made a few of us pupils laugh because some people couldn't skip. He is a nice man and a very good boxer and I hope he wins his future fights."
James, Year 11 pupil aged 16 – "Carl Froch is a good lad, he is a quality boxer and I wish him well in the future."
Mark, Year 11 pupil aged 16 – "He is a down to earth man, knows where he comes from and what he wants to do. Wish him all the best for the future."
Michael, Year 11 pupil aged 16 – "Carl Froch was amazing and really insightful to the life of boxing."
Kurt, Year 11 pupil aged 16 – "Made me want to join a boxing club."
Alex, Year 11 pupil aged 16 – "The visit from Mr Froch was great; his speed, strength, balance and sporting ability is amazing! I am definitely a fan now. I am looking forward to watching him win the world championship. Thanks for coming! You are an inspiration."
Lewis, Year 11 pupil aged 16 – "I thought he was a good inspiration for me and I'm actually heading straight down to the Phoenix Boxing Gym right now."
Terry Pitman, Head of PE – "When Carl started shadow boxing my mouth dropped. Speed, balance, power. He'd got the lot. God help Groenewald!!!!!"
photo: Nottingham Evening Post