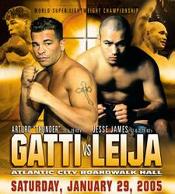 30.01.05 – By Mike Indri – Retired Boxers Foundation: Arturo "Thunder" Gatti, boxing's "pound-for-pound most exciting fighter", sent the sold-out Atlantic City Boardwalk Hall crowd home deliriously happy with another knockout victory; he also, more than likely, sent veteran ring warrior Jessie James Leija home to a well earned retirement. While the thirty eight year old Leija did all he could against the bigger and stronger Gatti, the San Antonio, Texas native couldn't compete with the "New Jersey franchise".
Getting out-boxed and stung by a couple of Gatti uppercuts over the first four rounds Leija then began to pressure the WBC Super Lightweight Champion and paid dearly-with a crushing right hand which sent the dazzed and hurt Leija to the canvas early in round five..
Barely beating the count at nine, Leija struggled to survive. Gatti, knowing that his foe was in deep trouble, relentlessly fired off several damaging power punches with both hands as Leija crumpled to the canvas again. Unable to continue, the debilitated Leija was counted out by referee Earl Brown at the 1:48 mark of round five.
Gatti, who boxed well and looked sharp, dispelled the rumors of his taking the formidable Leija lightly.
Now all the talk has turned to the proposed June 11th fight, slated for HBO pay-per-view, between "the human highlight film" and the mega-talented, undefeated, two-time world champion "Flamboyant" Floyd Mayweather.
While still not official – due to Mayweather's outside the ring, court related, problems – Gatti didn't seem too concerned with Mayweather's absence at ringside.
"I don't care if Floyd is here or not. He (Mayweather) is not the guy who is going to sell the tickets anyway. Either way, come June 11th I'll be fighting!" stated Gatti – which brought much laughter and cheers from all the post-fight press conference attendees, which included N.Y. Jets star receiver Wayne Chrebet.
Gatti, now 39-6 with 30 KO's, seems determined to get into the ring with the dangerous Mayweather. When questioned by HBO commentator Larry Merchant after his resounding knockout victory Gatti answered, "He (Mayweather) is the best pound-for-pound fighter in the world. I want to show the world I am the best!"
While never included on any of the so-called "experts" pound-for-pound best fighter lists, Gatti does realize that he would be tabbed a heavy underdog in a fight with "Flamboyant Floyd". A Gatti victory would make boxing's most exciting, and most popular fighter, also one of boxing's BEST fighters.
The timing couldn't be better for Gatti – who is at the height of his career and fighting at his best. Maybe, just maybe, the obviously troubled and distracted Mayweather will be the one taking his opponent lightly? Which would be a very big mistake for Mr. Mayweather.
On the Main Events Promotions undercard…
IBF Jr. Middleweight Champion Kassim "The Dream" Ouma showed why he should be considered among boxing's "pound-for-pound" best. His dominate display against the very dangerous Kofi Jantuah (now 28-2, 18 KO's) showcased Ouma's tremendous skills and offensive prowess. "The Dream" threw over 1,000 punches and landed an incredible 502 shots against the totally bewildered Jantuah, nullifying his supposed power advantage. Ouma took the unanimous decision win with scores of 118-110, 116-112 and 117-111 from the three judges in his first (and definately not his last!) appearance on HBO.
Heavyweight prospect Malik Scott, now 21-0, remained undefeated with his eight round unanimous decision victory over David Bostice, whose record fell to 33-9-1.
Giovanni Lorenzo stayed perfect, improving to 15-0, making the previously unbeaten Dennis Sharpe (17-1-2) his eigth knockout victim. Lorenzo, fighting out of Washington Heights,NY, jumped on Sharpe at the opening round bell and clobbered the game fighter; forcing an eight count and also a trip to the canvas before Sharpe's corner wisely threw in the towel – forcing referee Benji Esteves to halt the bout before the end of round one – as Sharpe was getting pounded on the ropes.
Chicago's David Pareja, now 3-1, won via majority decision over Gino Ranquillo in a four round cruiserweight contest. Ranquillo, fighting out of West New York,NJ, appeared to be the stronger fighter with better skills yet did not fight a smart fight – or a clean fight.
Paterson's Henry Crawford stayed perfect (4-0, 1 KO) with a four round unanimous decision win against a tough and determined Phillip McCants (now 2-1-1, 1 KO) from Philadelphia. The talented Crawford, at times, displayed the talent and skill of a solid welterweight prospect during this foul-plagued bout.
In one of the most entertaining fights of the night Jersey City's Danny McDermott made his pro-debut a victorious one. For four rounds McDermott traded punches with Jason Chacon (now 0-5) from Alamosa, Co. and came away with the unanimous decision win in a truly crowd pleasing lightweight battle.