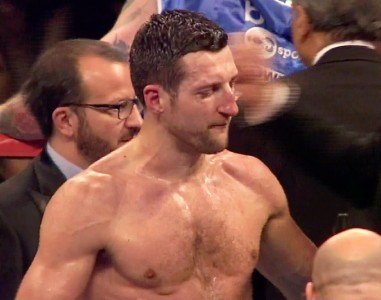 Britain's best 168lb fighter of the last few years, Carl Froch (34-2,24ko), has been at it again, ahead of a new ITV documentary that he is the focus of.
In a teaser for the soon to be released film, the famous ego of "The Cobra" lands with a bang once more, with both Froch and trainer Rob McCracken re-asserting their long held belief that should the two rivals have ever got in the ring, the undefeated Welshman would have emerged the loser.
The Froch v Calzaghe (46-0,32ko) hypothetical is a much debated topic on social media, particularly in the UK, with the consensus belief being that the hand speed, ring IQ and intense work rate of Calzaghe would have proved to much for Carl to deal with. It's a belief I am inclined, along with Barry McGuigan, to agree with.
The Clones Cyclone, who himself famously won the world featherweight title against Eusebio Pedroza in 1985, said in the clip;
"Calzaghe might have been just a little too clever for him, but it would have been a hell of a fight, and it's a pity it didn't happen"
Put simply, I don't subscribe to the belief of Froch, that Calzaghe didn't fancy the task of fighting him, which he also says in the promo.
"I think Joe Calzaghe knew that I was going to beat him."
I admire Carl Froch greatly, but lets have it right here.
Carl Froch didn't even challenge for his first world title until December 2008, when, in an absolute thriller of a fight, he won the vacant WBC 168lb strap by beating teak tough Canadian, Jean Pascal, who at that time was a fellow undefeated fighter.
On the contrary, Joe Calzaghe, the older man by 6 years, boxed in his last contest just a month before that, in November 2008 against American legend Roy Jones Jr. Before that he had been a world champion in one form or another, in two weight classes, since he beat Chris Eubank for the WBO belt in 1997. 11 long years.
Carl Froch didn't even turn professional until 2002. Are you starting to understand? If you think about it, it makes a mockery of Froch's statement that Calzaghe didn't want no part of him. Froch only began calling Joe out when he was merely a domestic contender, and Joe was nearing the end of his career fighting your Lacy's, Kessler's and Hopkins, a long time champion. Why the hell at that stage of his career would he have taken a step back to fight a guy like Carl Froch?
The truth of the matter is, the age between them and development of their careers meant that they simply "missed" each other, and deep down Froch knows this. He says;
"I can sort of put myself in his position and say, fair enough, he did what he felt was right for him, and I had to wait."
There is no doubt for me that both are the two finest super middleweights we have ever produced. Since Pascal, Froch has had a legendary career, leaving the "legacy" he oft likes to talk about! In that regard, it's hard to deny him his self indulgence, fighting 12 back to back world title fights against names such as Jermain Taylor, Mikkel Kessler, Andre Ward, Andre Dirrell and George Groves.
It is worth noting that Joe Calzaghe fought (and beat) a better version of Mikkel Kessler (2007) that Carl Froch lost to,(2010) even if the "Cobra" ended up avenging the loss in a rematch (2013).
I believe it is also fair to say that Joe Calzaghe would have beaten the Jermain Taylor who stepped in with Froch, and Froch was going to lose that fight until he found a money-maker in the dying seconds. I'm not hating on Froch, please don't think that. If you consider that many people believe Andre Dirrell was robbed when he fought Froch in Nottingham, I just can't see Joe having problems with a fighter like Dirrell. And Ward? He made Froch look ordinary, pedestrian. I am firmly of the belief that a prime Calzaghe would have given Andre Ward all sorts of trouble and that it would have been a good fight.
Though as both Ward and Calzaghe didn't/dont like travelling, I wonder where they would have staged it?
All joking aside, whilst he is a warrior, I simply cannot see in a prime for prime hypothetical, anyway in which Joe Calzaghe loses to Carl Froch.
Joe himself remains happily retired.
As far as what's next for Froch, who knows? At 37 years of age he is firmly in the autumn of his career. Rumours of a summer fight with Chavez Jr died a death when Froch picked up a niggling injury and talk of a Ward rematch, which wouldn't be sensible anyway, have also come to nothing.
Maybe with a career retrospective film such as this coming out, we could be about to hear the announcement that Froch will also hang up his gloves?
Should he do so, despite the Calzaghe assertions and his enormous ego, he has left a career and a "legacy" to be proud of.
As Barry Mc Guigan says of the famous warrior reputation of Froch;
"If I was going into battle then the first man I'd want behind me is Carl Froch."
As always Thanks for reading. Twitter @undilutedpoison