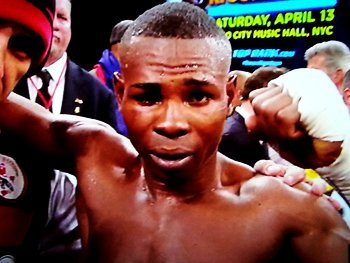 In one of my favourite movies, The Crow, just before his character throws one of the men who murdered him and his girlfriend out of a window (just watch it, it's a great film), Brandon Lee says;
"I guess it's not a good day to be a bad guy, huh Skank?"
Well in Britain, I guess it's not a good day to be Bury's WBA (reg) super-bantamweight champion Scott Quigg, as like the fabled movie and comic book hero, WBA (sup) and WBO champion, undefeated Cuban Guillermo Rigondeaux (15-0,10ko) is on something of a hunting mission, publicly stating that he intends to come to the UK and call out Quigg in person.
In a statement released through his manager Gary Hyde, El Chacal has stated;
"I don't like travelling overseas unless I have a fight lined up, but I will travel to England in May to publicly call out Scott Quigg. If he turns down the chance to fight, then he will be remembered as that rather than as a great fighter. While I'm in the UK I will also travel to Belfast and ask Carl Frampton if he wants to fight the best in his division."
Hyde added further to the comments, explaining the struggle he has had in finding Rigo opponents. As well as Quigg, who is Rigo's mandatory as WBA (reg) champion, and Frampton who holds the IBF, he also turned his attentions to American WBC champ, Leo Santa Cruz, who he also insists wants no part of his man;
"Quigg, Santa Cruz AND Frampton have showed no desire to challenge Rigondeaux. These three are trying to fool the world into believing that fighting the number one guy in the world isn't important. While they are lining their pockets with ridiculous amounts of cash for fighting below par opponents, Rigondeaux is forced to wait until some Asian opponent steps up."
To further emphasise his bitterness at the situation his man is in, Hyde says;
"This is a sport in which we are accustomed to seeing the best fighting the best, but in the super-bantamweight division it's the best fighting the rest."
To be honest, I find it extremely hard to disagree with Hyde, who has hinted that his fighter would consider changing his base from Miami, FL to the UK to further pressure the two Brits, as well as the numerous other European based 122lb fighters into facing him.
Rigondeaux last fought in December, against Japan's Hisashi Amagasa, who floored him twice before pummeling the Asian into 11th round retirement. It's worth remembering Rigo couldn't get a fight before that and Amagasa travelled down from featherweight to face him. He was visibly much bigger than Rigondeaux on the night, yet the state of the Japanese mans face was a sight to behold in terms of the sting "El Chacal" has in his punches.
Its fair to say the last credible opponent he had mind you was Nonito Donaire two years ago, so this calling out of ALL the three men below him is justified.
I'm beginning to wonder if this added pressure from Rigondeaux on both Quigg and Frampton, may actually end up pushing the fight they have thus far been negotiating for, yet struggling to put together?
Frampton last boxed in February, when he stopped American Chris Avalos over 5 dominant rounds. Quigg is due out in either May or June, as has been stated by his promoter Eddie Hearn. No opponent is announced, but I imagine Quigg will then start chasing Frampton AFTER that so as to continue avoiding the Cuban. At 35 years old, father time will start catching Rigo eventually.
Sadly, for Scott Quigg, it is HE who is mandatory challenger to Rigondeaux, and in an unusual step, Gary Hyde wrote to the WBA last month asking them to force Quigg into a challenge. He is soon to hear the results.
With this intense a pressure, I would be very surprised if the WBA make such an order, that Quigg will keep his poorly regarded (reg) status anyway. He will vacate and try another avenue such as Frampton or Santa Cruz himself.
There seems to be too much shady advice, irrelevant belts and a willful avoidance of fights in boxing, yet sadly it is nothing new. In todays era all the good work match-ups like Provodnikov-Matthysse and Mayweather-Pacquiao do for the sport, is spoiled by a situation like Rigondeaux's. There is nothing sadder than to see a great fighter of his quality losing his prime years and being denied the best fights because those around him are essentially "afraid". Whether that's them personally, or their promoters and manager's being afraid to lose a few quid, I'll leave for you to decide. Personally, I think it's a bit of both.
Thanks for reading. Twitter @undilutedpoison