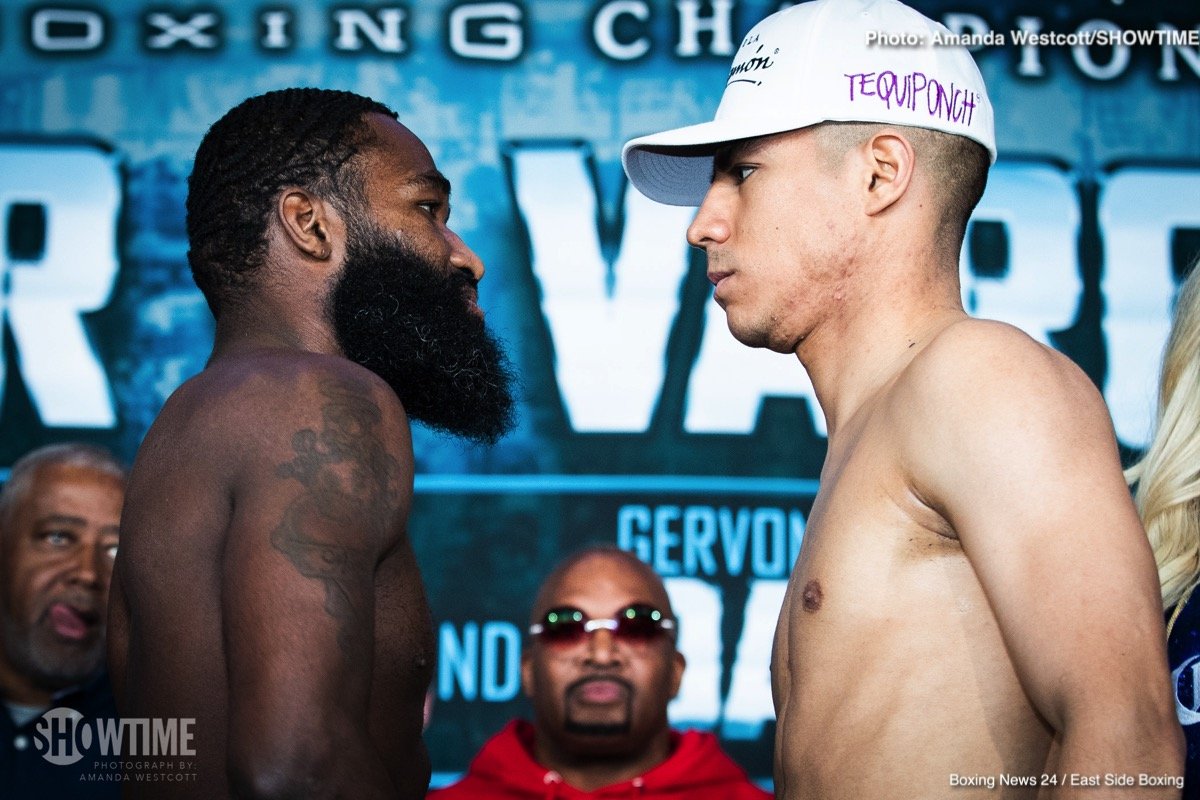 It's put up or shut up time for Adrien Broner this Saturday against Jessie Vargas, live on Showtime at the Barclays Center in Brooklyn, New York. Can Vargas hand Broner back to back losses or will Adrien step up to the plate and revive his career? No matter the outcome this 50-50 main event should give fans something to cheer about. Heavy-hitters Jermall Charlo and Gervonta Davis return to fill out the undercard portion of the telecast. 
We've heard it all before on numerous occasions, Adrien Broner swearing up and down that he's going to make changes to his life outside of the ring. Time after time, Broner somehow falls short as a 100% dedicated fighter, greatly affecting his performance on fight night. 
You never really know which Broner will show up. Will it be the fast-handed, good work rate, and combination punching Adrien? Or will stamina issues keep him from letting his hands go instead spoiling the action?
When in shape, Broner is a talented guy who makes entertaining fights and takes on challenges.  Fans can have any opinion they want on Broner, but signing on to a replacement opponent as quality as Jessie Vargas should be respected. It saved the card outright and the fans have responded per Lou Dibella, who's co-promoting the show.
It will be very interesting to see if the 144-pound catchweight will have any effects on Jessie Vargas. Jessie had been searching out a big fight nearly landing Keith Thurman, but are we totally sure what kind of shape he was in at the start of training camp seven weeks out? Those last remaining pounds could be the difference in the second half of the fight. 
Without disrespecting either fighter, neither guy has produced a stellar outing in step-up moments.  Beyond Vargas's upset as a live dog to Sadam Ali, which to be fair was closer to a pick'em type fight on paper. Looking back at Vargas vs. Ali, Jessie certainly won decisively in the end however he did get hit with lots of punches. Many make a mountain out of a mole hill pertaining to the last round of against Timothy Bradley. Credit to Vargas for being able to land a huge right hand late in a fight, but Vargas was beaten soundly.  
Even as this hack-of-a-scribe finishes this prediction article I'm totally stuck as to who will come out the winner. It could be a case of us feeling that Jessie did enough but still coming up short on the scorecards. Maybe a temporary rejuvenated Broner shows up fully prepared and his old combo punching style is on display.
 Regardless of the outcome, this main event should be very competitive throughout the 12 rounds. Don't get me wrong, surely there will be some slow moments but considering the stakes for both men, we should get a barnburner. The only way it turns into a stinker is if Vargas hurts Broner early and begins to dominate, if so Broner may go into hit and hold mode.
Jessie Vargas and his team have talked about bringing the pressure to Adrien Broner. As we know constant pressure is kryptonite to the Ohio native. But it's not like Vargas is a career come-forward fighter. That's not to say he's not capable, he just can't lose sight of his skills. 
His long jab to set up a left hook to the head or body, not to mention his Sunday-punch the straight right, mixed with lateral movement could be a nightmare for Broner. That said, pressure could defiantly work, but if he gets careless as he did at times with Vargas, Bradley, and Josesito Lopez, Broner will make him pay for it. 
Hand speed and an adjustment period will favor Broner in the opening frames. Once Vargas gets a good read on which Broner showed up to the ring, then we will see a more aggressive Jessie. Vargas will carry the middle rounds but there will be two-way moments. Broner will no doubt (if in shape, A Huge IF) try to steal rounds via quick combination punching in a 30-second window. Vargas must respond and try to land a counter punch as they exchange, a key to overtaking and ultimately stopping Sadam Ali. 
It could be stated that a win for Broner is a good thing for boxing considering his high profile name. Obviously AB is the house fighter so we can assume every close round will be given to the bigger commodity. Although most of the viewing public will think Vargas did enough to win, Broner can win 4 or 5 clear rounds, which in boxing politics is plenty to secure the 'W'.
My Official Prediction is Adrien Broner by Spilt-Decision. 
Written by Chris Carlson – Follow on Twitter @RopeADopeRadio