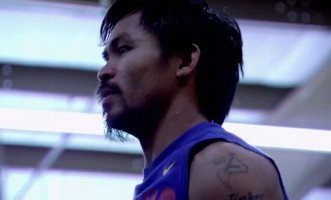 By Rob Smith: Manny Pacquiao's next fight on April 20th likely won't be in the United States. His team is looking at having his next fight take place in one of following sites in Asia: Singapore, Dubai or Macau. The reason for this is the lower tax burden that Pacquiao would have by having his fight staged there rather than in the U.S, where he's been fighting for the past 11 years.
Juan Manuel Marquez had been mentioned as possibly being a part of Pacquiao's April 20th card in a separate tune-up fight. However, Pacquiao's adviser Michael Konz told the Manila Bulletin at mb.com.ph, it would be "Extra expenses" if they put Marquez on the card, and that's not likely to happen now.
They have someone they're looking at to put Pacquiao in with Koncz says. On Thursday, there were reports that Pacquiao's promoter Bob Arum is considering having Pacquiao fight either Brandon Rios or Tim Bradley. Whether Pacquaio will in fact face one of them is highly doubtful because those aren't tune-up fights and it would be a huge risk for him to take on fighters of this talent level with a big money rematch with Marquez just over the horizon in September.
Arum can certainly make any fight he wants to, of course, because Top Rank is his promotional company, but it would be a dangerous move to put Pacquiao in with anyone that would have a chance of beating him at this point in his career with the Marquez rematch coming later this year. If this was a younger Pacquiao then it would be understandable because a prime Manny would easily take care of guys like Rios and Bradley. However, Pacquiao is starting to slow down now and he's lost his last two fights.