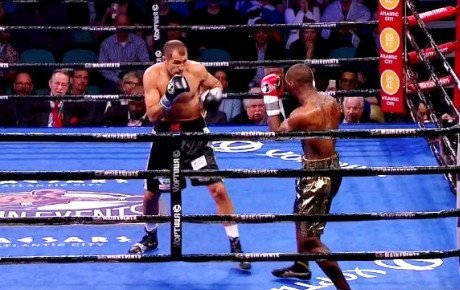 WBO light heavyweight Sergey Kovalev (24-0-1, 22 KO's) gave Cedric Agnew (26-1, 13 KO's) a methodical beating en route to halting him in the 7th round tonight with a left jab to the body at The Ballroom, Boardwalk Hall, Atlantic City, New Jersey, USA. Referee Samuel Viruet stopped the fight at 0:57 of the 7th.
Agnew did a good job of covering up, and landing some nice shots in the fight. However, the punishing affects of Kovalev's shots sapped all the energy out of Agnew by the 6th round, and he was able to put him on the canvas early in the round.
In the 7th, Kovalev speared a defensive Agnew with a left jab to the body that put him down on the canvas. There was no way that Agnew was going to be able to get up from the shot. He stayed down for a considerable amount of time from the body shot.
After the fight, Kovalev didn't have nice words to say about WBC light heavyweight champion Adonis Stevenson, who he called a "Piece of sh**."
***
Light welterweight contender Thomas Dulorme 21-1, 14 KO's) fought well in beating Karim Mayfield (18-1-1, 11 KO's) by a 10 round unanimous decision. It was a good fight with a lot of back and forth shots. The judges scored it 98-92, 97-94, 96-93.
Dulorme's left hook was a big weapon for him, as he hurt Mayfield in the 1st round. Dulorme was able to use that punch in almost every round, and this caused Mayfield to fight a lot more cautiously than he had in his recent bouts. He couldn't walk in on Dulorme, because he kept getting hit with his big left hooks.
In the last four rounds, Dulorme expertly clinched Mayfield each time he would throw a shot, and this worked perfectly in keeping him from landing his own power shots.
Dulorme landed a couple strategic low blows in the 8th round that hurt Mayfield and slowed his game down. Mayfield had been fighting well in rounds 6th and 7th. But after he got hit with the blow blows in the 8th, that caused Dulorme to regain control of the fight. He was then able to control the action in the 9th.
In the 10th, Mayfield went all out to try and score a knockout. However, Dulorme did a great job of clinching Mayfield and stalling out the round.
***
Other boxing results on the card:
Ismael Garcia UD 6 Dushane Crooks
Wellington Romero UD 4 Gerald Smith