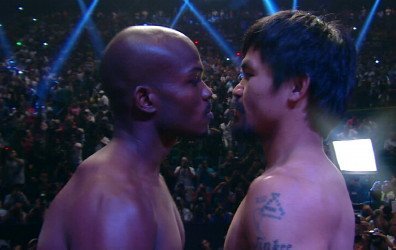 WBO welterweight champion Tim Bradley (31-0, 12 KO's) seems to be trying to whip his opponent Manny Pacquiao (55-5-2, 38 KO's) into a mad frenzy for their fight next month on April 12th by saying to anyone willing to listen that Pacquiao no longer has the same fire that he once did years ago.
Bradley has told this even to Pacquiao's face during their Face Off with Max Kellerman on HBO, and he appears to be intent on making Pacquiao so angry that he'll come out quickly on April 12th trying to score a knockout. Bradley must feel like he'll be able to keep from getting hit with Pacquiao's shots so that he can get a decision win over him. There's no other reason why Bradley would want to be pointing out the flaws in Pacquiao's game.
"Manny used to be like a storm, man. Manny was a punisher," Bradley said via RingTV. "He used to be blazing. He used to just knock guys out. He didn't mess around."
Pacquiao can't argue that Bradley is wrong, because he's no longer knocking out his opponents nowadays, and he's got a couple of defeats in his last four fights, so obviously things could be better. One of the defeats, a 6th round knockout to Juan Manuel Marquez, could have been avoided if Pacquiao had fought with more patience against Marquez.
Pacquiao had his mind made up before that fight that he was going to beat Marquez to the point where there would be no doubt in people's minds who the better fighter was. Pacquiao's trainer Freddie Roach had been talking about wanting him to go back to an earlier stage where he was more aggressive in the ring.
Roach's pep talks worked in motivating Pacquiao to fight at a high level in that fight, but it also caused him to get knocked out. Now it looks like Pacquiao could be on the verge of making the same mistake in his second fight against Bradley.
Pacquiao is saying he wants to be more aggressive to show fans that he still has it, and he's got Bradley telling him that he no longer has the fire. Bradley's reeling Pacquiao in and setting him up for a trap, and Pacquiao doesn't seem to realize that he's being played by Bradley. Roach and Pacquiao need to forget about trying to knock Bradley out, and instead try and get a decision this time.