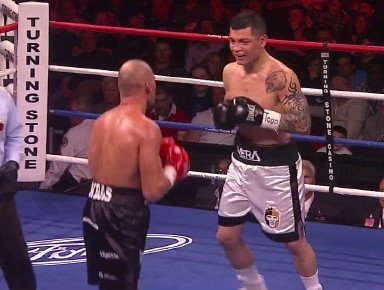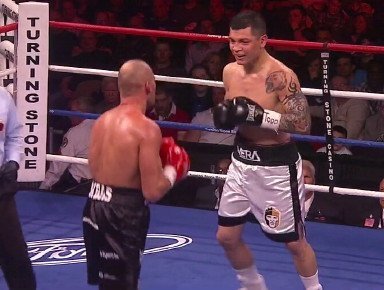 Middleweight Brian Vera (23-6, 13 KO's) got a lucky break tonight when the referee Charlie Fitch stopped a fight that Vera was clearly losing to Donatas Bondorovas (17-4-1, 6 KO's) after the 7th round because of two small cuts that Bondorovas in their fight at the Turning Stone Resort & Casino, Verona, New York, USA.
After an especially strong round by Bondorovas in the 7th, referee Fitch asked Bondorovas if he could see out of his eyes, and he said "not so good." Bondorovas then angrily got to his feet and told Fitch "I said I CAN see." It was no use, Fitch had made up his mind and the fight, which was actually good one, was stopped prematurely.
If you're a Vera fan, you've got to be happy because things were starting to look bleak for him at the time of the stoppage because he was eating huge right hands one after another, and Bondorovas seemed to be getting stronger as the fight wore on.
With this win, Vera keeps alive his hopes of getting a fight against either WBA middleweight champion Gennady Golovkin or Julio Cesar Chavez Jr. in June. However, the victory was clearly tainted for Vera, and it's hard to imagine that Chavez Jr. or Golovkin will want to fight him after this less than impressive performance.
Had the fight gone to the cards, Vera likely would have lost. He did not look tonight, and he wasn't the more powerful fighter. He was busier, but not stronger than the little known Bondorovas.
http://youtu.be/PKOzmu54JBU
Chavez Jr. will make easy work of Vera, there's no question about it. A harder fight for Chavez Jr. would be against Bondorovas because of his right hand power, but he likely won't be able to fight in June because of his cuts. They might not be healed by then.
http://youtu.be/sypup6KtMIs
Other boxing action on the card:
Umberto Savigne TKO 4 Jackson Junior
Ryan McKenzie UD 6 Steven Tyner
Taras Shelestyuk TKO 1 Kamal Muhammad
Evgeny Chuprakov UD 4 Micah Branch
Lavisas Williams pts 4 Calvin Pritchard
Antoine Douglas UD 4 John Worthy