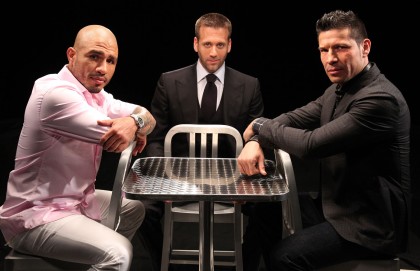 WBC middleweight champion Miguel Cotto's trainer Freddie Roach believes that former WBC middleweight champion Sergio Martinez was in his prime when Cotto beat him and stopped him in the 10th round last June.
Roach doesn't seem willing to admit that Martinez had slipped dramatically from the fighter he was in 2010 and before that by the time that Cotto fought him this year.
"Just because Cotto beat him, he's [Sergio Martinez] all done," Roach said to IFL TV. "If it went the other way, they wouldn't be saying a thing. We beat him at his best. Everyone in the world had difficulties with him. I give Cotto a lot of credit for that fight. We had a great game plan for that fight. It was perfect."
By Roach saying that Martinez was at his best in the Cotto fight instead of him being a shot fighter with a surgically repaired knee that didn't look stable, he makes it so that he's given more credit for coming up with the game plan to beat Martinez.
In other words, Roach comes off looking a lot better if Martinez is seen as still being at his best than if he's perceived as being over-the-hill, which is how many boxing fans see him now. It's got to be tough for Roach and Cotto to be given little credit by boxing fans for the win over Martinez, but that's kind of how it is.
Roach specifically wanted Cotto to fight Martinez last June rather than fighting Saul "Canelo" Alvarez, because Roach saw Martinez as an older fighter that might get beaten by someone else. So Canelo fight was put on the backburner so that Cotto could fight Martinez.
Martinez looked shot last year when he struggled to beat Martin Murray by a 12 round decision in a fight that many boxing fans saw Murray winning. Martinez looked old and feeble in that fight with his mobility completely gone.