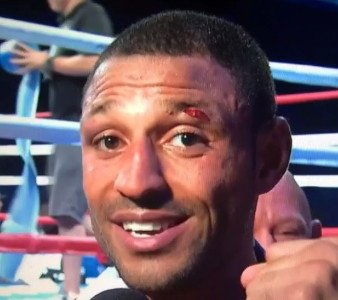 Kell Brook (33-0, 22 KOs) came across like a fighter with a bit of a chip on his shoulder when talking about Amir Khan following his 12 round majority decision win over IBF welterweight champion Shawn Porter (24-1-1, 15 KOs) last night at the StubHub Center in Carson, California.
Brook has wanted a shot at fighting Khan for a long time now, but Khan has always declined s fight with him because of the horrible opposition that he'd been matched up against for most of his career. But after winning the title last night, Brook was practically snarling when talking about Khan after the fight.
"Listen, the British public wants to see it," Brook said to Skysports.com. "He will probably start saying something else now, that I need to win another world title. But believe me, Queen Khan is getting it. He's been putting things on Twitter, bless him, and he's been putting in 'best of luck,' but I know he doesn't like me. The fact is, he's going to get it. I know he's in the studio watching: listen, you're getting it, boy. You're getting it next!"
Brook needs to forget about Khan and look to prove that he can actually defend his new IBF title against the best fighters without holding 10 times per round. Last night's win left more questions than answers about Brook's ability to hang with the best due to the constant holding he did in the fight.
If excessive holding is going to be the way that Brook uses to compete with the best fighters, then I don't see him lasting long at the top. The nonstop clinching that Brook did against Porter would lead to Brook getting beaten up badly by someone like Marcos Maidana, who no longer lets his opponents hold him without him battering with shots.
Brook needs to show that he can beat guys like Keith Thurman before he starts talking about Khan. Thurman isn't an inside fighter, so Brook is going to need to figure out another way of beating him other than holding constantly.
"A fight with Kell Brook would be massive in the U.K, similar to the Froch-Groves [rematch] fight," Khan said. "Kell probably thought I would say no to the fight, but why would I? I will take the fight with both hands. I'm a young fighter. I'll sit down with Al Haymon and Golden Boy, because I believe the Mayweather and Pacquiao fights are still out there for me. But I'm ready for Brook. I want to give the British fans what they want."
Just because Khan is saying he's open to fighting Brook doesn't meant that fight happens. Haymon makes Khan's fights, not Khan. Haymon likely is going to keep Khan moving in the path of a fight against Floyd Mayweathr Jr, which would make more money than a Khan-Brook fight would.