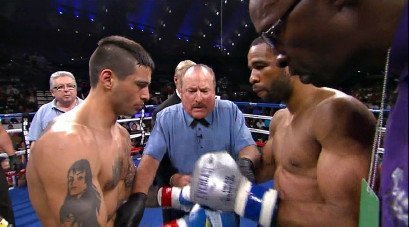 Lucas Matthysse (34-2, 32 KO's) totally destroyed Lamont Peterson (31-2-1, 16 KO's) in a 3rd round knockout on Saturday night at the Boardwalk Hall in Atlantic City, New Jersey.
Matthysse dropped Peterson three times, once in the 2nd and twice more in the 3rd to get the stoppage. All three knockdowns came from left hooks to the head from Matthysse.
The first round was pretty uneventful with Peterson moving around the ring, jabbing and staying well out of Matthysse. Repeatedly, Matthysse missed with his big power shots. At one point, Peterson smiled at Matthysse after he missed with an especially big punch attempt. However, in the last seconds of the round, Matthysse did connect with some big shots that definitely got Peterson's attention.
In the 2nd round, Peterson chose to tie Matthysse up each time he would get in close. Matthysse chose to keep punches while being held and he nailed Peterson a couple of times with hard right hands to the back of his head. Peterson later complained that he was stunned by one of these shots. As the round was nearing the end, Matthysse caught Peterson against the ropes and hit him with a left hook to the head that dropped him. Peterson probably would have stayed up right had he not been backing away at the time. Never the less, the punch did stun him as you could see his legs looking less than steady,
In the 3rd round, Peterson came in close and was hit with a short left hook that dropped him. I don't think Peterson realized the danger of being so close to Matthysse because he was right there in his power alley. After Peterson got back up, Matthysse went after him and dropped him again with another left to the head. This time referee Steve Smoger halted the fight after Peterson staggered to his feet.
***
IBF welterweight champion Devon Alexander (25-1, 14 KO's) had an easy time defeating British welterweight Lee Purdy (20-4-1, 13 KO's) by a 7th round stoppage after his trainer halted the fight after the 7th round.
Alexander was hitting Purdy at will with punches and it was pretty one-sided from he get go. Alexander injured his left hand in the 1st round, and by the 4th round he had pretty much stopped using his left hand.
It didn't matter though because all he needed was his right hand to dominate Purdy. Alexander was hitting Purdy at will with shots and making it look easy. Purdy began to try to make a fight of it after Alexander stopped using his left hand in the 4th, but the power and speed was totally missing from Purdy's shots. He fought like he was weight drained, and you have to wonder if the huge efforts he had to take to try and make the 147 lb. limit somehow weakened him.
Alexander was much too quick for Purdy and he nailed constantly with uppercuts and hooks to the head and body. Purdy did a good job of covering up and blocking many of the shots, but still a lot of the punches landed to the body and around the gloves.
When it became apparent that Purdy wasn't going to be able to make a comeback in the fight due to his lack of power and speed, his trainer opted to pull the plug on the fight after the 7th round. Purdy wasn't happy about it but it was definitely the right move.
***
Other boxing action:
Anthony Ogogo UD 6 Edgar Perez
Anthony Peterson TKO 2 Dominic Salcido
Cesar Seda UD 8 Miguel Tamayo
Rau'shee Warren TKO 4 Angel Carvajal
Jamel Herring TKO 1 Victor Galindo
Robert Easter TKO 2 Eduardo Guillen
Thomas Williams Jr UD 8 Otis Griffin