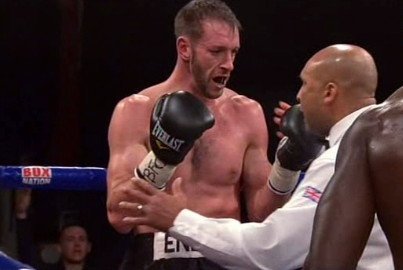 By James Slater: Tonight in Liverpool, fans were settling into a fight that might well have developed into a most memorable slugfest. Instead, after the wholly unsatisfactory stoppage that took place in the 2nd-round, fans were left with an unforgettable TKO – one of the most shockingly premature you could wish to name.
Big-hitting Welshman Enzo Maccarinelli, he of the notoriously shaky chin, the recent failed drugs test and the run of bad luck as far as impressive performances go, was "saved from further punishment" by the usually more than capable Ian John-Lewis when he was pulled out in the 2nd of his battle with reigning Commonwealth light-heavy champ Ovill McKenzie. Stuck on the ropes "Big Macc" may have been at the time of the most controversial stoppage you will likely see all year, yet the former WBO cruiser king had just landed a right uppercut, was anticipating the blows coming from "The Upsetter," and was, as he later stated in no uncertain terms, "riding the storm."
McKenzie, the same age at 32, had got through with a notable right hand upstairs, followed by an even more noticeable left hand to the head, but John-Lewis' decision to dive in was immediately judged to have been a result of "panic" (commentator John Rawling's apt description). The fans instantly booed, Maccarinelli was outraged and the potential cracker was reduced to another black eye for boxing.
The official result means McKenzie is now 21-11(10) and Maccarinelli is 35-6(27), but all anyone in the interest of justice is talking about is the need for an immediate return fight.
Now, in John-Lewis's defence; poor Enzo (a guy who cannot seem to avoid controversy just lately: remember his crazy fight with Shane McPhilbin!) has suffered some brutal, potentially damaging stoppage losses in the recent past, losses that led many to scream out loudly that he shouldn't be boxing anymore lest he risk long-term health problems. With Macca's punishing and brutal takings out at the hands of Alexander Frenkel and Denis Lebedev still fresh in the mind (along with his being heavily decked by the aforementioned McPhilbin, in the opening round of their March 2012 battle), it's not too hard to understand why the normally steady John-Lewis dived in as quickly as he did.
Still, everyone who saw tonight's fight knows the experienced ref got it wrong; John-Lewis included (one look at his face told you the story: he knew he'd bungled yet could not go back and make amends). The job of a ref is a tough one, yet on this night – as John-Lewis dived in and then stood still, almost looking at Enzo for reassurance that he had done the right thing – the paying fans had precious little sympathy in that regard.
Again, John-Lewis knew he'd got it wrong, he knew this upon looking into Maccarinelli's clear eyes a split second after he'd made his move; even looking like he wanted to wave his call and let the fight continue. But of course he couldn't do that, could he.
I don't know who to feel most sorry for – Enzo or Mr. John-Lewis.