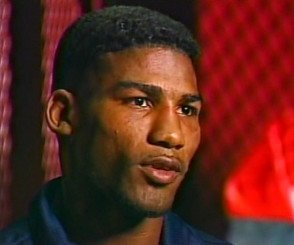 Far too good to have been out of action for as long as he has (just one fight in the last 12 months and just four fights since December of 2012) Cuban talent Yuriorkis Gamboa has finally got himself another fight. The former featherweight champion, now aged 34 (Gamboa will turn 35 on December 23rd) will face Puerto Rican Frank De Alba in Saint-Denis, France on December 17th.
Back training with Ismael Salas, who worked with Gamboa, 25-1(17) during a number of the Guantánamo Ciclon's earlier, impressive pro bouts, the former champ should get a decent enough test against De Alba. The 29-year-old southpaw who is based in Reading, Pennsylvania has never been stopped in compiling his 20-2-2(9) pro record. De Alba has never met anyone of Gamboa's class but he has fought a few recognisable names such as Tevin Farmer and Omar Douglas. De Alba lost his pro debut of 2011 and he was also outpointed by Farmer.
But this upcoming fight is all about Gamboa. How much of the sizzling talent he was displaying back in 2009-2010 has Gamboa got left? Is it too late for this once pound-for-pound star to become the great many people felt he was heading towards becoming back when he was defeating quality operators such as Orlando Salido, Rogers Mtagwa and Jorge Solis?
Beaten only by the naturally bigger Terence Crawford – in a great fight boxed at lightweight – Gamboa was at his sparkling best as a feather and super-featherweight. Assuming he fights no higher than 130-pounds or so from here on in Gamboa, who stands just over five-and-a-half feet, might figure in further big fights still. Gamboa recently said he'd like to fight Vasyl Lomachenko, and that match-up would surely prove fan-attractive if it did happen.
Gamboa, though, has not done too much since the June 2014 stoppage loss to Crawford – boxing just twice, against decent enough opposition, but hardly looking sensational. Gamboa seems to be a fighter who rises to the occasion whenever he gets the big fights. Capable of looking like a million dollars in one fight and then merely good but not great in another, Gamboa needs the defining super-fights ASAP if he's ever going to get them.
Great to watch when he's on his A-game, Gamboa, if he can fight consistently and look good doing so, could become a champion all over again. Always in the gym and never putting on too much weight, Gamboa, if his reflexes have not faded (he was knocked down a few times even back in the early days of his pro career) should be able to get De Alba out of the way inside the distance.
But can Gamboa get some serious momentum going by staying active?