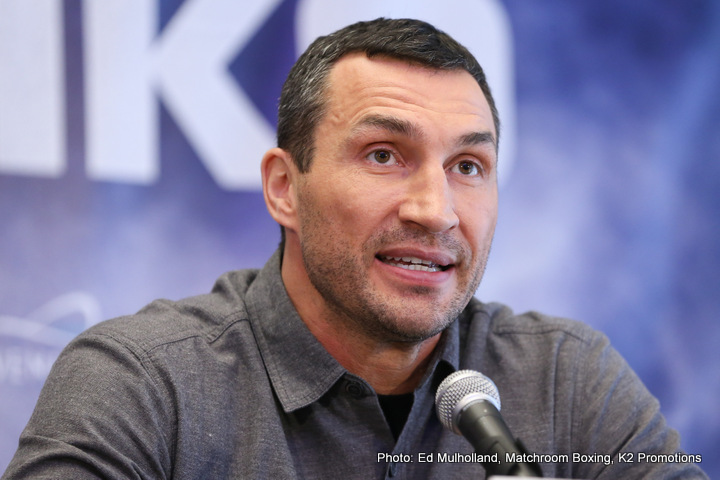 Is Anthony Joshua a tougher opponent for former heavyweight king Wladimir Klitschko than Tyson Fury? If so, and if what Klitschko had to say about his April fight was not down to hype and nothing more, then Wladimir could be in trouble. Klitschko lost to Fury, yet he has either forgotten about that fight or he has dismissed it from his mind; because Klitschko says the Joshua fight is "the toughest challenge I have ever had."
While some fans might say a rematch with Fury – which could still happen if Fury gets his head together and returns to the ring this year – would be Klitschko's toughest challenge, Wladimir is right when he says there are "lots of questions" over his April 29, 90,000 Wembley sell-out showdown with the unbeaten IBF champ.
"One Olympic Champion fighting another, one generation fighting another generation. There are lots of questions,"Klitschko told talkSPORT. "Have I still got it? Is Anthony good enough now? The interest is tremendous, it is amazing, and I am really happy about it. For me it is a upgrade in my career as a fighter – to fight on the biggest stage I have ever had in front of 90,000 people. It is the toughest challenge I have ever had. He is a copy of me in certain ways, size-wise, and is a world champion."
But is Joshua capable of giving Klitschko the toughest fight of his long career? Fury made Klitschko look bad, can AJ go one step further and stop "Dr. Steel Hammer?" Klitschko's legacy is on the line in this fight, as is his very career.
Lose and lose badly to Joshua in April, and Klitschko can forget about ever getting the chance to put right the decision loss to Fury; the loss Wladimir said a number of times he was "obsessed" with avenging. But, as Klitschko asks himself, has this fight come too soon for Joshua, a fighter yet to hear the starting bell for round eight in a fight? So many questions indeed.