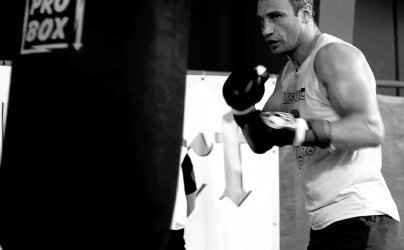 By Anthony Jeffrey: It's been almost 2 years since David Haye's fuse was snuffed out by Wladimir Klitschko. However, after muting the trash-talking Londoner it's pretty much been business as usual for the Klitschkos – back to beating down unknown, out-of-shape bums.
But even though his self-proclaimed prophecy didn't quite manifest against Wlad, Haye still has a good enough case for taking on Vitali Klitschko. True, the brash Brit got soundly beaten and was unable to land anything meaningful on Wlad, but it was more a failure to live up to expectation than an actual bad performance. He spent most of the fight on the outside looking for that one big shot because he just couldn't get by Wlad's jab. He basically talked himself into his own grave.
After everything was said and done, I wouldn't blame Wlad for not giving Haye a re-match, but a Vitali vs Haye fight would possibly create even more interest. Let's face it; David Haye is still the most exciting fighter in the division.

From an economic perspective, who else can generate the same amount of interest and numbers as Haye? It sure isn't Manuel Charr, Dereck Chisora or Tomasz Adamek. And even from a skills perspective, Haye's speed, athleticism, and explosiveness still give him the biggest chance of beating Vitali. So why isn't this fight happening?
Sure, Haye lost to Wlad and that fact has decreased the amount of leverage for another Klitschko bout, but he bounced back in the best way possible by sending Dereck Chisora sprawling. Yes that's right, the same Chisora who took Vitali the distance and actually put up a good show against him. That fact alone has created a score to be settled between Haye and Vitali.
Then there is the viewpoint that Haye doesn't deserve a shot at Vitali after he offended both him and his brother. After such a lacklustre performance, why should Vitali grant him another opportunity? Well, firstly, most fans would probably want to see Vitali face a boxer that they have actually heard of; secondly, Wlad actually failed to fulfil his own promise of knocking out David Haye. There is still a loose end that needs to be tied up for the Klitschkos.
And to the people who think Haye doesn't deserve another chance at a Klitschko, were you really that excited to see him face Manuel Charr? In fairness there are other fighters out there for Vitali – Tyson Fury for example – but at this stage in his career those kinds of risks would probably outweigh the reward, and it wouldn't enhance his legacy the way a KO over David Haye would have. Perhaps Vitali now only fights for fun, lacking the motivation after such a long reign at the top?
Haye has clearly indicated that he is only interested in fighting a Klitschko and, unlike a lot in heavyweight division, has a KO ratio of over 85% and has the ability to go 12 rounds. Vitali, at 41, is pretty much at the end of his career, and what better way to go out than to send Haye to the canvas?
All the elements are still there for Haye vs Vitali to be a super fight; both are well established, still in great condition and possess the skill set to make a very competitive match. The bad blood between the 2 camps may not be boiling at the same temperature since 2011, but it is definitely still cooking. In the build up to Haye vs Wlad there was plenty of trash talking and heated press conferences in which boxing fans were promised that Haye or a Klitschko would get knocked out, but that has not happened yet – that's why Haye vs Vitali needs to happen.