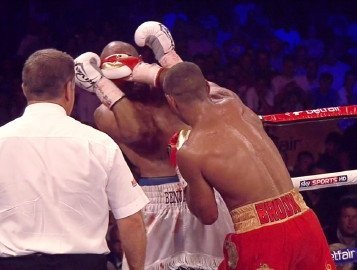 By Shaun Campbell: Kell Brook impressively closed a chapter on his career Saturday night by stopping the durable Carson Jones in their 152 pound rematch. Brook now moves in to the elite level by beating the gatekeeper Jones. It was a good performance from "The Special One", although he himself claimed it was "nothing to get excited about". The fight started off much like their first encounter with Brook dominating behind the jab, while Jones kept plodding forward. But the Sheffield fighter couldn't seem to miss with his sweeping right hook and in the 2nd round he sent Jones to the canvas.
It seemed as thought it would be an early night for Brook. But the American is tough, and after a slow start began to loosen up and land on Brook, doing damage to his nose. But Brook remained calm and controlled the action at a measured pace. Should he have chose to step it up earlier, the stopped could have probably come much sooner. But in the 8th a series of unanswered punches by Brook forced the referee to call a halt, prompting complaints from Jones.
It was a decent performance from a man who has been out the ring for over 8 months, but there was still some hesitation from Brook to move out of 2nd gear, much was the case a couple of years earlier when he fought Lovemore N'dou. But the performance should be praised.
Brook now moves on to the elite names in the division. Eddie Hearn, Brook's promoter, has promised a big name for September, due to be announced next week. Having known he would be out again so soon, taking the fight against Jones, an always tough opponent was a big risk. The fight will be back down at the 147 limit, which causes great excitement for followers of the 27 year old. With the welterweight division packed with potential big names for Brook, it is going to be interesting to see who's next. There's fighters such as Amir Khan, Shane Mosley, Andre Berto, Paulie Malignaggi, and Victor Ortiz. They're likely to be the men who Hearn has interest in Brook facing. These fighters are known in the US, and while not being world champions at this time, it would gain world wide recognition for the Brit. The time will come for speculation for fights with Mayweather, Pacquiao, Tim Bradley and even Juan Manuel Marquez, but is a way off yet.
Obviously a fight with Amir Khan would be massive. There is dislike between the two, and you would have to argue there is more to gain for Brook than there is for Khan in this fight, so there's no doubt that Kell wants it. Amir says he wants it. So it could result in the biggest all British encounter since Benn and Eubank.
Shane Mosley is a hall of fame fighter who has only lost to the best, and while the 8 defeats on his record would raise questions from the armchair boxing fans, the real boxing world know that this man is no push over. But it's a fight Brook could win, with Mosley having seen better days. Many have even highlighted the similarities between the two. The way they move, the jab, the speed and the unexpected punching power. It would be an interesting test, and we'd learn where both fighters are heading.
Fights against Berto, Guerrero, Ortiz, and Malignaggi would be noticeable in the US, and unquestionable these men are far from past their best. Malignaggi put on the fight of his life against the highly talked about Adrian Broner, a fight which many thought he won. Guerrero was last time out out-classed by the incredible Floyd Mayweather, but this certainly does not mean he doesn't belong at world class level. Victor Ortiz has been out of the ring since back to back defeats against Mayweather and Josesito Lopez. Ortiz is a fighter who gives value for money. Always exciting and rarely disappoints. This would possibly be the biggest test for Brook as Kell has previously struggled slightly with come forward, aggressive fighters. Andre Berto was once talked about to be the only man on the planet who could have beaten Floyd Mayweather, but in recent times and a couple of losses now on his record he has had to rebuild. The damaging loss where he was dominated by Robert Guerrero has hurt his credibility and is now forced to rebuild. The September fight would be unlikely as Bert is scheduled to face Jesus Soto Karass in two weeks time.
Whatever the next fight be for Brook it is likely to be one of these men, and should be beat one of these men, the massive money fights are no longer a distant dream.