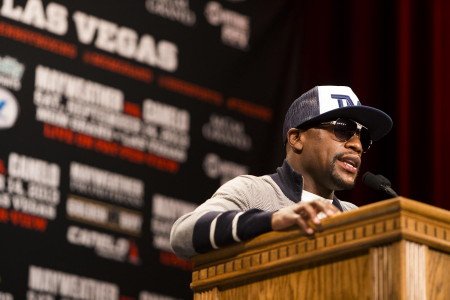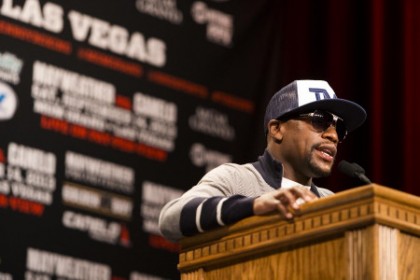 (Photo credit: Esther Lin/Showtime) Floyd Mayweather Jr. (44-0, 26 KO's) says he won't be overlooking the 22-year-old WBA/WBC junior middleweight champion Saul "Canelo" Alvarez (42-0-1, 30 KO's) in their fight on September 14th despite Canelo being on 22-years-old and not nearly as experienced as Mayweather Jr. as far as important fights go. Mayweather Jr. says he's taking this fight very seriously and he plans on winning it and then moving onto his last four fights of his 6-fight contract with Showtime/CBS.
Mayweather Jr. said to ESPN in explaining the keys to beating Canelo, "I have to out there and be smart, listen to my father and be the best Floyd Mayweather I can be. He's [Canelo] young, strong and he wants the #1 spot. It's about being smart. It's nothing cool about taking punishment. I've lasted so long in the sport of boxing because I'm a smart fighter. The less you get hit the longer you last in this sport. I will remain The One."
Listening to his father Floyd Sr. will be the key to Mayweather Jr. winning this fight. Mayweather Jr. is a much better fighter now that he's back with his father because he's not letting himself get hit like he was in his fight against Miguel Cotto when Mayweather Jr. decided he wanted to entertain fans by slugging with the stronger fighter.
That was Mayweather fighting Cotto at his own game and beating him, but it resulted in Mayweather Jr. taking a lot of punishment in that fight. Floyd Sr. didn't like his son fighting like that, and now that he's training him once again after many years, he's got Floyd Jr. back to his old self in fighting defensively.
Canelo isn't going to have a lot of chances to win this fight unless Mayweather abandons his defensive strategy and fights like the guys that Canelo has beaten in the past. The only way Canelo wins is if Mayweather stands in front of him and lets Canelo use his 15-20+ pound weight advantage over him to punish him with big shots.
Canelo deserved to lose his last fight against Austin Trout last April, but the judges saw him winning it. Canelo won't be able to beat Mayweather fighting like that. He's going to have to turn into a Julio Cesar Chavez Jr. and put a lot of pressure on Mayweather Jr. and throw a lot of shots.
I'm not sure that Canelo is physically capable of throwing a lot of punches like Chavez Jr. He doesn't seem to have the stamina to do that. With that off the table, the only thing Canelo can do is pressure Mayweather and hope the judges give him rounds based on his harder shots rather than him landing more punches.
It's possible Canelo can win that way because he is a lot heavier than Mayweather, so if the judges are impressed with his middleweight-like power, they might do exactly what they did last April and give him most of the rounds despite the fact that he's getting out-landed.